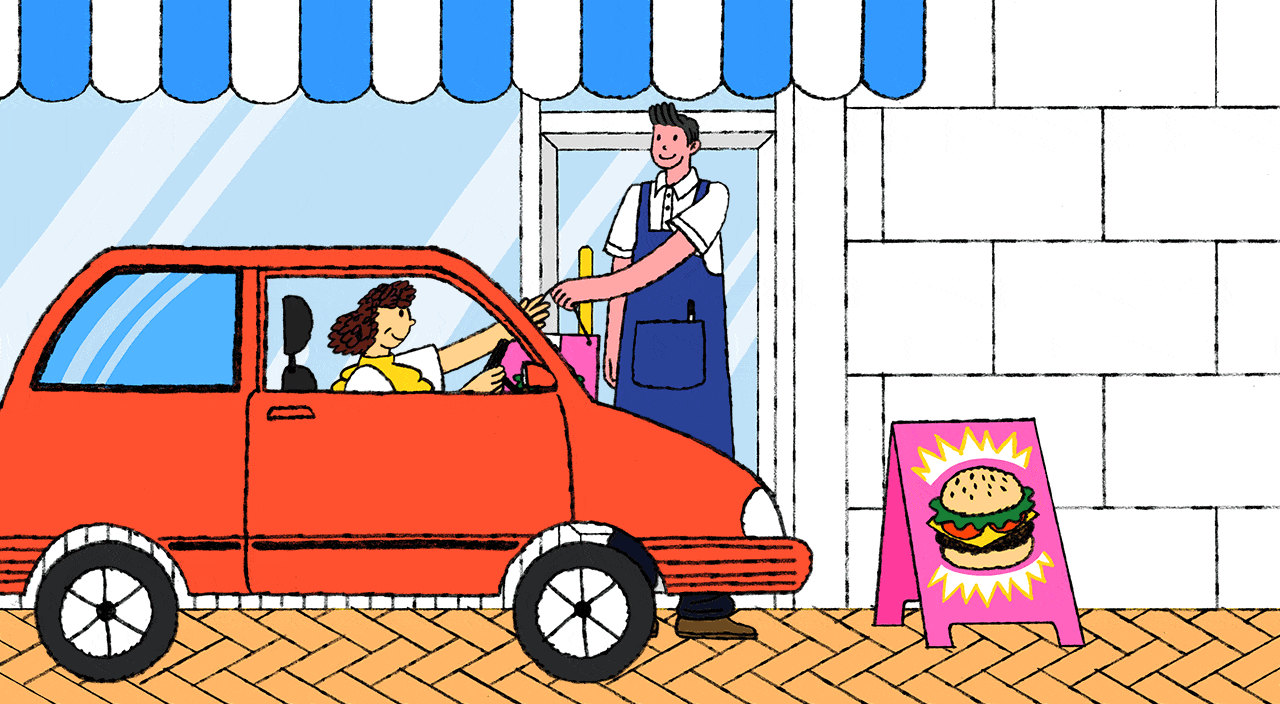 Looking for a great job? Find it on AARP's Job Board.

Think about this. You're getting older and gas and grocery prices are rising. You like to drive. What can a mature girl do to make a little chump change? I've got your back. Try Door Dash, a service that picks up and delivers food from restaurants to customers who want to dine at home. The hospitality business is also hungry for workers, so you can also become a waiter or a hotel clerk.

Do you miss your children in your empty nest? Become a part-time nanny, or go to work at your favorite store and get discounts.

I have found Door Dash to be safe, easy way to earn extra money—it pays about $25 an hour. Here's the deal on this job: Using your own car, you go to a restaurant, pick up a food order (with a mask) and deliver it to the customer. Once you get an order from the Door Dash app, you have a generous time limit of approximately 40 minutes in which to deliver (it takes about 15 minutes to deliver an order).

There are lots of customers willing to give you a good or bad online review. "Be kind in my review," I told one gas station worker when I delivered his chicken dinner. "It's my first time." I always end my deliveries with "It's my first time," even though I'm now a veteran Door Dasher.

Here's the next potential job for an older woman: restaurant hostess. I tried out this role in a 90-year-old restaurant. I can do this, I thought. That was before I knew there was math involved, since accounting for the entire day's cash intake to close the restaurant can be part of the hostess's duties.

If you are good with numbers and like people, a hostess job is a no-brainer as a fun, though not lucrative, option. The pay is usually about $10 per hour, so this is a gas-money boost, not a means to support splurges at fine clothing stores.

Hotels also offer jobs that are good for older people looking for engagement and a financial boost. After years of watching exciting hotel-centered sitcoms, I decided that I'd give the hospitality industry a go. So I became a Holiday Inn desk clerk a few years ago.

When I arrived and was immediately given the night shift, I was a bit afraid, but it turned out to be a satisfying experience. As a front-desk clerk, I checked in guests and served breakfast. The pay was $9 per hour. The job also requires you to take calls and book guests, distribute room keys and collect payments at checkout.

I've saved the best job for last: market research. A woman named Laurie Penman, 60, was in the habit of answering paid online surveys. She mailed off a product survey after receiving a free pair of underpants to catch bladder leakage. Lucky for her, she later received a call inviting her to Hollywood to make a commercial for the product. This is what the caller said, according to her: "Hey, Laurie, this is Suzy, and we would like to let you know that out of over 40 submissions, you are one of five women we would like to invite out to Beverly Hills to make a commercial for this product. You will be gone four days, our limo will pick you up at your door, and pay for your round-trip ticket and hotel stay. You will be picked up at the airport and taken to your hotel. Then, after the shoot is over, we will fly you home and have you driven right back to your door. Are you interested?"

"Duh!" Penman, naturally, was interested and landed in Los Angeles, where she was taken by stretch limo to a five-star Beverly Hills hotel and received $200 per day in pocket money.

"There are so many great ways to find money on the internet," Penman says. In fact, through her work as a survey taker, she's also gotten some swag, including coffee makers, a toaster oven and a digital camera.

As for me, at 63, I am happy to still be driving for Door Dash, grateful for the chump change.