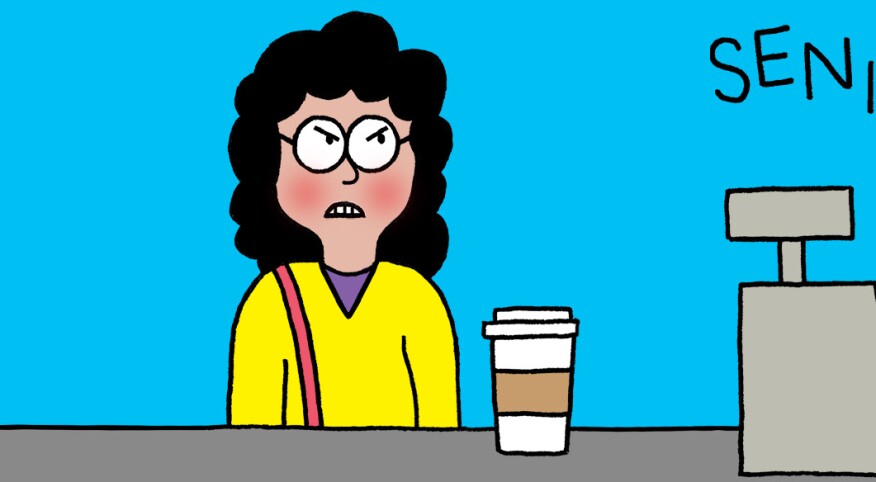 For months I'd been watching an empty storefront slowly become a new location for my favorite coffee place. The fact that this was in walking distance of our apartment was very exciting to me. I walked into the store, admiring the friendly surroundings.

Both the coffee and baked treats smelled so tempting. At the counter, I ordered my regular coffee drink, with the gift card Mom had given me for Christmas. It was now February. The past couple of months had been a bit bumpy, with my winding up in the hospital with a severe knee injury and then on to a subacute physical rehabilitation center. It made me smile when I came home and found out that the coffee place was open, welcoming me home.

When the woman rang up my drink, I noticed that she looked me up and down, from head to toe. It both confused and embarrassed me. But I knew that after being so sick, I looked worn out, not just a bit tired. I blushed, thinking I needed to make more of an effort when I left the house to make a good first impression.

I picked up my coffee drink at the counter and got into Mom's car. Then I glanced at my receipt.

"What's this? I got a senior discount!" I was stunned.

"Some places give them," Mom replied.

"Do I look senior discount–ish?" I huffed.

Mom laughed. "You're going to be 50 in two weeks. Honey, you look your age."

You can count on Mom to be honest, but that was not the answer I wanted to hear. There are plenty of Hollywood celebrities who are 50 and look absolutely nothing like it — Halle Berry, Jennifer Lopez and Jennifer Aniston, to name a few. Jane Fonda and Tina Turner are past 50, and has anyone given them a senior discount?

I pulled down the mirror from the car's sun visor. I looked for clues. No makeup on. I winced and had to admit there was more gray in my hair than I've noticed before, especially right in the front. A big wrinkle showed in the morning sun. I was casually dressed, wearing a sweatshirt, yoga pants, sneakers and a winter jacket. But I was also walking with a cane and moving more slowly because my knee was still healing. My feelings were hurt, but I had to be fair and admit that if I'd looked at myself for a few seconds, I probably would have given myself a senior discount.

"Maybe I should start dying my hair," I mumbled. I peeled open the straw and stuck it into my iced coffee.

A couple of weeks later, I went back to the coffee place. While no one had meant me anything but kindness, I felt like I were facing down a playground bully. I decided I needed to make more of an effort. Perhaps I couldn't look anything like Jennifer Aniston or Jane Fonda, but I could at least wear a bit of lipstick. There are a lot of reasons that no one is offering a Hollywood celebrity a senior discount. Stars always look their best when they walk out their front door! For now, I needed the cane and was still walking slowly.

The woman who'd looked me up and down the first time was behind the counter. But this time she didn't seem to pay any extra attention to me. I smiled and ordered my drink. A small, secret thrill went through me when I noticed there was no discount applied to my receipt.

"Was everything OK?" Mom asked. Her tone of voice was cheery but with an edge of concern. She knew that my getting the discount had been a harsh wake-up call to being older.

"No discount this time," I grinned.

"Well, you're 50. Some places will give you one," Mom replied.

I sipped my coffee. Who was I to turn my nose up at a discount? Now I felt let down. I really did not have extra money. I always clip coupons and shop the sales. That was 30 cents, and if they wanted to give me a special discount because of my age, it should be in my pocket.

A few weeks later, I stopped at the coffee place. It was a cold day, and I was craving java. I couldn't resist making a stop while running a couple of errands in the shopping center.

A different woman I hadn't seen before took my order and applied the senior discount without looking at me.

I just saved 30 cents! I left the store, sipping my coffee, smiling and ready to finish my errands. Saving money was great!

Then I stopped. I found myself once again disappointed that I was getting the discount. Couldn't they call senior discounts something else? Maybe a life-experience discount?

I was finally walking without the cane. I still had a no-makeup look and hadn't gotten around to dying my hair. I was happy I was getting the senior discount — and then I wasn't! Was this a "senior moment"? I was definitely having a "senior-discount moment"!

I remembered when I was a little girl, that excitement of reaching my 10th birthday. Or turning sweet 16. Or being old enough to vote. We must have looked so young, but we felt so grown-up. Getting older used to be something to get excited about. Reaching 50, I was completely outfoxed. Did I want to save 30 cents on my coffee order — or not? Reaching double digits for the first time, I was chock-full of confidence about what came with my new age. Not anymore.

I needed a serious attitude adjustment. I was going to be 50, no matter what I did or how much lipstick I applied. Jennifer Aniston was still going to be her, and I was still going to be me. At least I got to keep a bit of extra money in my pocket. While I'd found the entire experience of the discount a real blow to my ego, my coffee order had always been 100 percent accurate and I'd never had to tap my foot, waiting for the baristas to make it. I order decaf joe, and not once have they accidentally caffeinated me.

Mom's gift card is still in my purse. It expires in 12 months. Lately, I've been making my coffee at home. Absolutely delicious and less than 30 cents a cup. It's also a discount that's not just for seniors!