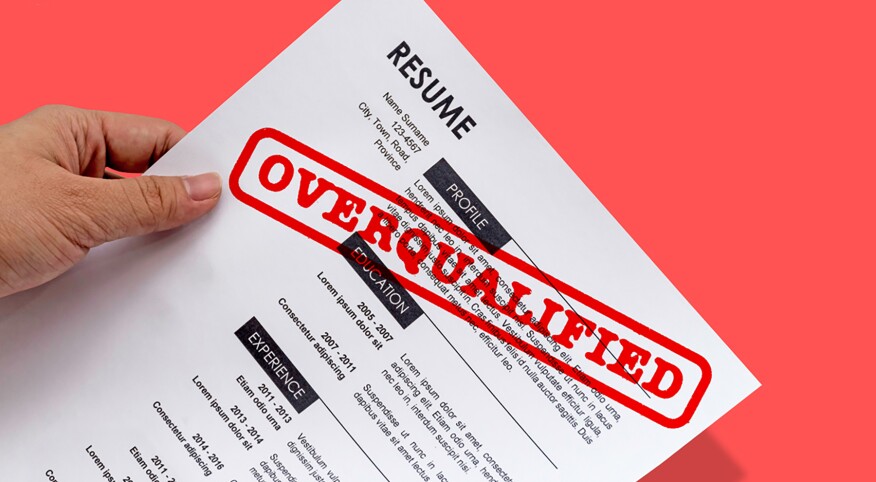 Have you ever felt like — or been told — you were denied a job because the employer thought you were overqualified? Are you wondering how to overcome this type of discrimination?

You're not alone. An Associated Press-NORC Center for Public Affairs Research poll found that among the respondents, one-third of those 50 and older who had looked for work during the past five years were told they were overqualified.

Fortunately, you can take steps that might help you move past this label and land the job. The first is to understand why recruiters and hiring managers might have reservations about older workers whose qualifications may significantly exceed a job's minimum requirements. Once you've done that, you can develop a job-search strategy to overcome these hesitations.

When employers look at résumés of candidates with more experience than the job requires, some thoughts they may consider include:

Does the applicant truly want this type of job or did he simply fail to read the job description fully?
Was this person forced to seek a lower-level job because there were concerns about her abilities or personality?
Given this candidate's background, he may expect a higher salary than what's budgeted for the position.
This person has held management roles in the past. She might not handle reporting to others very well.
If I hire this candidate, he could get bored with the job or leave me high and dry when a more suitable opportunity comes along. It's not worth the gamble.
Of course, sometimes, being told you're overqualified for a role is code for being considered too old for a job. Unfortunately, ageism is still rampant in the job market. Employers may question whether an older, more experienced employee will be able to handle the workload:

Is this candidate up to speed with all the latest technology and skills required to perform the job or would we need to invest in additional training?
Does this applicant have any health issues that will affect her ability to do the job?
Will this person be OK taking direction from leaders who are younger — and arguably less experienced — than him?
You can address these concerns by developing a strong job-search strategy, which includes optimizing your résumé, writing an effective cover letter, leveraging your network and honing your interview skills.


Tweak your résumé to match the job
Try using the following tips to ensure your new résumé is communicating your value, rather than your age, to employers.

Only include what's relevant for the position. Tailor your résumé for the job you're seeking by highlighting your skills and experience that match the job opening and removing or minimizing the rest. It can be particularly helpful to de-emphasize your management experience when applying for lower-level jobs.
Avoid elements that showcase your age. Use modern résumé templates and standards. For example, an objective statement is no longer the norm. Instead, a professional summary is widely used to succinctly summarize your qualifications. Also, remove details that indicate how old you are, such as dates related to your work experience, education and other certifications that are from more than 15 years ago. In addition, limit the information you provide on work experience outside of this 15-year window, and remove anything that states your total years of work experience. For example, don't state "professional with more than 20 years of professional experience" in your summary statement.
When it comes to your cover letter, get straight to the point. Be honest and transparent about why you're applying for a position that requires less experience than what you possess. Some good explanations might be:
You're looking for a position with less stress and responsibility.
You want to spend more time with your family and loved ones, so a part-time position works best for you now.
You want to get back to doing work that you're passionate about.
Network to get your foot in the door
Multiple studies have found that you're more likely to land a job when your application is accompanied by a referral. It's especially helpful to have a current employee or a connection to the hiring manager vouch for your candidacy when you're targeting a job that is not an obvious match for your level of experience.

As you begin identifying companies and opportunities that are of interest to you, turn to your personal and professional networks to see if there's anyone who can help you get your foot in the door. When a colleague vouches for you about your interest in the position, it can help reduce a hiring manager's concerns that you might not be willing to commit to the job.


Don't let an interviewer make assumptions
During your interview, address concerns head-on and turn them into positives by discussing the explanation you provided in your cover letter. Don't wait for the employer to bring it up. It's up to you to put an employer's mind at ease. Speak up about your concerns from the start and turn the employer's doubts into positives by sharing how you can add value to the team. From being a great mentor to knowing how to handle conflicts and be professional in challenging situations, an experienced worker can provide an employer with plenty of benefits.

By being honest and enthusiastic, you'll help put the hiring manager's mind at ease. Some other pointers to consider during your interview:

Focus the conversation on your relevant accomplishments.
Share that you're committed to the company and plan to stay for the long haul.
Be enthusiastic and positive about the possibility of landing the position and about the value you would bring to the job.
Be yourself — no one else. If you try to appear younger than you really are, you risk looking as if you're trying too hard.
Stress your flexibility regarding work hours and availability for travel (if relevant). Candidates with young families may not have as much flexibility, so your ability to work outside of the conventional 9-to-5 box can set you apart from the competition.
It might not be easy, but it is possible to land a job for which you appear to be overqualified. By considering why employers have concerns about hiring candidates with your level of experience, you can put a plan in place to directly address those concerns.

Not sure if your résumé is showcasing your relevant skills — rather than your age? Check with a free résumé review from TopResume today!