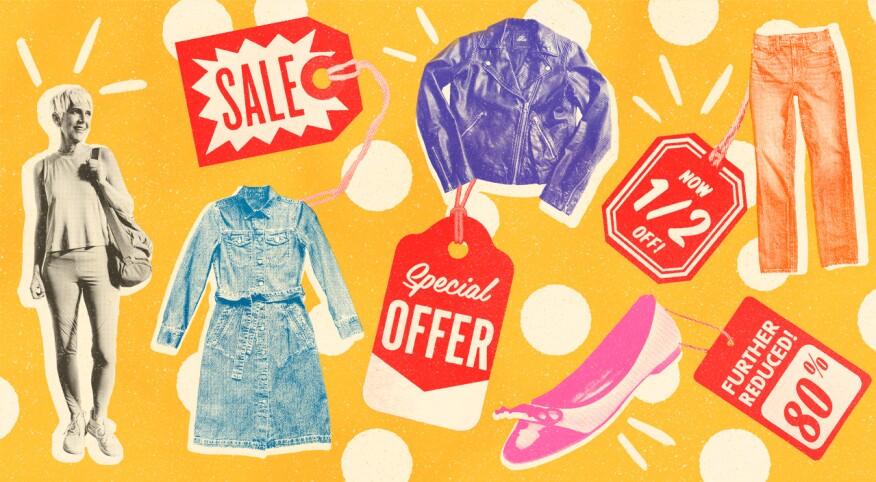 Sales any time of the year spark joy for those of us who embrace the classic Seinfeld motto, "Retail is for suckers." But after-holiday sales? These are in a class unto themselves. They are a harmonic convergence of timing, desire and resources that come but once a year.

These sales arrive just when we tire of our winter gear and feel ready for a fresh start to match the fresh year. Whether we overspent on holiday gifts or scored some coveted gift cards, we can stretch what's left of our budgets with reduced sale prices.

These nine strategies can help guide your choices and ensure you purchase with a purpose. Keep them in mind to guard against the lure of a deep discount on an item with no reason to be in your closet. And always, always check to see whether the item can be returned or if it's a final sale. You can factor that detail into your decision-making and weigh the risks.

Hit the refresh button

We all have our favorite sweaters, flannel shirts, jeans and skirts. Their appeal means they get a workout during the course of a season. If you look at your faves and see fading, holes or stains, use a sale to replace them. It's an opportunity to look for a fresher version with updated styling that may make it your new favorite. For example, perhaps it's time to trade that bulky turtleneck for a sleeker mock turtleneck. Or upgrade your little black dress with a new little black dress — an item that never goes out of style.

Going outside your comfort zone

Ready to experiment? A new year and a new you await. Dip your stylish self into a new fashion persona and minimize your risks with winter sale prices. When I first moved to Florida from Maryland, I was slow to trade my somber neutrals for tropical brights. Then I saw a designer jacket in a silk the color of the aquamarine water off Longboat Key. On the sale rack. Size? Check. Fit? Check. Price? $60. Yes! It was a low-risk chance to paint outside the lines of my usual purchases. Sale prices give us permission to try something softer, sexier or bolder.

Restocking the staples

When you're refreshing, don't forget about basics such as long-sleeved tees for layering, silk undershirts for extra warmth and even nightgowns and slippers. It's not a matter of if but when you'll need them. For these basics, being open to more adventurous colors and styling can help you score even deeper discounts. A few may even surprise you and become unexpected favorites.

Because you deserve it

Have you fallen in love with a particular maxi coat or cashmere cardigan or satin blouse but couldn't justify the price? Picking it up on sale can make it look even prettier. This is especially easy with online shopping, which enables remote price monitoring and triggers targeted ads that alert you to price reductions. I've staked out dresses and sweaters on retailer websites with the tactical focus of a SWAT team. Once the price drops, it's time to move in and scoop up your target before it gets away.

Looking into the future

If you've noticed big-ticket styles pop up during the winter that you'd like to have around next year, grab them during after-holiday sales. For example, dress boots are a natural, whether you prefer them with sleek heels or thick, industrial-strength soles. Leather motorcycle jackets and satin bomber jackets are other sure bets to be around next fall.

One of the most-versatile pieces in my wardrobe is a black shift in a comfortable ponte knit. Simple, sleek, dresses up or down and only $40. When I spotted it on the sale rack nearly a decade ago, I immediately recognized its future potential.

Tapping into a trend

Seasonal sales let you sample a trend that's turning heads without turning your budget upside down. Maybe it's a bold splash of pink or a corset-inspired top to wear under a tailored jacket. Marked-down price tags make it less of a gamble when you try on new trends that may have shorter lifespans.

Adding an accent

Accessories provide an instant update to any outfit. Finding them on sale further elevates your look without stressing your budget. Purses and sunglasses are two high-visibility items to keep on your sale radar along with scarves, both woven and silk.

Sample a different size

Sometimes you have to live with a piece — not just try it on — to determine whether it actually fits. This is particularly true of pants, jeans and shorts. There are so many factors that at first seem tolerable but only disappoint later — where the waistband hits, whether the fabric is stretchy enough or too stretchy, if the cut is comfortable when sitting or only standing. A well-timed sale provides an opportunity to test another size, so you'll be ready for next season. Since size is the key factor here, you may have to accommodate less than ideal colors or patterns.

Lean into practical

Most of us are willing to compromise on some aspects of our clothing. For example, what we wear outdoors to scoop snow or do yardwork may not require a high degree of sartorial splendor. Others may be willing to overlook color and styling in their pajamas in favor of comfort and warmth. The realm of practicality is a sweet spot for shopping sales. Here we are able to focus on a clearly defined function rather than the moving target of our fashion preferences. Knowing what you're looking for — and why — can ensure a successful hunt during after-holiday sales.

Read more stories from The Ethel about cold-weather fashion and accessory trends.

Do YOU shop the after-holiday sales? Let us know in the comments below.