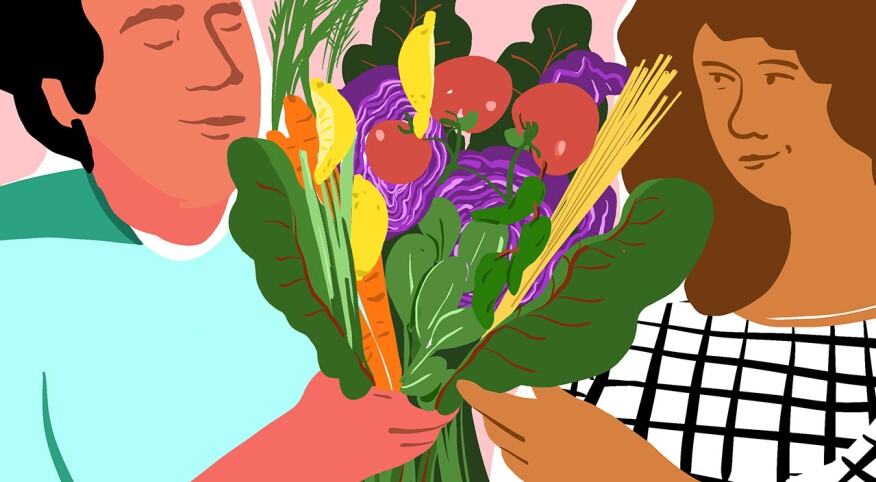 Until my post-widowed dating life began at 60, I'd cooked nearly every night for my husband and son. I had dinner parties and folders full of recipes. I owned a fish poacher and a tortilla press. So why didn't I cook for potential beau Jonathan after we met on Match.com?

For months there was only a fallow period of suboptimal dating that didn't amount to a relationship. I called it a no-mance and called him my friend without benefits — a status that was his choice, not mine. I tried. I'd once asked him in an empty elevator, "If I kissed you, would you call security?"

He's British, my friends said. Be patient.

At cross-purposes, my crush unrequited, we stopped seeing each other. After six months of no contact, he called. Would I want to go to an art opening that night? I had plans I couldn't break, but I suggested that we meet for a drink afterward. Why not? Why play hard to get with a buddy?

It was unexpectedly nice, and he seemed — was this possible? — less platonic. More invitations followed, all relaxed and fun. After a month of enjoyable G-rated dates, he said he wanted to talk. Over smoked salmon and white wine at my table, he said he didn't want to be just friends anymore. I'd hoped for this — my crush had only gotten more acute. I don't remember my exact answer, but it was along the lines of "Yes, finally." We were a couple! With benefits!

Still, I was careful when talking about a future vacation or theater tickets, adding a coy, "I mean ... if we're still friends." He'd answer firmly, "I'm not going anywhere."

I grew more secure. I bought a house on a lake an hour north of New York City, which meant weekends together, rain or shine, year-round. I lugged groceries up and happily cooked. No matter how simple the meal, Jonathan found everything delicious. How endearing, even novel. My late husband, Bob, a gourmet and a perfectionist, did not find everything delicious. As a devotee of the Food Network, he would ask me which country our olive oil was from, were the bay leaves from California or Turkey? Did I skin the tomatoes before I made the sauce? He was a hard marker, a doctor, not given to idle flattery.

I often mumbled, "It's tough living with a restaurant critic."

"Do you want me to lie and say I love it?" he'd ask. Maybe I did.My husband Bob died at 60, a peaceful death from a terrible disease, frontotemporal dementia. Such a siege makes a son protective. When COVID-19 was threatening New York, son Ben begged me to move out of the city and up to the lake. I did. With Jonathan. He could work remotely, and I could work wherever there was a laptop.

Mornings I wrote. By mid-afternoon I'd start wondering if it was too early to begin the dinner prep. There are worse hobbies a person can have! Is it going overboard to bake all our bread and most of our crackers, to fashion hotdog and hamburger rolls from my favorite no-knead challah recipe? Certainly not when a pandemic keeps the menu-planner from the market.

A shrink might say that I do it for the applause. True, the bloke likes everything! Though unfussy, he's food-curious. He asks why this potato is called Yukon Gold when Alaska is not known for its potatoes. Or, is the eggplant casserole Indian?" (No, it's Italian — note the mozzarella.) Or, "Are navy beans the same as white beans?" (Yes.)

I know his favorite foods, and I'm not above stacking the deck. I double the lemon juice and add the zest. Brussels sprouts make his face light up. As does pasta. As does feta. Always welcome: tomatoes in any form, rarely skinned.

We became partners long after his parents died, but I've paid my respects in Liverpool.

At his mother Lily's headstone, I — who doesn't believe that the dead are out there somewhere — nonetheless put my arm around Jonathan's waist and told Lily that I was taking good care of him.

I refrained from saying — lest it seem too trivial at such a moment, — "He thinks that my rice pudding, my cheesecake and my haddock balls are exactly like yours."

Vaccinated and boosted, we remain COVID-habitating as the threat diminishes. I still cook enthusiastically.

When I announce, going for a laugh, "We're having a nice dinner tonight," Jonathan smiles and says, "What a relief." An advantage: His recipe retention is not great. This salad, he marvels on its fifth appearance: delicious! His new favorite! I know. I invented it for him. (Shredded romaine, shredded cabbage, scallions, capers, lemon juice, olive oil, salt, pepper, a splash of the liquid from the jar of pickled jalapenos, feta.)

On every count, it's win-win. Being British, he uses his knife and fork beautifully, a pleasure to watch. He sets the table and washes the dishes every night, cheerfully. If I confess that I feel like scrambled eggs for supper, he welcomes the opportunity to make himself baked beans on toast.

A woman can be very contented with such an audience, with such a person. The quiet part out loud is "I'm happier this time," which is hard to say in public when you are a widow with a grown son who adored the father who died too young; a son who now expresses his love for Jonathan in every note, every birthday card.

One of my mother's favorite Yiddish expressions was, "A worm in a radish is happy because he's never had a taste of honey." There it is: honey versus radish. Compare and contrast. Life is short. Food is love. Dinner is served.