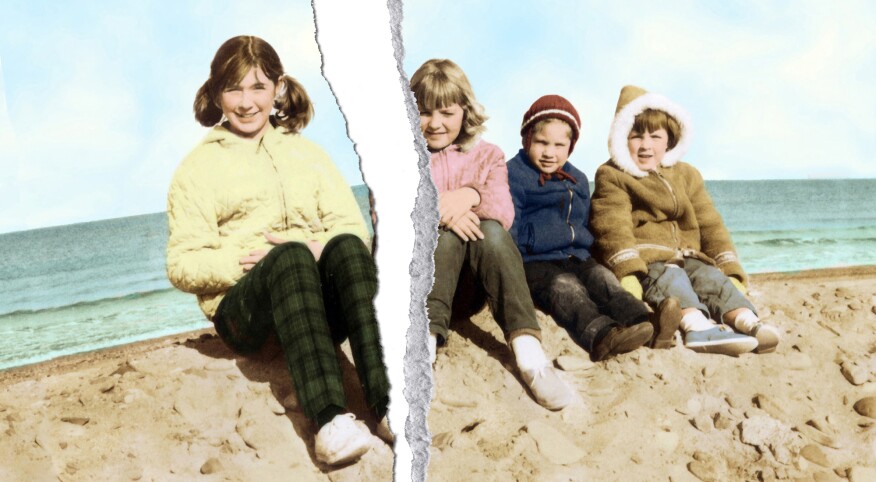 My mother's photo album is yellowed, the dates now faded from a time I hardly remember — a time when my family was close.

Inside, Polaroid pictures reveal the normalcy of suburban living: my sister surrounded by balloons and friends on her 10th birthday; my brother squinting at the camera from a raft in the pool; me standing with my older siblings by a Christmas tree laden with tinsel. As a family, we were not immune to the typical squabbles between siblings, but we shared four walls and a history that bound us together.

I never imagined how easily those limbs in our family tree could snap in a storm of grief until we became parentless.

Out of the four kids, I was the youngest, my sister Cherie the oldest by seven years. She took care of me as if I were hers, and I trusted her in every way, seeking her advice on everything from teenage boyfriends to college, parenthood, marriage, babies and finances. We were inseparable and always had each other's back.

Then Cherie suddenly passed away at 56. At the time, our family was still reeling from my father's death the year before, but Cherie's death hit me harder. It left an emotional hole that no one else could fill, and I felt unmoored, drifting farther away from the rest of my family.

The loss of both father and sister brought to light the jarring differences I had with my remaining siblings and their spouses. They were conservative Christians who shunned my liberal views and my philosophies on parenting and religion. To them, I was the wild child with the purple-streaked hair who was too loud, too dramatic and living without boundaries.

They were successful in the corporate world. I was a stay-at-home mom of four, struggling to make ends meet with housecleaning jobs as my husband worked in landscaping. We didn't have much, but we were happy.

Gradually, I limited contact with my siblings to avoid their toxic judgments and petty gossip. It was a necessary and long-overdue break for my mental well-being.

Their negativity toward me became painfully transparent after my elderly mother was hospitalized for a ruptured aorta. Seeing them at the hospital after a year of silence was uncomfortable, our conversations curt and impersonal.

My mother went through a complex surgery and remained hospitalized for several weeks. Still, her recovery went smoothly, and our family assumed it was only a matter of time before she would return home. I saw her daily but was careful to schedule my visits in the evenings, after the rest of the family had left.

Months before my mother's illness, my husband and I had used the last of our savings to order tickets to a special writer's conference in Ohio. I was prepared to cancel our plans when my mother was hospitalized, but she assured me she felt better after her surgery and insisted that I go. She promised that all would be well and gave me her blessing when I left. Little did I know that it would be the last time I'd see her. She passed away unexpectedly during my last night at the conference. Devastated, I drove home immediately, but that didn't stop the barbed remarks from my siblings and their spouses.

"Who takes a vacation when their mother is sick?" "You should have been here for her. Everyone else was."

Taken aback by their anger, I assumed it was the grief talking and let it go. But my siblings' disdain was always there on the fringes as I moved robotically through funeral arrangements and meetings with lawyers regarding my mother's estate.

Weeks after the funeral, the tension with my siblings continued whenever we met at my mother's house to clear out her belongings. The usual haggling over personal items led to an intense argument with my brother over a car my mother had promised me. His fury left me so shaken that I gave up the car.

The last time my family met at the house, we divided up Christmas ornaments, paintings and the silver serving trays my mother had used for our holiday dinners. I stood back as my siblings wept and embraced in grief, and I knew that it was the last time we'd be together as a family.

I walked out the door and never looked back. Putting my flawed relationships with my siblings behind me was the best gift I could have given myself. It helped me discover a new sense of freedom and resiliency that I never knew I possessed. Although the specter of grief from losing Cherie and my parents still lingers, I am at peace.