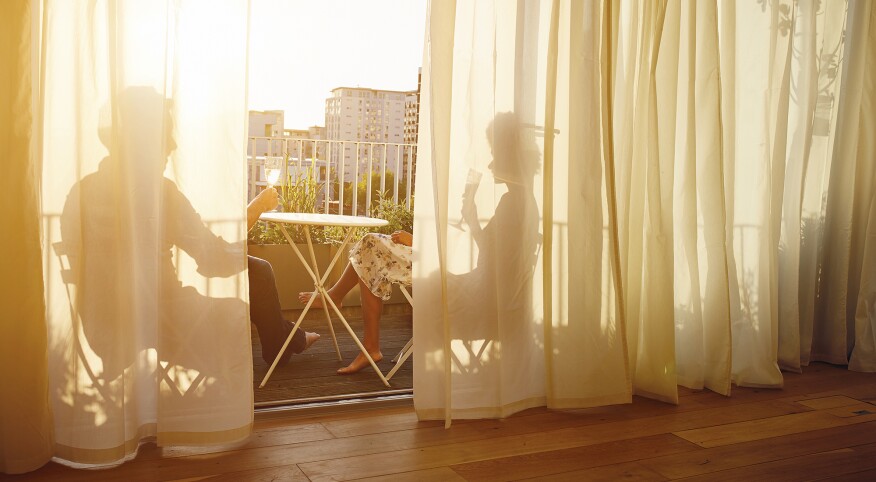 My thoughts are on repeat, like a recording that is looped. Gayle, you're too much. Your personality is too big for him. One of your exes told you that in a therapy session.

The pain in my heart and stomach is making me nauseous. I fear I will give in to my temptation, my neediness and my inadequacies, and call him. It will make it worse. My appetite is gone. I can't concentrate. I can't turn off these voices in my head.

This isn't the first time I'm reacting this way to a breakup.

Thirty years ago, when I returned from a trip abroad, Henry left his wife and moved around the corner from me. I discovered several voicemail messages from him. They went from asking me to call him back to "Are you ever going to come home?"

We'd met in a writing class. We both loved humor, and our work reflected it. When class was over as we walked to our cars, he complained about his wife. I offered him advice. One day he said to me, "I should've paid you the thousands of dollars I spent on therapy. My wife and I are now having sex on Tuesdays and Thursdays."

I thought they'd worked things out. I was stunned to find he had left her and moved around the corner from me. It didn't take long for us to start a passionate relationship as he began divorce proceedings. Then one day he told me he didn't want to continue to be exclusive. I was blindsided, and it sent me into a downward spiral.

I drove by his house every time I left and came back to mine. I became a stalker. Each day, I saw a different car parked outside.

Now, in my mid-60s with years of life experiences and career accomplishments, I feel the same emptiness. Walter said the same thing to me after 10 months of being each other's one and only. He doesn't want to be exclusive anymore. And I'm thinking: It's my fault. There's something wrong with me. I must stop this cycle, halt this recording, change my programming.

I'll go on dating apps, buy a sexy wardrobe, exercise, and find friends and community. I must conquer this. I must not call, must not give in. I want to speak to him. I want to know how he's doing. I want to cook for him. I want to love him.

Is he on dating apps now? Is he putting out the word to his friends that he's single? How will I cope when he's dating? I don't want to know. He said it won't bother him when I do. How could someone you care about not have a tinge of jealousy?

Wake up, Gayle! Stop this pity party. You're a big girl. You deserve someone who'll love you unconditionally; who wants to be with you and only you. I know Walter is kind and generous. He has a six-pack and piercing brown eyes. It doesn't matter. He's unavailable. It started when his first wife left him for another woman. After her departure he shut himself down.

Ten years later another woman managed to penetrate him, and they married. Then it happened again. His wife left him. He told you that he couldn't give her what she wanted. He's blocked, stuck, repressed.

Let go. Your mother told you the tightest leash is a "loose leash."

I'll try. But I want to call him. It has been a day and a half, and we've had no communication — no text, no email, no calls. How are his migraines? Is he able to sleep? Has he been taking too many Advils or bingeing on ice cream? Is he on his back in pain craving another prescription for Percocet, a prescription his doctor said is too soon to refill?

Drop it, Gayle. He's a good man, just not someone who's ready for you. Maybe he'll never be ready. He said he didn't expect to get into an exclusive relationship soon after the end of his last marriage.

Why isn't he checking on me? He said he always wants to remain good friends.

It's happening. Those feelings of abandonment, aloneness. Lift your head up, Gayle. There's nothing wrong with you. There must be. Why do men leave me? No, that's not true. It has been only two, and they were not right for you.

You shouldn't have chosen them. The warning signs were there, but you ignored them. Get over yourself. Look at your gifts. No one likes to be around someone who's down, depressed, feeling badly for themselves. You attract people when you're happy, upbeat and giving. Focus on someone in need. Good idea. I'll try to do that. Walter is in need. No, not Walter!

I want to help him, to be with him. I want to show him so many things I know he'll enjoy. No, stop it, Gayle! Don't call him!

How about just a little text? Just a few words. "Hi, hope you're doing well."

No, don't do it! I know. I'll call my brother back. That will keep me occupied. We haven't spoken in a long time. He doesn't know about Walter. I'm not going to tell him. There, that's better. I'm chatting with Bob. Another call is coming in. Who is it? It's Walter. I sigh in relief. I'll call him back.