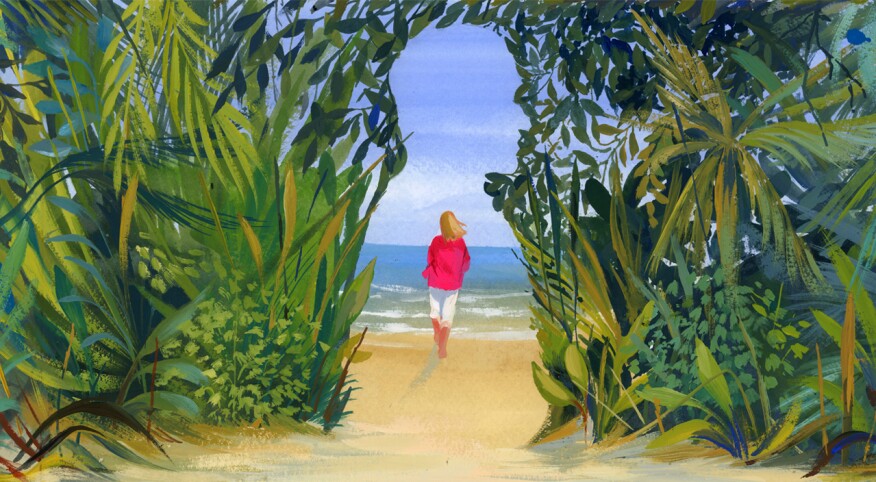 If I could go back to my looking-for-love-in-all-the-wrong-places 20-something self, I'd chuck those glossy Vogue wedding spreads out her Manhattan window. I'd tell her to throw out every checklist about height, looks, earning potential, stability, partnership, family background, religion, race, age.

I would add: Stop thinking about timelines/making babies/pleasing parents/the perfect white wedding. I would not return to dating in my 20s for 3million diamond rings; the cultural pressure and my own obtuseness were excruciating. And useless: I was married and divorced twice by my late 40s.

Ironically, it's the stats about the dismal prospects of later-in-life relationships that most often grab headlines. Second or third marriages in the United States have higher divorce rates than first marriages. Sixty percent of second unions and roughly 73 percent of thirds end in divorce. Endless shade is thrown on dating apps and dating over 50 in general.

How can these bleak figures be true when so few of us are as stupid now as we were in our 20s?

I love dating in my late 50s for two big, fat reasons: I finally discarded everything our culture values in a partner, and as we get older, we quickly detect in our dates red-flag issues like money problems, substance abuse and infidelity. Looking for a loving and stable relationship seems to simplify with age. What matters now: Am I happy with myself and this person? Does our relationship bring me joy? Can we be ourselves when we are together?

"Decades of self-reflection and experiences mean we know ourselves much better now than at 20 or 30," explains Winifred Reilly, a 70-year-old marriage and family therapist in Berkeley, California, with over 40 years of clinical experience. "We are far more skilled at communicating what we want and need, and we place far less value on external validation."

Compared to who I am now, I was blindfolded at the time I had to pick husbands. After the end of disastrous marriage number two, a coach helped me establish far more grounded criteria for relationships:


A deep emotional connection with a happy and healthy person

Must have a positive, uncomplicated relationship with their kids (and mine)

Comfortable in their own skin (and with my skin!)

Great communication skills

Notice: nothing about an appearance on the Forbes 500 or Australia's Hot Firefighters calendar. In fact, none of attributes on my 20s wish list make my 50s checklist. Herein lies the viciousness of life. We make critical, contractual decisions, like whom to marry, at an age when we have an undeveloped internal compass, when we don't know ourselves and what matters most to us.
No wonder the societal mandates carried so much power. That was all we had. It's so much better now that we know the truth: Our own checklists are all that matter.

"When we were younger, the pressing need to build a career and start a family overshadowed intimacy, connection and companionship," explains Shannon Chavez, a Beverly Hills psychologist and sex therapist. "Post-divorce, post-children, older women have the luxury of knowing that companionship and pleasure are the formula for lasting intimacy and happiness."

Additionally, role models are scarce for post-50 dating and relationship rejuvenation, compounded by negative cultural maxims about older women's attractiveness and value. Did our mothers face these issues? Mine did, after divorcing my father and ending their 32-year marriage. But she certainly never talked about it.

I remember from as early as high school, my girlfriends and I criticized our bodies. Embracing our physical self with age or achieving at least a neutral acceptance of what nature has wrought is a choice we can make every day, whether we make it to the gym or not.

According to Chavez, most post-50 dating problems stem from dating culture, technology and lack of practice, not the actual humans trying to connect. "Dating per se is torture, at any age," she explains. "To take the pressure off, think of the process as meeting. Dating comes later, after you've gotten to know the person and actually decide to date them."

When Winifred Reilly was writing It Takes One to Tango: How I Rescued My Marriage With (Almost) No Help From My Spouse—and How You Can, Too, she concluded that whether you are finding new love or reinventing a decades-long relationship (even a 44-year marriage like hers), many of the identical strategies apply.

"Be patient, be positive, be realistic and focus on yourself," she advises. "Everyone is irritating eventually, even ourselves. Every person marries the 'wrong person.' We are all the wrong person. Happiness comes when you accept that no one will check all your boxes, and that internal self-development leads, over time, to satisfying and successful intimacy."

Dating is easier today because I like myself and I know what I like in men. My boyfriend is kind, thoughtful, sexy, playful. He's a wonderful, involved father and grandfather. Yet I never would have chosen him in my 30s. I had my chance, because we first met over 20 years ago on the sidelines of our kids' basketball game. He was in an unhappy marriage and so was I. Back then, it never occurred to us to date each other.

I would have said he was the nicest guy in the world. But I didn't value "nice." Now nice matters almost more than anything else.

Look at your partner — whether your longtime spouse or upcoming date — in a different light. They are unlikely to add IQ points, lose inches off their waist or get a graduate degree in a field you find interesting. But do they understand you? See you? Love you? Make you laugh and feel safe? Share your values? Make your peace from there, and you may find that true love follows, no matter your age.

Have any of you found love later in life? Let us know in the comments below.