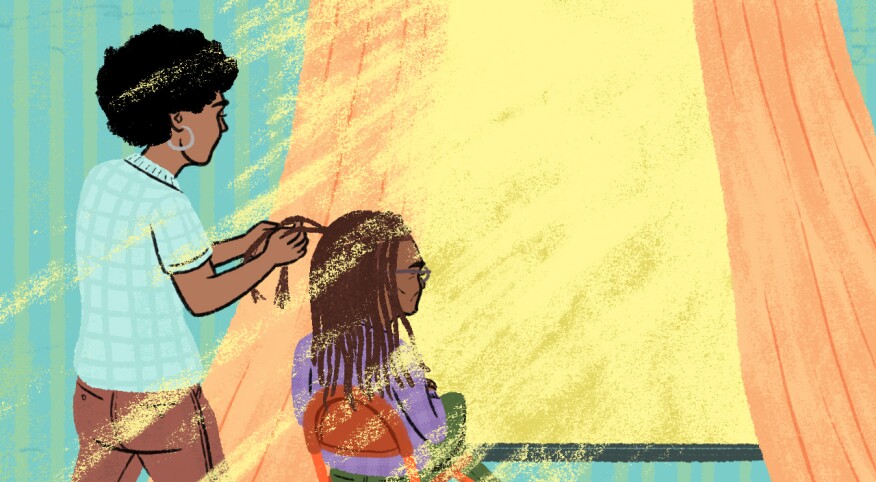 Years ago, I attended the wedding of my friend's daughter. During the processional, the pants of the bride's grandmother started to slip past her waist. The congregation looked on, horrified, as the crepelike skin of her legs and her flesh-colored panties were revealed. There was just a glimpse before my friend repaired the damage and moved the matriarch to her honorary seat. Collectively, we decided we hadn't seen anything, but we had.

Lately, I've started to understand that part of my job as my 91-year-old mother's caregiver is to maintain her dignity and unique individuality for as long as possible as she lives with Alzheimer's disease.

When we placed Mom in an assisted living facility in Atlanta, we made sure they could provide hair care for Black women. She is the only Black person of 15 in what is called in the facility a "neighborhood." On a recent visit, I was there for her hair appointment in the beauty salon. I watched as my mother leaned back in the chair, a plastic drape flowing from her neck to her knees, protecting her from the splashes of water as the Black stylist washed her hair.

According to a 2020 study published in The Journals of Gerontology, Black older adults are significantly less likely to move to assisted living facilities that offer a broad range of recreational and cultural activities than their white counterparts. A contributing factor to the racial disparity appears to be economic. In New York state, seniors can expect to pay an average of $54,000 a year for assisted living costs, compared with states like New Jersey, Delaware and Massachusetts, all of which average closer to $80,000 a year.

Black hair culture holds huge significance in the African American community. In their book, Hair Story, Ayana Byrd and Lori Tharps write: "With Black hair there is a real culture, in the way that anthropologists would define it: the learned patterns of behavior and thought that assist a group in adapting to its environment and include ritual, language, memory, and evolution." In short, we don't let just anyone touch our hair.

After the wash, the stylist gently oiled Mom's gray hair. "You know," I said, as she parted it to make cornrows, "my mom never wore her hair that way, gray and in braids. My mom wore her hair dyed brown and in a soft curl,' The stylist stopped and turned to me. "Oh, do you want me to dye it and do the curl? I can do that if you want."

I hesitated. When my mother lived with me, the first time I took her to get her hair done, I asked what she wanted. She said, "I just want to be Black." When someone has dementia, they can start to lose their words. I know her appearance still matters to her because I've seen her look at herself in the mirror, startled at the old woman peering back at her.

My mother's generation of Black women made sure their hair was correct before they went out in public. That meant hair straightening and curling. In photos streaming back to the 1960s, my mother's hair is always coiffed in soft curls. For years, she faithfully visited the beauty salon every other week to get that favored look. "Umm. I guess not," I told the stylist. "If you curl it … well, the nurse aides aren't going to help her put in curlers every night and fluff it out in the morning."

Ultimately, I decided to focus on keeping my mother's hair clean, neat and well groomed. I gave the aides permission to keep her hair in nicely styled French braids or brushed back in a bun. The choice isn't entirely satisfying, but it is respectful and can be maintained. "In my experience, someone with even advanced dementia is typically positively impacted by the hair care," Atlanta social worker Kara Johnson told me. "That routine is familiar, intimate and grounding, and provides a renewed sense of dignity."

I love the idea of an equivalency between hair care and soul care. I'm reminded that when my mother lived with me, she called her favorite nurse aide Eunice, although that was not her name. Eunice had been my mother's hairstylist for many years. Using the same name for her new stylist and her nurse aide implied she experienced a similar solace from both people.

I contacted Tiffany Summers, a Black social worker who works with dementia patients, and she underscored the importance of hair care in honoring a person's identity. Her comments come from personal experience. "When my grandmother was younger, she put those soft rollers in her hair," said Summers. "Wherever she went, her hair had to be presentable. That was just so important to that generation of Black women. Making sure your hair was done."

As my mother and I navigate her dementia, it's clear we're in this thing together. In one of my favorite photos of us, we are at brunch. It's 2014. My mom is not at her prime but still put together, hair dyed and permed, fluffy. Then there's me wearing the dreadlocks I have cultivated since 1987. We smile big. We are different and the same.

Alzheimer's is erasing my mother. I really hate when I feel complicit in effacing her through the choices I make, even if it's just her hair.

Are you caring for someone with Alzheimer's? Let us know in the comments below.