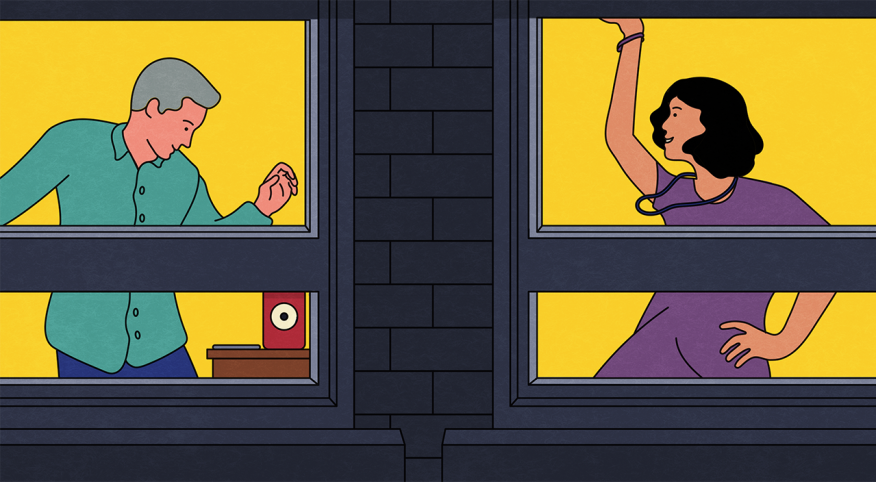 I have been a book editor for over 25 years, so I have read many works focused on relationships. While I have learned a few lessons from these titles, my best professor in the art of sustaining love has been my own 35-year marriage. I started this education early — we were a couple of kids just out of college when we first met. Five months later, standing in the middle of Park Avenue, he proposed, and we were married at City Hall the following week.

Over the years, my husband and I evolved, regressed, pivoted, negotiated and navigated the rocky relationship road together. This is our story of an electric love, that intensified during the pandemic. The real kind, with truths, not the fairytales you watch or read about.

We were changed by life events over the past year. My father-in-law died. My 92-year-old mother had heart surgery. Our 12-year-old shelter dog, Ginger, died. Our daughter got COVID, pre-vaccine. We did not contract it then, and still have not. Though the pandemic was what transformed me, transformed us.

It was the late '80s when we met. John was new to the city, welcoming everything about it, from the frenetic pace to the graffitied subway. I'm a third generation Manhattanite and he had spent his childhood in Australia and then in a suburb of Boston.

While my husband went to law school at night, I learned to cook — sort of. He is the cook now. John didn't take to being a lawyer but eventually found his true calling as an author. Meanwhile, I had become a book editor. Puzzle pieces, fitting together. And our relationship grew and we grew up.

We welcomed a daughter into the world. He played guitar for her and prepared elaborate scavenger hunts with rhyming clues. I taught her to read and write poetry. One snowy day prior to her leaving for college, I remember looking out the window and thinking the next time it snows my daughter will be in another state. I broke down, and I felt lost for months. When the time came to drop her off at college, we were cried out. Then, we were transformed.

Like many of us early in the pandemic, I felt fear, anger and sadness along with an existential quiet. It reminded me of the way I felt after my dad passed at the age of 63. I was still in my early 20s and I would find myself looking at all the gray-haired men passing on the sidewalk and wondering why my dad wasn't one of them. I should have been grateful to have been able to visit him in his last hours, a rite of passage this pandemic stole from millions of loved ones.

And, like most of us during lockdown, I had never felt so much love — not just for the heroic medical professionals, but also for the strangers hanging out of their apartment windows to bang pots and pans, cheering the frontline workers. We grabbed my daughter's bongos and tambourine. Then, we began to dance.

John would play DJ and some nights were disco nights, others dedicated to one-hit wonders. Some nights he played sentimental favorites like "Dream Operator" by Talking Heads, which was our first-dance song at our wedding. We danced to shake off the fear, and, quite frankly, to get some exercise. The first song he blasted was "Lovely Day" by Bill Withers. At first, we danced in our own worlds like we were in a school gymnasium, with girls on one side and boys on the other. While I moved, I was back in my high school's modern dance class, making artsy, mock-sensual movements. John found a dance move that looked like cross-country skiing.

And then I noticed him. I saw my husband from across the room, the man I had neglected through the years, bringing up a baby after long days at work, surviving a teen — and from six feet away, I felt the love that had always been there but that the lockdown had reaffirmed.

We sang "O-o-h, Child" by The Five Stairsteps, and the refrain "things are gonna get easier" suddenly had real meaning. We belted out "It Makes No Difference" by The Band, which took on a far deeper significance. No matter how substantive or how shallow the lyrics were in the songs, we sang every word as if it had profound relevance. It could have been Dana Carvey's "Choppin' Broccoli" song, it still wouldn't have mattered. This was our every night.

Yes, I saw him across the room, the man I had married thrice — at City Hall, in a church and once again on my birthday, when he surprised me by having us renew our vows to distract me from turning 40. The man who was my best friend and lover, the man who has seen me put on a smile when I was fractured inside.

Dancing, I saw my husband again. This is the boy whose hand enveloped mine in a taxi the very first time we met. In long marriages, you love and then mentally leave and then you come back. But you really never leave. You just take some detours.

I saw him there through the chaos and the surreal fog. The one I often took for granted but also the one where my only truth resides. The one who I go on adventures with, without leaving home. The one at the party I can ignore all night but the only one I ever want to go home with.

I realize that someday the cherished things we collected over a lifetime that my daughter doesn't want may end up in a dumpster. What can never be discarded, though, is the memory that we danced, and are still dancing, through it all.

How do you keep passion alive in your longtime relationship? Let us know any tips or tricks in the comments below.