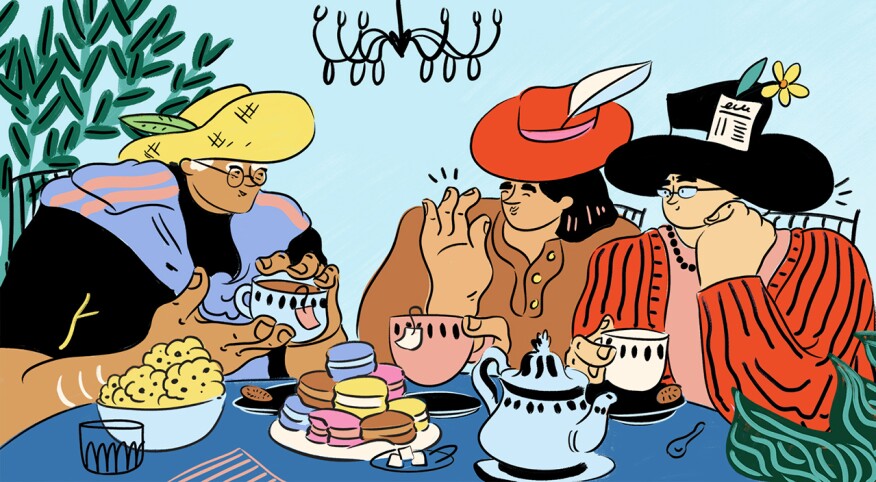 I am certainly not alone in loving teatime. For hundreds of years, serving tea has been the British way to entertain. In China, where tea was first sipped nearly 5,000 years ago, it still reigns for both medicinal and ceremonial purposes. For me, a cup of hot tea a day, savored while sitting with friends or family, is magical.

When my niece was young, I spent hours cross-legged on the floor drinking imaginary glasses of tea out of small white china cups with her. We clinked them together endlessly, each time saying, "Cheers." This comforting game is one of my fondest memories of being an aunt, and a hat tip to my own past.

I, a latchkey kid, had a free-spirited upbringing. Constantly encouraged to travel and see the world, I was raised not to follow a traditional path, but rather to pave my own. That's how I found myself volunteering in Sri Lanka in my 20s, sipping Ceylon tea smothered in powdered milk and sugar. Villagers scraped together their best yellow glasses to bring me tea and solace. It was through these sips, these moments of connection, that I was able to bond with them.

Two years later, I returned to America, trading fresh ginger tea for lattes in paper cups that dripped out foam when I ran for the subway. I felt the need to recalibrate, to adjust once again, but how? As I tried to reacclimate, something was missing. Friends were now married and having children, yet I was still focused on adventure.

Although I tried settling down, intimate relationships were problematic. Perhaps it was time to probe deeper, to break down the fortresses I'd built up around me. I knew it had to start with my own family.

Being the daughter of two psychologists comes with its challenges. Sometimes I found myself wanting a family that did not dissect everything — that just enjoyed life without criticism.

I often visited my parents for long weekends during the summer and did what they had planned, which often consisted of staying home and chatting. This did not often bode well, but as a guest, I always believed the host should call the shots. Still, if I were to change our dynamic, something would have to give.

So, rather than staying home and repeating the usual analytical conversations, couldn't we follow the advice they had given me all those years ago — see the world, create new adventures?

My parents were in their 80s and quite mobile, though not enough for hiking. Instead, our adventure would be taking a drive to a nearby town that served high tea. With my mother as navigator, we discovered a place we had never known before. Together we walked for a few minutes along the waterfront, then went to have our tea.

The restaurant was out of a movie set, with chandeliers lighting the room. The tables were set with white lacey linen and china sprinkled with tiny flowers. The menus, in calligraphy, listed endless teas and snacks. I ordered a pot of orange pekoe and some scones with cream.

While waiting for our tea, my mother and I walked around the adjoining gift shop. She asked me what I wanted.

There was so much I'd wanted in my life that I didn't get. I wanted to be married with children, which was now unlikely. But in that moment, I decided I wanted the lavender scarf with the tassels to keep me warm over the winter. My mother purchased it with a smile.

As we sat at our table, sipping our tea, a young family came in. They went to the other end of the shop, where you could grab silly hats and wear them with your tea if you so desired. That whole family partook of this Mad Hatter activity as if it were the most natural thing in the world.

My mother convinced me to try on hats as well. It seemed juvenile, but once I put on the large black hat draped with floppy flowers, I simply could not take it off. I wore it through three cups of tea and two scones, sitting with my parents, talking and laughing.

At that moment, I realized I finally got my real tea party. Gathering to sip tea has been around for generations. Finally, it was our time to embrace this ancient custom.

As I spread the clotted cream, I realized how sweet this moment truly was. Despite being unlucky in love, I was indeed lucky in this: I had both my parents sitting next to me, healthy and sipping tea without judgment.

Tea, with its soothing qualities, has a way of bringing people together, slowing them down and allowing them to be in the moment. I looked at my parents, beaming with pride as I sat there drinking my brew. Time had not run out for our family. Just like in that Sri Lankan village years ago, the act of sharing tea had united us in a way that was long overdue.

I found that in a family of Freudians, it was best for me to leave psychology behind when we met. In the end, I am just a daughter, and these were my parents, and this was the relationship in front of me: one filled with crazy hats, a dose of anxiety and adventure. One I no longer wanted to trade.

My mother passed away this summer. I'd visited her the week before, and she did not have much energy. Still, we sat around chatting, laughing and drinking tea. It was absolutely everything.