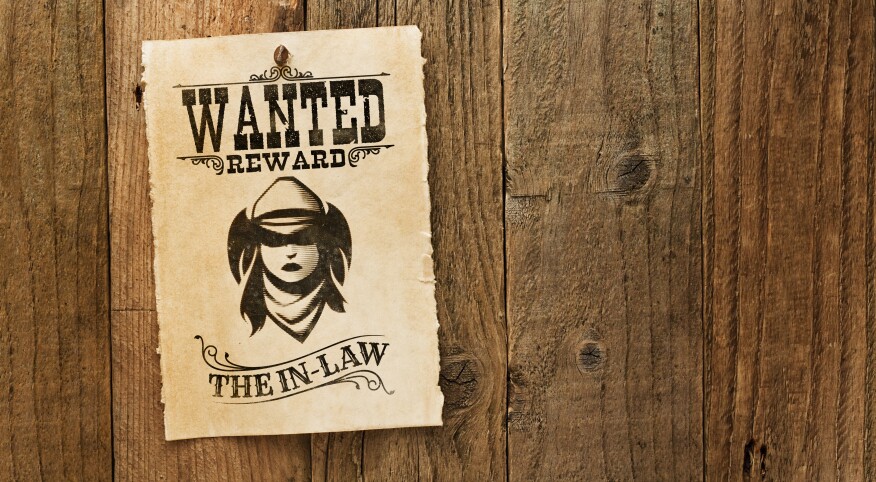 As a child, I thought in-laws should be called "outlaws."

I thought that when my mother asked Grandma Ruth, my father's mother, how she was. Grandma answered, "How should I be? You have a car. I have to take the bus."

Grandma often talked like that to my mother. She would never make her own children or grandchildren squirm. We were perfect. Her bloodline did no wrong.

Once a week, Mom dropped me off at my grandma's, did errands, and stayed only a few minutes when she picked me up without taking off her coat or sitting down. I understood my mother's discomfort. I understand it better having in-laws and hearing other women tell me about theirs.

My neighbor Arlene has not seen or spoken to her husband's parents in two years. She said, "I felt awful around them. I would lock myself in the bathroom and cry. They criticized how I cooked, looked, dressed my children and talked to them. Everything I did with my kids was wrong." Despite Arlene's longtime love of swimming, boating and just being in the water, she refuses to go with her family to her in-laws' lakefront house or have them over.

My cousin Brenda has learned to brush off her mother-in-law's "cutting remarks." She shares them with friends — with whom she compares in-law stories — and with her husband, who reminds her that his mother has no clue how to relate to working women who don't spend their days playing mah-jongg. Brenda told me, "My kids adore her, love her cooking, which is out of this world, and love staying at her house. I get time alone or with Bill. We all benefit."

My mother-in-law's digs initially threw me. When I showed her my antique jade engagement ring, she said without smiling or showing any delight, "So you got your claws into him." My cheeks burned. I wanted to bolt.

I discovered that that was how she talked. Her slings at other people, particularly at her other child-in-law, were more frequent and cutting. But under her steely demeanor was a warmth and generosity. I eventually felt safe in her presence. Our relationship evolved. I knew she liked me. When I brought her my essays and books or shared my teaching news, her eyes sparkled. "I can kvell," she said.

I miss her. The next generations of in-laws are not as thrilled with me. More than once, one member said hello to my husband — just my husband — with me standing at his side. Several do not read or acknowledge my writing even after getting links. I mentioned to one in-law that toward the end of her life, my longtime friend — for whom I was grieving — came with a cane to a book event for me and bought 16 copies. My in-law asked, "What did she do with 16 copies?" I did not say she gave them to her friends and relatives or that championing a loved one's work is a kind, supportive gesture. No. I did not answer. Instead I asked about her kitchen renovation.

I do not expect much from my in-laws. I stopped opening up. We chitchat, wish each other well on special occasions and celebrate some together. I am reminded — actually guilted — at gatherings I attend that we are family and families should Be Together. Should. My friend Michelle had an essay published on the pandemic. Her first. Her friends, children and husband shared her joy. His parents and brother barely acknowledged her accomplishment. His children may or may not have read it. They said nothing.

What should I do?" she asked. "Join the club." I reminded her, as I reminded myself, to write because she wants to write and has something to say and the passion to say it, not for outside applause. I reminded her, too, that his family does not or cannot always be welcoming and inclusive.

Maybe they do not understand people's differences. Maybe they don't know how to show empathy and grace. Maybe they lack emotional intelligence. Maybe, just maybe, they feel we rocked the boat and they are threatened by the women their sons, brothers and fathers married, because they now get less attention or have less control. We "got our claws into him."

Whatever the reasons, avoiding in-law discomfort can present challenges. We do not have to sing "Kumbaya" together, vacation together, or see them often. However, if we love the water and they live in a lakefront house, it might be a gift to ourselves to put on nose plugs, earplugs, goggles and whatever other protectors we need to take a dip and cool off for short periods.

In-laws may not always champion and appreciate us in the ways we like, but I would no longer call them outlaws.