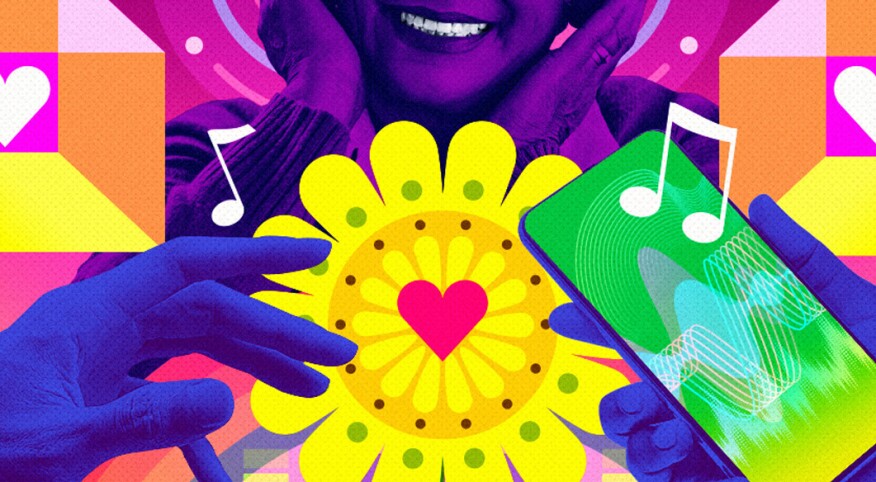 "Have you heard the new Vampire Weekend song?" my son asked. We were in my car, in a parking lot off of Route 95. One of Phin's roommates was picking him up at this meeting spot and bringing him back to school.

He played "Sunflower," and we listened together. I nodded my head to the beat. "I like it," I told him. "Add it to my playlist."

"Already did," he said. He leaned over for a quick goodbye hug. His ride had just pulled up. And just like that, he was gone again.

My 21-year-old son is a junior in college, which means I was seeing less of him all the time. There were internships, jobs and friends to fill his breaks. But we had our Spotify playlist. It was Phin's gift to me three years ago when he left home, a way to stay connected through music.

Now that we are back living under the same roof — sharing space, chores and the daily stress of self-isolation — I appreciate the playlist more than ever as a gentle form of communication.

He named it "Sandra Sings!" And sing I do, to artists I never would have discovered if it weren't for my music-obsessed son, for whom every life event must have a soundtrack. He is constantly updating the list, prompting me to love Sufjan Stevens, or asking what I think about the new release by Chance the Rapper.

Even if a song is not to my taste, I always give it a good listen and try my best to like it. As the mother of a boy who is boisterous and outspoken, but not always forthcoming with his deepest feelings, I look for other clues to who he is and what he loves. And since music is a language that we both speak decently well, I sometimes find a bit of his heart on that playlist.

More recently, the sudden switch to social distancing together has brought with it some expected relationship challenges, but nothing a new song can't smooth over.

Usually, Phinny randomly adds songs that will come on when I'm gardening or driving with the list set to shuffle. Most are by contemporary artists I've never heard of, but there are oldies, too, like "Rocketman" and "Dancin' in the Moonlight," songs I would have listened to on my mother's yellow kitchen radio that played nonstop through my childhood.

The playlist forces me to stay open-minded about music, the way I've always encouraged Phinny to be when it comes to my taste in the arts. Several years back, I joked to my husband that all of my favorite musicians were either dead or in their final years. But thanks to Phinny, not anymore.

One day I had just pulled into the Stop 'n' Shop parking lot, when Phinny sent a text: "You're going to love this one by Atta Boy." I clicked on the link and listened to "Walden Pond" all the way through. By the end I was sobbing, thinking of my little boy that I used to take swimming in that very pond every summer. He was now a young man who understood how that place — that pond — still held so much of my heart.

I have a shoebox full of mixtapes in my basement. There are dozens, including Sandy Goes to Tokyo, a gift from my boss when I left the bright lights of L.A. and moved to Japan. There is another called Kool Women and Lovely Ladies, which features some of my favorite female artists, from Joni Mitchell to Cyndi Lauper. A friend sent it to me when I was living in Europe. I listened to nothing else for weeks. Something about those songs captured my sense of homesickness, and I still think that that tape was instrumental in my decision to move back to the States, after seven years abroad.

When Phinny first went to college, I tried to talk to him every week or so, but soon, the calls were spaced further apart. Now in year three, he is home again, but he's often in his room doing Zoom classes, FaceTiming friends and writing papers.

So when I need a lift or am feeling disconnected, I open up our playlist, knowing there will be a song waiting.