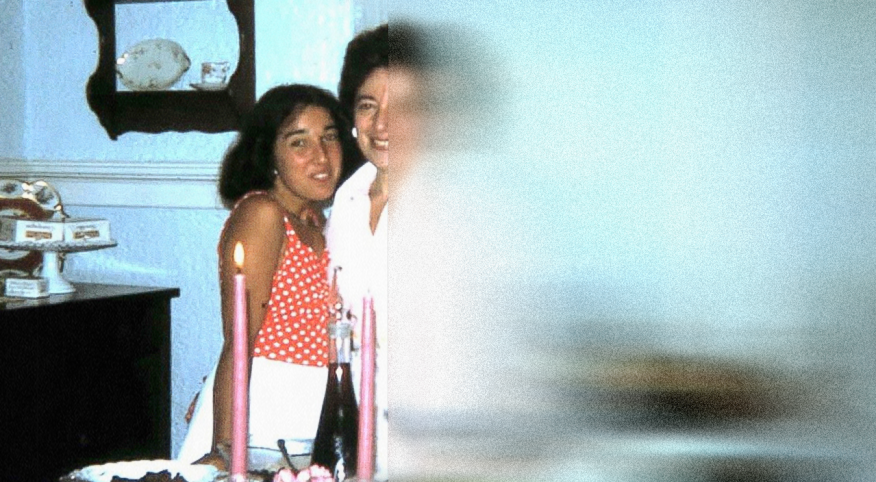 Soon after my mother died, in the spring of 1992, she came back to me in dreams. The setting was always the New Jersey shore house where I grew up. She'd be in the kitchen stirring sauce, outside with a hose filling the birdbath, or in the attic opening a trunk stuffed with my Nana's lace tablecloths.

I'd be on the sidelines, frantic, yelling, "Mom, you're dead!" She'd nod that she knew, and calmly carry on.

I'd wake up frustrated. What was the point of these dreams? She wasn't behaving like a dead mother in dreams should — reaching out to touch me, telling me how much she loved me and how sorry she was that she was gone. The dreams were all wrong, as wrong as the nightmare of what had actually happened: a breast cancer diagnosis too late, failed chemo, her death at the age of 64. I was 35 and most of my friends' mothers were still alive. While they complained about having to plan holiday visits, or make phone calls, I secretly dialed my mother's number, just to listen to the recording that said the phone was no longer in service and there was no new number.

It wasn't that we had profound conversations on the long-distance calls between the East Coast and my apartment in San Francisco, where I'd lived for over a decade. Topics my mother covered could range from Uncle Bill's diverticulitis to how she ran into a high school classmate of mine at the A&P or how terrible she thought Liza Minnelli looked on the Today show.

My side of our exchanges came with heavy edits. I'd tell her about a Sunday hike to the Marin Headlands, leaving out that my boyfriend and I had hitchhiked to get there, or that I was cast in this great new play, omitting that in Act 3 I had a nude scene. Content didn't matter. She simply was supposed to be there, forever available on the phone and in the house. I needed her to stay still, to be my constant, while I flitted about.

At the funeral, her friends from the Rosary Altar Society, in their perms and pantsuits, whispered, "She'll be with you always." The words struck me as nonsense, spoken on autopilot. Obviously, she was not with me, as I watched her casket lowered into the dirt.

Tears came at inconvenient times in those early days of grief, as reminders of her popped up. I'd be walking through Macy's and get sprayed with the perfume she wore, or I'd be at the pharmacy finding myself face to face with racks of Mother's Day cards. There was no escaping it. Even traveling, at a market in Rome, watching a signora zigzag around stalls with full shopping bags, holding up the line as she laughed with the butcher, brought back flashes of my mother and sobs. Most of all, I missed the ritual of calling when I was leaving for a trip, or when I came home. There was an emptiness without the steady tracking device that my mother had been, minding my comings and goings. I was off-balance, with no notes to complete the rhythm: I am leaving, I am back, you are home.

I don't know exactly when the dreams, the tears and calling the house stopped. Over decades, there was a gradual fade. The phone number became a password, "her numbers" buzzing along in the backbeat of my life as I typed them in to subscribe to Hulu or to sign in on Amazon to order books for my granddaughter. And though I never had that cinematic moment of her coming back to me that I had longed for, as I got older and closer to the age of the Rosary Altar Society ladies, I grew to understand their words: "She'll be with you always."

Now my friends understand that too. We have our different ways of being with our mothers, in these days that they've gone to the Great Beyond. Iris senses her mother hovering when she's in the kitchen getting an inspiration to change a recipe. For Kathy it's when she sees a butterfly. I feel mine when I'm rushing to put on lipstick, still hearing Mommy's Never-Leave-the-House-Without-It rule. She's a constant presence, as naturally with me as when she'd pick up the phone for our long-distance calls. Pictures of her are scattered around the Hollywood bungalow where I live. There she is at a card table playing Mystery Date with me and my sisters, and there in the dining room, carrying in her baked ziti at my high school graduation party.

Sitting on a table near my front door is a Limoges cachepot. In the 1970s when my brother, sisters and I were teenagers and no longer chose to hang out with Mommy on Saturdays, she'd take off with a girlfriend on antiquing adventures. The Limoges was one of her happiest finds. It's a pretty thing that was precious to her. She kept it on the mantel in the living room, filling it with holly at Christmas and forsythia in spring. Now I keep my keys in Mommy's Limoges cachepot, brushing my hand over it as I come and go. It keeps track of me, blended with Mommy in a wondrous eternal rhythm — as I leave, as I return, as I come home.

Have any of you lost your mother? Do you feel she is still with you? Let us know in the comments below.