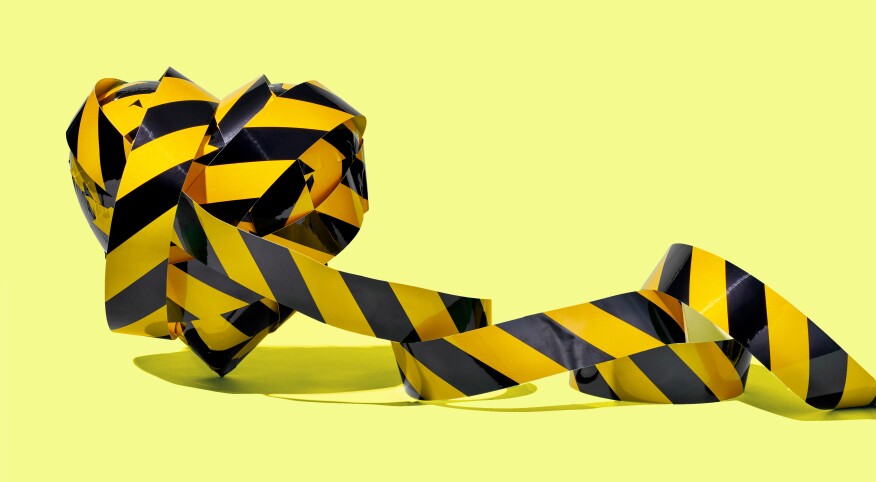 My husband and I met by chance almost 29 years earlier at a place called the Bear Bar on the Upper West side of Manhattan. A life-size statue of a bear loomed over the bar's entrance, and we stood under it, chatting casually. Two years later we were married at Tavern on the Green — one of the happiest days of my life.

When I woke up on June 30, 2018, I still believed I was in a happy and committed marriage. I ran a successful, one-woman company as a business/life strategist and had a wide variety of clients. Most of all, I had my family — two wonderful girls, who were 15 and 19, and a husband I loved with all my heart.

At about 11 a.m., my husband returned home from the gym. He said he wanted to speak to me. I looked up, expecting him to bring up our summer vacation plans. Instead, he blurted out, "We need to separate because I want to have sex with other women. We can still have family holidays and family vacations together."

He began going into detail about the types of women he was attracted to at the gym, but I stopped hearing his words. I just fell to the floor and lay there in excruciating pain. I had no idea that I was about to embark on a journey into a year without men.

I know many of you understand the sudden pain of loss or disappointment, whether it is a betrayal, death, job loss or life not working out. At these moments, we often discover how we really feel about ourselves and how we truly relate to the world around us. How can we as women face these new, unexpected chapters in our lives with strength? How can we overcome the stigmas placed on us by society — divorcee, widow, long-suffering mother, driven businesswoman with no personal life? Most of all, how do we overcome the many limitations we place upon ourselves?

Within a month of my husband leaving, my work life also changed drastically, and I found myself having little to no interaction with men. I had to figure out a financial arrangement with my husband, my health and simply how to be without the man I'd been with half my life. It was a harrowing year. But it has also been a gift. My year without men has helped me to see a different way forward for myself, my daughters, for all women.

Our society is still dominated by male culture and thought, and this too often dictates how we seek joy and success. But we can look beyond the societal structures built for us, delving deep within to find what will make us whole. And we don't need to look to societal norms for answers. And we really, really don't need a husband or boyfriend or a partner to feel lovable and worthy. When we love ourselves unconditionally, we are free.

In my book, A Year without Men, I share my journey to the other side of pain. The journey begins with getting comfortable with uncertainty, redefining beauty, playing by our own rules, and finding a way to support ourselves emotionally, physically and financially in any circumstance. It's about finding a way to be totally at ease in any room we enter and being fully responsible for ourselves and our own joy.

Forging a new way to relate to yourself in the world doesn't mean that you need to reject or hate men. After my husband left me and my business relationships with men fell away, I simply learned to accept myself more, and trust myself more. I came to rely on a strong network of women for support and expanded my business and my writing life.

Most of us women are so much more interesting, capable and resilient than we know. And there are so many different ways to be okay. This journey is about showing up as your authentic self to achieve equality, find fulfillment, and live your life on your terms.

As for my husband and me, we are now taking the final step of legally ending our marriage. He moved quickly on to another relationship as I have focused on my own journey of self-exploration and recovery. When I saw him recently at our youngest daughter's graduation, he was dressed in designer clothes that were more fitted to his body, and he no longer resembled the man I married. I realized it was almost three years to the day since he told me he was leaving.

I felt a wave of grief roll over me, but I was able to focus on celebrating our daughter's great accomplishment and how we brought her into this world together.

Beyond the pain, this moment at the graduation was a beautiful moment that needed to be recognized and enjoyed, as we applauded for our daughter that we created together. I sat there tall, with dignity and grace and with the power that each woman has within herself to pull herself through any circumstance and thrive.

Today I am free to be me in ways I could never have imagined.