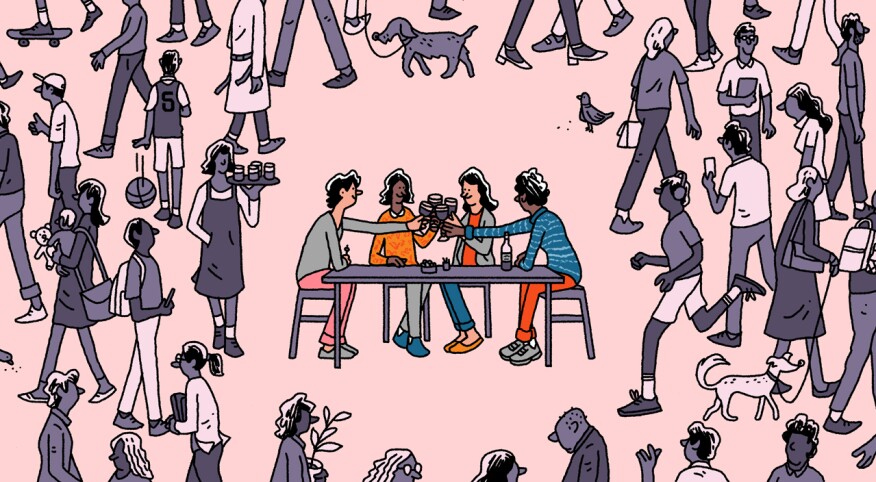 Still wary of COVID-19, we choose a restaurant with sidewalk tables, a few girlfriends who need to get together, hungry for each other's company. We sip wine and talk about our adult children — a son who is thinking of eloping, a daughter who is suffering a recent heartbreak.

We discuss spouses, careers and the chaos in the world. We listen to each other, with empathetic nods. We offer comfort — and we laugh. Our closest girl gang never fails to fill us with a spirit of "We can do this."

Amid troubled times, we have each other, anchors in every storm of life. Not only are our get-togethers uplifting, they also are excellent for our health, according to a scientific study published in the journal Frontiers in Psychology in 2021.

"The higher value we place on our relationships, the more we reap the benefits of them," notes William Chopik, a social psychologist, assistant professor of psychology at Michigan State University and coauthor of the report.

Chopik and his colleagues analyzed data from a sample of more than 320,000 participants in 99 countries. Among their findings: Older adults who consider their friends essential are happier and healthier. In addition, senior women gain the most from the friendship effect.

"Familial relationships are certainly beneficial and often vital," Chopik cites in the study. "But across cultures, women later in life experienced greater health benefits when they rated friendship ties as important."

In other words, friends can trump family when it comes to buffering against harmful stress and chronic illnesses. In fact, the anthropologist, author and emeritus professor of evolutionary psychology at Oxford University, Robin Dunbar, goes as far as stating friendships are factors of survival.

In his new book Friends: Understanding the Power of Our Most Important Relationships, Dunbar writes: "Having no friends or not being involved in community activities will dramatically affect how long you live."

Dunbar adds that as social networks naturally dwindle with age, we tend to shift our preference from going wide to digging narrow and deep.

"We concentrate what time and mental effort we have on the handful of really important friends," he says.

This rings true for my friend Bessie Anthony, 65, a university professor and mother of four grown children, who values her "historic" group of gal pals.

"I love the friends I've gathered over the years — and as it is, we don't have enough time for each other. So I am hesitant to cultivate closeness with new acquaintances," Anthony explains to me. "At this age, I just want my tried-and-true girl circle, the people with whom I do not have to rehash all the topsy-turvy details of my long life."

Dunbar underscores the value of less is more when it comes to close relationships. After extensive research, he found that humans only have the cognitive bandwidth for some 150 social connections, known as "Dunbar's number."

Though, of that large number of buddies, he clarifies that the innermost friend group is most beneficial in a smaller amount.

"Typically, we have around five intimate friends," according to Dunbar. "Those who will drop everything to support us when our world falls apart. The rest are friends in general."

When I hear the term "friends in general," I think of the hundreds — and even thousands — of friends and fans that we can gather on Facebook and Instagram. We have never met many of our followers, and never will.

"The important thing about friends is that you need to have them before disaster befalls you," Dunbar says. "People are only likely to help you if they are already your friend."

This important observation is something I experienced firsthand. Following my spouse's career change, our family relocated from the Midwest to the East Coast. Between getting our children adjusted to their new schools, finding the best doctors and tutors, and being married to a husband who's on the road five days a week, making new friends was not cresting on my to-do list. I would see to it eventually, I told myself. Once I had more time.

"Having more time" took on a new meaning when the doctor, after confirming a malignant lump in my throat, said to call in the cavalry, as I needed immediate surgery. With a friendship count still at zero and my original family living a continent away, I finally found some helpers in the personal ad's section on Craigslist.

Paid by the hour, they were soon assisting with grocery shopping and school pickups. But when it came to talking me off the ledge at 2 a.m., when fear was ravaging through me about my diagnosis, the hired "friends" were nowhere to be found.

Heather Lyons is professor of psychology at Loyola University Maryland and the founder of the Baltimore Therapy Group. She tells me that even when we consider a partner or spouse our best friend, we need to nurture other close connections.

"By having good friends that we connect with regularly, our partner doesn't have to be our everything, and that takes a weight off the marriage," she says.

During the height of the pandemic, when people had limited opportunity to socialize, Lyons saw a 100 percent increase in clients seeking couples' counseling.

"We all need external social connections to thrive," she explains. "Being socially isolated with a partner, no matter how much we love them, can put a significant strain on a relationship."

Recently, a series of life-changing events prompted me to call in the cavalry once again. This time I did not have to scour the internet for aid. After many years in our new hometown, I have garnered a small but loyal circle of confidants. Recently, they dropped everything to lend comfort and guidance as I was staking out a new path forward, after my last child went to college and a shift in careers.

Facing an empty nest, and in need of a professional transition, I was also facing emptiness in my heart. Having learned my lesson of the boost we get from the friendship effect, I reached out to my little tribe, and they were instantly there for me.

At the age of 56, I echo the verdict on friendship of my friend, professor Anthony. We do not need a social club full of pals — simply a few authentic and dependable allies. These are the handful of friends with whom I can count on to gather spontaneously — and who are always ready to share wine, worries, laughter and advice. One of my besties will even take an urgent call if the need hits at 2 a.m.

In short, we get by with a little help from our friends, and it only takes a few. Which the fellas in the Beatles and Sgt. Pepper's Lonely Hearts Club Band told us 50 years ago.