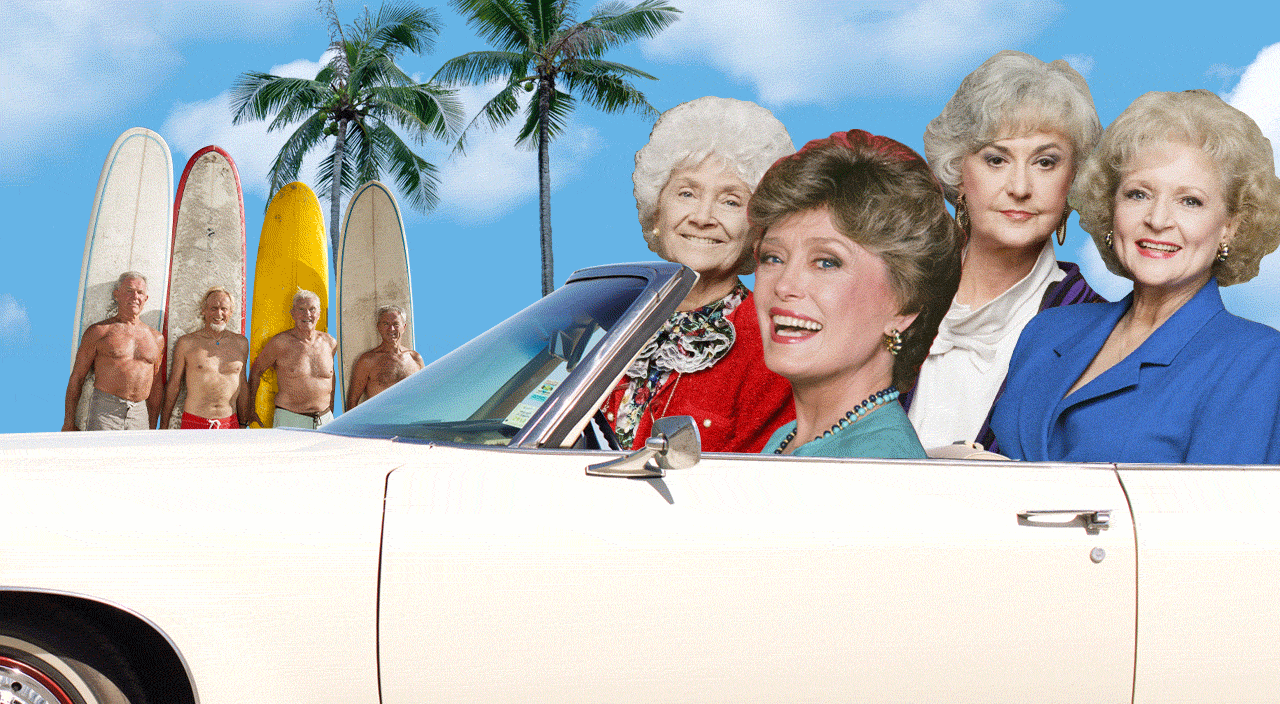 I have been shocked out of a postmenopausal complacency about sex from watching vintage episodes of The Golden Girls, which aired on NBC from 1985 to 1992.That is a sentence I never, ever thought I would write.

Like many comedies and dramedies, The Golden Girls tackled some serious real-world issues shrouded in irony, laughter and jokes. I didn't tune in for every episode, but it was a reliable late-night standby, a companion after a double shift at a restaurant, eating a not-so-good frozen pizza, finally able to rest.

What I didn't expect when I began rewatching the series (pandemic binge-watching being the thing to do) was how the sassy character Blanche Devereaux would affect me.

Played by Rue McClanahan, Blanche is a complicated, somewhat problematic TV character, especially when viewed through a modern lens. She's proudly from plantation-style Southern roots, refers to people from the North as Yankees and has some opinions that are not only not progressive but also bigoted, such as her difficulty in accepting that one of her siblings is gay. But much like Karen Walker from Will & Grace, Blanche is more of a caricature—a judgmental conservative who often changes her beliefs once she opens her heart to people who are different.

But Blanche is also the pink flamingo of the pack of gal pals living in a Miami home—bold, bright and beautiful—with what we assume are (allegedly) enviably long and frequent orgasms. Where Karen Walker dotes on alcohol, Blanche loves sex. She wears eye-catching, flamboyant outfits that accentuate her body, instead of hiding its aging status. She is unabashedly flirtatious with every man and is proud of being a sexually active "older" person. Older is in quotes because Blanche, the youngest of the ladies, is estimated to be 52 at the show's inception.

I am also 52. I don't feel like an "old" lady who would find it normal to live with three other senior citizens in a sleepy retirement community. But seniors are no longer expected to do nothing but play bridge or shuffleboard. With life expectancy rising, people over 50 live more active, engaged lives than ever before.

Tell that to my libido, which began to fizzle throughout the hell of perimenopause. Hot flashes, lack of sleep and belly weight gain do not make you feel sexy.

Sex has been a huge part of my identity. Like Blanche, I am known to be flirtatious with people of all genders (I'm pansexual). When I think back on my rich sexual history, I've had some encounters that would probably make even Blanche blush. But the march through menopause all but snuffed out that spark.

The loss of estrogen does amazingly cruel things. I'm fatter, grayer, more wrinkled. My skin is rough in some places and puckering in others. I look at pictures of myself from only 10 years ago and can't fathom what happened.

I began raising concerns about my sporadic, beginning-to-sag libido with my gynecologist years ago. I am not a candidate for hormone replacement therapy, and herbal remedies have had limited success. In my mind, I still love sex and find all kinds of people attractive and sexy. I flirt with my partner, and we have always been affectionate, but getting things going has been like trying to start a jet engine with a rubber band and a string.

Watching Blanche breeze into a room has been a revelation. Blanche doesn't have a "perfect" body. She never pretends to be anything other than what she is—old, bold and beautiful. She embraces every curve, showing off her cleavage, playing up her assets, and is always proud of her erotic appeal and love of sexual activity.

In most episodes, Blanche appears at least once in some sort of lingerie or enticing robe, even if she isn't entertaining that night.

I decided to embrace my inner Blanche. Too ashamed to take my body to a store where I'd have to strip down in front of those horrible mirrors, a mask hiding the aging face I could barely stand to look at any longer, I started ordering negligees, teddies, sexy robes and underwear online that I could try on in the privacy of my home.

There are many beautiful, well-fitting items to accommodate my postmenopausal size. Cuts and styles that look great and make me feel beautiful again. I told my partner about embracing my inner Blanche—he's been completely supportive, and the results have been awesome.

I have a whole drawer of "Blanche outfits" and when I change into those clothes, the old, alluring me comes alive. I once again take great delight in seeing, out of the corner of my eye, a flash of lace or a piece of silk moving rhythmically when we get busy. I clutch a handful of satin while delightfully dirty things are done to me by my partner. I parade around (when my kid isn't here or when he's sleeping) getting a nightcap or making an evening herbal tea, my partner's eyes following my every step, making me feel like getting sweaty with him.

Sometimes I even adopt a Southern drawl and mimic the way Blanche sashays when she walks. Yes, I'm weird. Fortunately, my open-minded, loving life partner is also weird, and he's all for it. It's working for us. Get some Blanche clothes and see if it works for you.