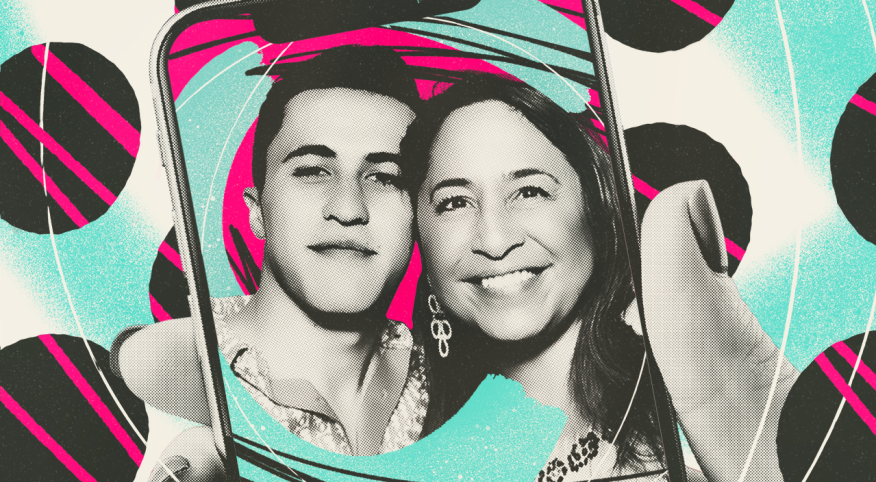 My Gen Z son Chris became a TikTok star during the pandemic. So did his grandmother. And, this mom could not be prouder, as I take back stage to a 24-year-old who, in his dispatches, is helping young people gain self-acceptance.

Chris scored a role in the national tour of "Hairspray," and then Broadway shut down. On a whim, he started posting entertaining videos on TikTok, and his following exploded into millions.

I believe his meteoric rise on TikTok initially was attributable to his ability to make people laugh during dark times. TikTok gave him a platform to showcase his talents as a classically trained actor, singer and dancer, as well as his sense of humor. Today, my gay theater kid has 7.9 million followers.

His robust numbers garnered him invitations to the Oscars and Cannes Film Festival to interview red carpet celebrities, and to the Superbowl to post for a corporate sponsor. His Superbowl posts included the query, "Who's throwing the first pitch?"

I swear he came home smiling as a newborn. He enjoyed performing from the start. At nursing home visits with his Filipina great-grandmother, he frequently greeted the residents with a cheerful, "Hello, ladies!" and exited with an emphatic, "Elvis has left the building!"

He was four, and already headlining.

When he was ten, he declared, "Mom, when I'm on the Red Carpet, I'll bring you as my date and get you a facelift!" Note that he did not invite his mama to his first red carpet.

His grandmother — my mom — is his favorite human. He sometimes features her,, his Filipina Lola, on his TikToks, to his fans' delight. She relishes the spotlight, and asks me not to be on his TikToks because I will "steal from her fan base."

Camaraderie with my son has not always come easily. Both he and I are recovering alcoholics. I have ten years sober; he has four.

My mother, true to her Southeast Asian cultural desire to "save face," denied for years that my son and I had depression and substance abuse issues. She also asked me not to tell any of our friends and family in the Philippines that he is gay. In her largely Catholic home country, the LGBTQ communities have limited acceptance and legal rights.

My mother's relationship with her grandson remains uncomplicated, by avoiding mention of difficult issues. She also prefers not to talk to me about my life's challenges, and I have come to accept that. She is now in her 80s. I stopped trying to get her to change.

I am proud of my son for using his platform to shine a light on addiction and mental health issues. Fans tell him that he has given them courage to seek therapy. They also relate to his openness about his sexuality. This keeps his numbers growing. What was previously taboo to discuss is not for those in Generation Z.

My son did not need to come out to me. I knew he was gay from an early age, and have always loved him unconditionally. It was not as easy for my mother to accept his sexuality. The first time he brought a boyfriend home, she insisted that the beau was just a friend.

Though, she loved my son's last partner, who showed great affection towards my mother and made her warm up quickly towards him. Perhaps it was his disarming kindness that broke the last of her resistance to her grandson being gay. Or, maybe it was her grandson's wild success as a social media influencer.

Though my mother's contemporaries generally do not follow TikTok, their grandchildren do. I see her pride swell when people remark about her famous grandson's success and inquire about his next movie or television show. We are thrilled that he is well on his way toward the goals he set as a small child.

My immigrant mother pushed me to become a doctor or a lawyer. My mother (half) jokes that her grandchildren should marry doctors. I pushed my children to find something they enjoyed doing and that would sustain the lifestyle they desired. And, they have.

I regard my son's success with wonder. While it gives me pause that he makes more in a month than nurses or teachers make in a year, I appreciate that he is brilliantly creative – and self-made. Advertisers reward those who can create trends and hold the interest of desirable demographics.

My mom hits the like button on everything her grandson posts, even if she does not understand them. I occasionally ask if she wants to know the meaning of something she has "liked," but she does not. I learn most of what I know about my son from his posts, and am grateful for social media because it provides a window through which I can watch him thrive.

So, I cheer him on from the sidelines. He does not call or visit me as much as I would like, but my mother claims I was the same way at 24. I gain deep satisfaction to know that he is launched and happy.

I believe that talking about his addiction and mental health online may play a role in keeping him healthy because it is now part of his brand. He is, in some ways, accountable to his fans, who say his journey inspires them. I, too, am inspired, though I know that I cannot control any of what he puts out there.

He has acknowledged that his success would not have happened had he not gotten sober. He recently filmed his first movie musical, 1660 Vine. He dreams of being on Broadway, and my mother and I believe that will happen for him. More importantly, so does he.

I send him love and good energy, and hope for the best. After our children grow their wings, we must let them fly, and, my son is indeed flying. You can follow Chris Olsen, at @Chris on TikTok. Then, you can then meet his beloved Lola, too.