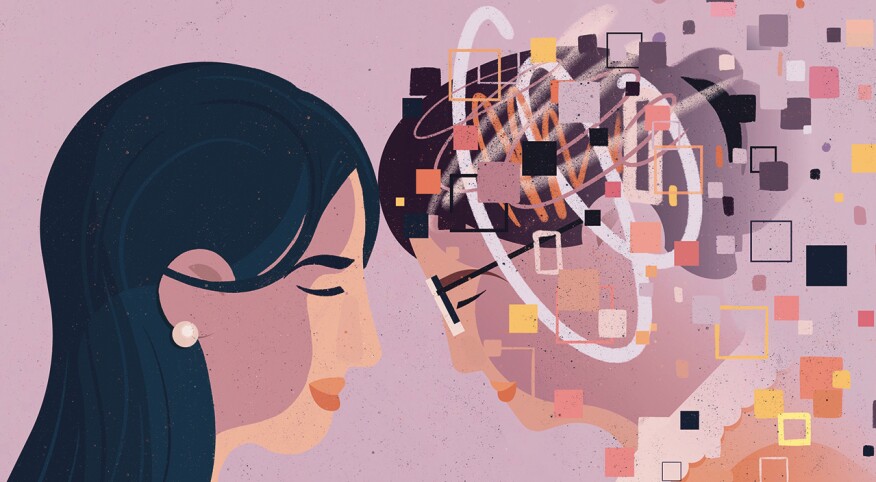 I walked into my 88-year-old mother's San Francisco bedroom, where she spent most of her days. She could see from the Bay Bridge all the way to the Golden Gate from her bed. She liked to watch the barges float by, the occasional hummingbird at the feeder on her terrace.

A long trip now was to the armchair across the room where her loyal dog, Louis, lay at her feet. This from a former powerhouse in scarlet lipstick who'd traveled the globe, sat on museum boards, curtsied to the Queen of England and always had an opinion about my hair. I imagined that my mother, Frances Bowes, would be going strong until the end, like Betty White, Ruth Bader Ginsberg or the Queen, who, at 96, was celebrating 70 years of service.

My mother smiled when she saw me enter. I went over to kiss her forehead, relieved that she still recognized me. She was wearing cotton pajamas. Their cheery designs — spotted leopards, fluttering butterflies, yellow daisies — served as a conversation piece when I called from the East Coast, where I lived.

I bent down and touched her hands, wishing her fingers weren't so twisted with arthritis, then sat on the bench at the foot of her bed. She looked at me, waiting. I felt no pressure to be interesting or funny; silence was accepted. Instead of the judgmental Frances of the past, who interrupted constantly with a comment about herself or a criticism of me, I was allowed to become a one-woman talk show. My shoulders, which used to get rigid around her, relaxed. She also relaxed. Her usual desire to be the life of the party, maintain a flawless house, look glamorous for my father and the elite art world she traveled in — all these traits that made her anxious and stressed vanished. The bulimia that haunted her most of her life was gone too.

She ate what she felt like, not worried about her waistline. She stopped trying to be perfect. She was calm at last. There were upsides to her new reality. And mine. As I still had so much to say to her.

I showed her photographs of my kids and quizzed her on who everybody was. She got a perfect score. But when I asked her if she remembered an old beau, she didn't. So I told her he wasn't worth remembering anyway.

"You remember Daddy, right?"

He had died 17 years earlier, the love of her life. And she of his. She was a teenager when she spotted my dashing father perched on a ladder, painting her grandparents' house in Tahoe. "Yes, I remember John." She stared off into the distance. When she voiced something from the past — that Tahoe house; her grand wedding in Woodside, California; the first painting she and my father bought — we both felt good. Whenever she said something that made sense, it gave me hope that my mother was still in there. When she said things that didn't make sense, I let her wander off into her imagination. She usually came back.

One day I ripped off my shoes to show her my nail color. We both admired the sunny tangerine shade. She liked my new sapphire engagement ring, relieved that I'd finally found Stretch, a good man. I was annoyed with him for not texting me all day, though I knew that he was dealing with a family matter of his own. I complained to my mother. She watched me. I wasn't sure if she was registering.

"He's nice to you, Elena. You should be nicer to him." There she was — back to the old Frances. "But I bring things to the marriage too," I whined, defending myself to the mother I once had. "I'm fun."

"Stop patting yourself on the back," she said.

In the past she would have said something harsher, like, "If you aren't careful, you're going to lose a second husband." It was clear, the old Frances hadn't disappeared, she'd just lost her brittle edge. She was as sweet as she used to be sharp-tongued.

"The most common personality change for people with dementia is apathy or sadness," according to geriatric psychiatrist Gary Kennedy, a professor in the Department of Psychiatry and Behavioral Sciences at the Bronx-based Montefiore Medical Center and the Albert Einstein School of Medicine. Though he added that physicians and psychiatrists wouldn't hear about those patients who become sweeter and more loving because that's not a problem. "It's not the kind of manifestation of dementia that's brought to their attention."

I could get used to my mother's softening. No more: Elena, you talk too much. Elena, you ask too many questions. Can't you see I'm busy?

She suddenly had all the time in the world for me. If I overwhelmed her with chatter, she fell asleep, a kinder critic. I finally felt like she loved me unconditionally. Even if my hair looked bad. At 59, I had become beautiful and important to her. Because she looked at me so sincerely, I opened up like I never had before. I felt free to be me, even if my stories were dull.

"I love you," she told me.

"I love you more," I answered.

"That would be hard," she smiled again.