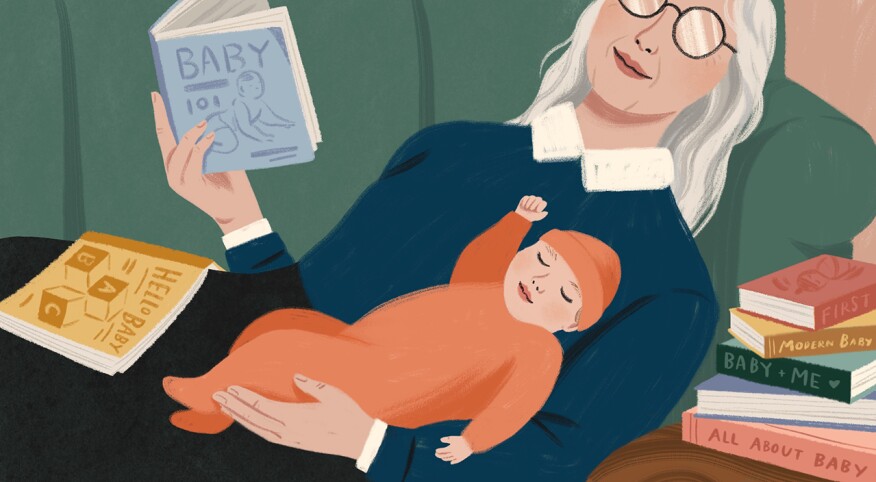 Last Christmas, my boyfriend Patrick's son announced happy news: He and his girlfriend of six years were expecting a baby in June. We were thrilled for Andrea and Alex, and delighted to welcome a grandchild into our world.

Patrick immediately climbed into the attic in search of toys and baby clothes that he and his wife had packed away after their boy outgrew them. That evening, Alex took home a bedraggled, much-loved teddy bear and a well-worn copy of Dr. Seuss stories tucked under his arm. Upon hearing the news, Patrick's sister Nancy, the family's "Grandma Central," packed up books, clothes and up-to-date baby items she keeps on hand to pass from one expectant mother to the next. Andrea had a long history of attending baby showers herself and nine months to scour the internet and compile her own list of exactly what she needed.

As a widow with no children of my own, I could barely contain my anticipation at cuddling a newborn and taking part in nurturing a grandchild. But skipping the middle bit of motherhood to become a grandmother catapulted me into unchartered territory. I wisely followed Patrick's lead; neither of us asked questions, made suggestions, offered advice or foisted our own tastes in baby accoutrements on the young couple.

This was a good idea — because I knew nothing! The last time I was up close and personal with a baby, I was 12 years old and my mother's very willing second-in-command after she gave birth to my baby brother. I changed his diapers, bottle-fed him and rocked him to sleep, but those were cloth diapers fastened with large safety pins and heavy-duty Evenflo square glass baby bottles I warmed in a saucepan.

I bathed him in a plastic tub next to the kitchen sink. I rocked him in my arms, cooing baby talk and entertained him with a rattle and a finger puppet.

Sixty years of newborn technology later, I can only marvel that a creature so small could possibly require such a lot of equipment not available when humankind was created. Our infant granddaughter, born last June, amuses herself with a Baby Einstein 4-in-1 Kickin' Tunes Music and Language Play Gym and Piano Tummy Time Activity Mat. Her restless little feet tap multicolored bars that produce musical notes. Barely out of the womb, she's being introduced to phrases in four languages: English, Spanish, French and German.

Her Lovevery (yes, that is one word) play gym, equipped with materials variously described as 100 percent organic, ethically sourced, sustainable and tested to be baby-safe, has "five developmental zones with activities that foster exploration and growth."

Lying on our bellies together, I flashed cards with high-contrast black-and-white abstract images that look vaguely like television test patterns of yore and hoped my 2-week old granddaughter floundering on the mat didn't think I was nuts.

I feed her with a squeezable Comotomo baby bottle made of medical grade silicone that is "designed to most closely mimic breastfeeding to reduce bottle rejection and nipple confusion issues." Her parents call it a "boob bottle." Instead of a saucepan, they use an Avent sterilizer, bottle heater and a green grass drying rack.

To relax and get away from it all, the baby is settled into her "MamaRoo 4 Multi-Motion Baby Swing, Bluetooth Baby Rocker with 5 Unique Motions" infant seat that bounces and sways and has an "overhead toy mobile that includes interactive, reversible toy balls." There's also a "munchkin Mozart magic cube" toy that teaches how sounds combine to create eight Mozart masterpieces, and includes harp, flute, French horn, piano and violin sounds.

At bedtime, she can be tucked into a "SNOO Smart Sleeper Bassinet" with "a calming womb-like motion and sound" that rocks through the night.

Needless to say, much of what Patrick squirreled away in the attic is still in his attic, except for dozens of classic books, including The Hobbit, which his son is currently reading to his baby. When it came to choosing a baby gift, Patrick popped for an Uppababy stroller/ bassinet/car seat contraption that can quite possibly vacuum floors and brew coffee.

Though don't think I don't love saying granddaughter! While my boyfriend, a widower, and I are stuck using teenage terminology for our septuagenarian romance (partner, companion, significant other — phooey!), I was thrilled Alex and Andrea asked if we wanted to be called "grandpa" and "grandma." Yes! I even have the option of being called Nana, if my granddaughter so chooses.

I confess to not knowing there was such a thing as a "chewable" book and opted to give my granddaughter a Raggedy Ann doll as my first gift. Down the road, I want to introduce her to my own favorite girlhood reading, the Maud Hart Lovelace books about Betsy, Tacy and Tib. And perhaps The Nutcracker as a holiday treat? Meanwhile, I'll just cuddle her in my arms with boundless love and hum whatever lullaby comes to mind.