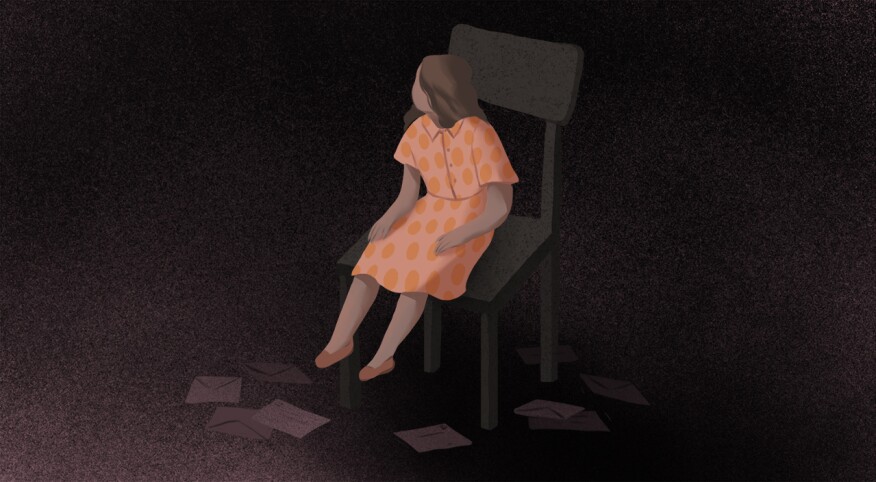 As a therapist and a smart, empowered woman of a certain age, I like to think I've got my stuff together. Thus, with the emergence of the Me Too movement, I was surprised at my uneasiness with the subject of the cause.

With some soul searching and a few vivid dreams, memories of my own Me Too moment surfaced, and the uneasiness was replaced with the knowledge that I had to admit what happened. Though it occurred more than 60 years ago, I recall every detail of the incident with a vividness that is not present in most of my memories. That is to be expected, as memories of trauma present neon-like in our mental file cabinet.

I was 9. My mother and I had moved to an apartment in a new city while my father finished selling his business in my hometown. After the school bus dropped me off, I was alone for two hours before my mother came home from her office, at five p.m. It was my job to collect our mail from the mailroom, a small, dank place on the basement level. The mailroom was the realm of Mr. X, as I shall call him, an obese, flushed-face man whose obsequious manner toward the residents was obvious even to me. Nevertheless, he was always quick to hand me our mail, along with some comment about how special I looked.

On that particular day, I was wearing my favorite dress, a shirtwaist, with orange ovals patterned on a peach background.

When I went to the mailroom counter, Mr. X said, "My, what a pretty dress! Why don't you come back here into my room? I have something fun to show you." Never being told anything about the dangers of the world, I accepted. I was used to trusting and obeying adults, even someone of dubious authority like this smelly, ugly man. Mr. X guided me to his chair and sat down, placing me in front of him. He started unbuttoning my dress while I looked, at his direction, at the wall behind him.

"What I am doing will make you look like the girls on the calendar when you grow up."

The voluptuous women I saw on the calendar bore no resemblance to my mother or my aunts, the only women I had ever seen in their underwear. Meanwhile, he was massaging my chest and snickering to his two friends who were sitting in the back of the room.

I was frozen, silent, not exactly frightened but bewildered. Time stopped, but it must have been only a few moments until he finished. He buttoned my dress and pushed me out of the room, glancing sideways to make sure no one was in sight. "Here's your mail, little miss. Now you and I have a secret. Don't tell anyone!" I nodded obediently and hurried upstairs.

I thought of a few ways to tell my mother, afraid of upsetting her. But when she came through the door an hour later, I blurted out, "I'm not going to get the mail anymore."

Then I repeated this, shouting: "Did you hear me? I am not going to get the mail anymore!"

"That's fine," she answered. "We'll get it together from now on, Iris."

And we did. From then on, my mother and I would get the mail once she was home. Mr. X was still overly complimentary to her, but I felt the smirk on his face. I couldn't look at him.

My mother clearly did not sense the urgent message behind my words. Why didn't I scream out the details? After my second outburst, I realized, intuitively, that to my mother, there was never any thought of danger in my life.

She had spent her childhood in a shtetl in a tiny Russian town. Her family was desperately trying to immigrate to America. Their departure was delayed while her brother minimally recovered from a gunshot wound to his face, courtesy of a local Cossack. Their lives were nothing but trauma, violence and fear. She put all that behind her and became a naturalized citizen and an attorney.

To her, my life was safe and secure. What possible peril could lurk in my tony apartment building? I tucked my feelings of confusion and shame inside and realized I had to depend on my own wits to keep me safe.

Some therapy in graduate school, and an alarmed and loving response from my soon-to-be husband, helped me begin to process the assault and forgive myself and my mother. Did I ever speak of it again? No, not until recently, when I realized that I needed to define and accept what happened as a sexual assault, serious and criminal in nature. In any crime there is a victim and a perpetrator. There is also a receiver, the first person with whom the victim speaks. This could be a parent, a friend, a spouse or, possibly, a police officer, but whoever it is, their response has the power to mitigate or crush.

As a therapist for crime victims, I often had the honor of filling that role. I realize that by truly hearing what victims are saying, I am healing that 9-year-old, cowering in the mailroom. The Me Too movement empowered me to face the past, speak of it and truly heal.

My mother died many years after the assault, never knowing it happened or its effects on me. That was my gift to her.