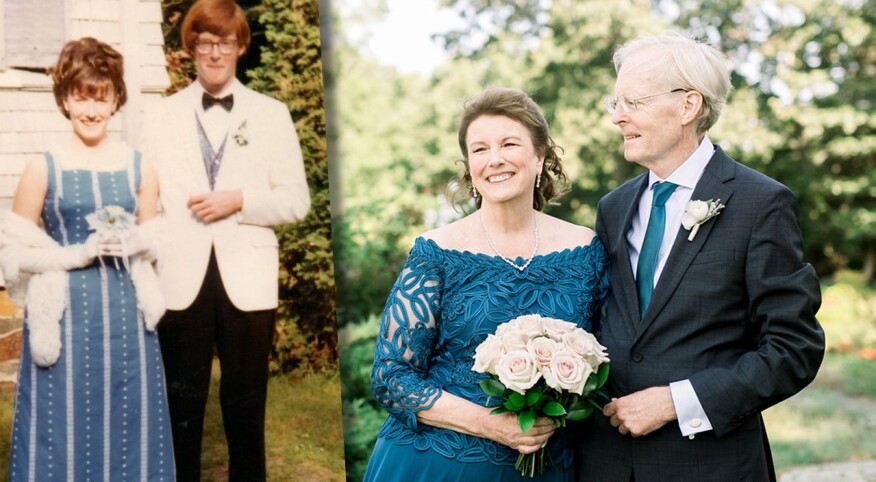 When I announced I was remarrying at 69 — and to my high-school prom date — people were both stunned and charmed by our story. But no one was more astonished than me that I was altar-bound again so late in life.

However, love makes you believe anything is possible. And a first love rediscovered after decades apart can have you feeling 17 again.

I needed that teenage energy to navigate a far different marriage industry than we faced the first time around, when we had a church ceremony and a simple town-hall lunch of quiche and salad, in 1979. Weddings in the United States today fuel a $58-billion business, and there is a bounty of fun choices. Even for those of us approaching 70!

Whether it's s'mores instead of cake or exchanging vows in jeans and barefoot on the beach, older couples are custom-designing their celebrations in once-unimaginable ways. One friend recently attended a ceremony where the bride, 63, while making her grand entrance, sang a love song to her groom, 67, in a perfect soprano.

What hasn't changed: Planning a wedding takes a lot of time. And money: an average of $27,000 per couple in 2022.The plus for seniors is we decide how to spend — not our parents. We went small (60 guests) and got married in the garden of the hotel in New Hampshire where our high-school senior banquet was held.

And we went elegant. After decades of successful professional lives, we happily paid for a sit-down dinner of a choice between lobster tails or mushroom ravioli. Our wedding cake was tiers of red-velvet and ginger-lemon, with buttercream frosting, dusting with roses.

Many of our guests were in our demographic, which created unexpected advantages: a lower bar bill than for a younger crowd, they didn't mind an early event, and everyone left on time. For us, that meant a 3:30 p.m. start and hugging our last guest goodbye shortly after 9.

This time, I also had the benefit of fashion advice from my sons, ages 32 and 36, who deemed my favorite colors of black and navy blue "too somber." This further restricted my dress options already narrowed by a desire for sleeves to camouflage jiggly arms, a hemline to conceal varicose veins and a neckline that didn't display too much mature skin.

The dress

First stop: an outpost of the nation's largest wedding retailer, where a saleswoman young enough to be my granddaughter didn't flinch upon learning I was the bride, not an older relative. Her hopes of a sale faded when I declared I would not purchase any gown requiring uncomfortable undergarments. I left empty-handed. Most department stores' formal wear inventory was online, so gowns were arriving almost daily—and returned just as frequently. That is, until I found The Dress (ocean blue). My fiancé selected his suit within five minutes. His biggest challenge: acquiring the right shirt for the monogrammed cufflinks I gifted him at high school graduation.

Next came finding comfortable shoes sturdy enough to ensure my own grand entrance into the garden didn't stall with a heel mired in soft dirt or a fall. Two dozen pairs ordered and later returned, as well as a new UPS friend, I chose my well-worn flats. (Bonus: Something old besides the couple!)

We'd agreed that a longtime friend would officiate our civil ceremony, attended by my betrothed's 91-year-old father, my 90-year-old mother, our five siblings, their families and our longtime friends (five of them high school classmates). But we faced many more decisions, including:

Attendants?

We walked in together, holding hands, accompanied by the song "The Arrival of the Queen of Sheba." Not having a wedding party avoided a rehearsal and their expenses.

Vows?

We opted for traditional, but our officiant asked us to address each other. Our heartfelt, eloquent words were missed by most guests because ocean winds overpowered the microphones. That wasn't a problem at the ballroom reception, where we and five other people gave toasts. Mine noted that older couples face distinct challenges, such as calling your partner neurotic and him responding with a huge smile and "You think I'm erotic?" (Yes, that too.)

Invitations?

As longtime environmentalists, we chose electronic. Email invites save trees, cost far less and offer numerous templates. The platform made checking RSVPs, food choices and updates easy.

Traditions? I doubt my marriage is doomed for not wearing a garter or something borrowed. And, with plenty of stuff we both accumulated over the decades, we opted out of a gift registry. I wanted a first dance, alone on the floor, to Etta James' "At Last." My groom cringed at having an audience. So we instructed the DJ to urge guests to join us after a few bars of music.

Surprises?

I panicked when the catering manager asked days before the wedding whether we were providing "bathroom baskets" with items like tampons (unlikely with our crowd), deodorant and even razors. I passed. Really? People can't shave at home? The biggest shock: The bridal suite had a view of the roof, so I asked to be moved to an oceanside room. I didn't know that would mean spending our wedding night across the hall from my son and his wife. At the moment of discovery, he and I exchanged a "We shall never speak of this again" look. I suspect that wasn't the only thing we were quiet about.