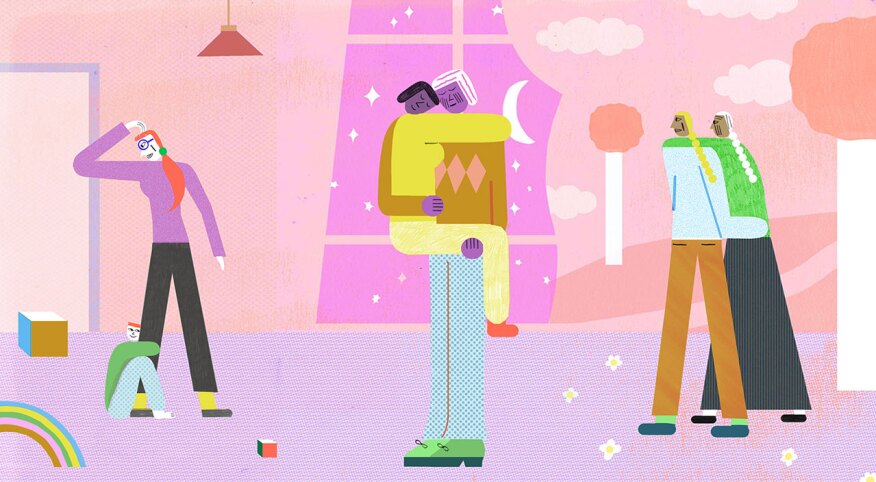 Professors, members of the clergy, directors and presidents who have served long terms for the public good are often awarded the title "emeritus," when they retire. Unfortunately, there is no such title for mothers, even when they reach the ripeness of their later years. I am the mother of a 43-year-old daughter who recently entered a new marriage and exchanged the East Coast for the West.

I am also the mother of a 38-year-old son who has taken a sharp right turn in his career. Neither had much need for my services for many years — until now.

It's a good thing I never retired and became an "emeritus mom." Parenting adult children, for me, has been an ongoing, rules-changing, emotion-laden odyssey, and I know I'm in good company!

I am a proud member of a book club, which just celebrated its 41st birthday. This spirited group assembled one year after the birth of our first children. The original members were either teachers or spouses of teachers in the same school district, hoping to remain intellectually stimulated after becoming first-time moms.

We are a lousy book club in a literary sense. We spend a scant half hour talking about the book. Part of the time is predictably spent on our physical maladies, but most often, the discussion if on the progress of our adult children, numbering 12 in all. Although originating from similar roots, our progeny couldn't be more different.

The first question one might ask is, "Why are women of fully grown adult children still so focused on their offspring?" Why aren't we throwing a party at their 18th birthday and going our separate ways? I believe it is our destiny. The connection between mother and child is the most primary biological relationship.

As a longtime educator of kindergartners through college-age students, I have witnessed firsthand how significant the mother/child relationship can be on later development. Beginning in pregnancy, women adapt to their new lifestyle to meet the needs of the forming infant. We are no different from most mammals. However, we humans have ultrasounds, heartbeat monitors, the technology, the books, the blogs, the vitamins and the stretchy clothing that help us connect forever with that baby. When we give birth, oxytocin, the lactation hormone, and round-the-clock visits cement the attachment.

Another shocking biological underpinning is the discovery of fetal microchimerism described by Viviane Callier in the September 2015 issue of Smithsonian Magazine. Researchers, looking for causes and cures of disease, found that fetal cells cross the placenta and enter the mother's bloodstream in her bone marrow and other organs. Remnants of the cells are present for decades! No wonder we can't get our children out of our minds and hearts! They literally live within us.

I'll add a personal perspective: I expected a relationship with my daughter to be like the one I experienced with my own mother. We spoke daily, and she was intimately involved in raising my children. This was my paradigm for parenting adult children. That is why I have been flummoxed by my relationship with both children, yet I did feel validation in psychologist Joshua Coleman's comment in the January 2021 issue of The Atlantic: "You can be a conscientious parent and your kid may still want nothing to do with you when you're older."

Thankfully, my two adult children are both open to having a warm relationship with me. Though below the surface, ours are less intimate than what I experienced with my own mother.

The big question is, "What has changed?" It is very important for aging moms to figure this out. The job description keeps changing. We need to be flexible when our children are in early adulthood, finishing their education and landing that first job. Another change is required in middle adulthood, when these same adult children might have demanding careers, spouses, their own children, new homes.

As they age, we are aging faster and might need to flip the script, requiring assistance from them. Benjamin Spock did not address these stages.

What makes these relationships so challenging? Some answers lie in the diversity of my book club offspring. Of the 12 adult children, half live in different geographical locations than their mothers, five are products of divorce, four have limiting disabilities or have a child with one. Their own family structures are varied — eight are married, five have children, and four are single.

Philadelphia-based marriage and family therapist Herb Cohen clarifies the challenges of parenting adult children: "These relationships come in so many flavors, there can't be a common formula. … Parenting adult children challenges us to tolerate, even welcome, a delicious tension between yesterday's, today's and tomorrow's evolution of what it means to be in a family."

Stephanie Coontz from the Council on Contemporary Families finds that in our culture, there is a great emphasis on the search for personal growth, to the detriment of family obligation. According to a team of researchers describing three landmark studies investigating baby boomers' intergenerational relationships in The Gerontologist, radical change has been fueled by a staggering number of societal changes. I believe relationships between parents and adult children have been affected by the women's movement, the sexual revolution, a rise in divorce rates, arrival of new technologies, the economic downturn and, most recently, the pandemic.

These events have stressed adult children who have financial struggles and unstable jobs, as well as difficulty in finding partners. Immigration, gender issues, single parenting and the dissolution and reconstitution of families also play their role.

Certainly, we aging mothers are aware of these factors — we've lived through them! But our children have been more impacted by them. Perhaps some comfort can be taken in acknowledging that there are a host of factors outside our control that affect our relationships with our children.

Cohen, the Philadelphia-based therapist, encourages us to practice thoughtful parenting. This involves a robust dialogue and a sensitivity to the challenges our adult children face. Though we all strive for closeness, if our history was defined by over-involvement with our children, perhaps more distance is needed in the relationship. If we were distant from our children, parenting now should display more involvement. Hopefully, the many years we have remaining as parents offer a chance for great healing.

Who out there is still parenting adult children? How's it going? Let us know in the comments below.