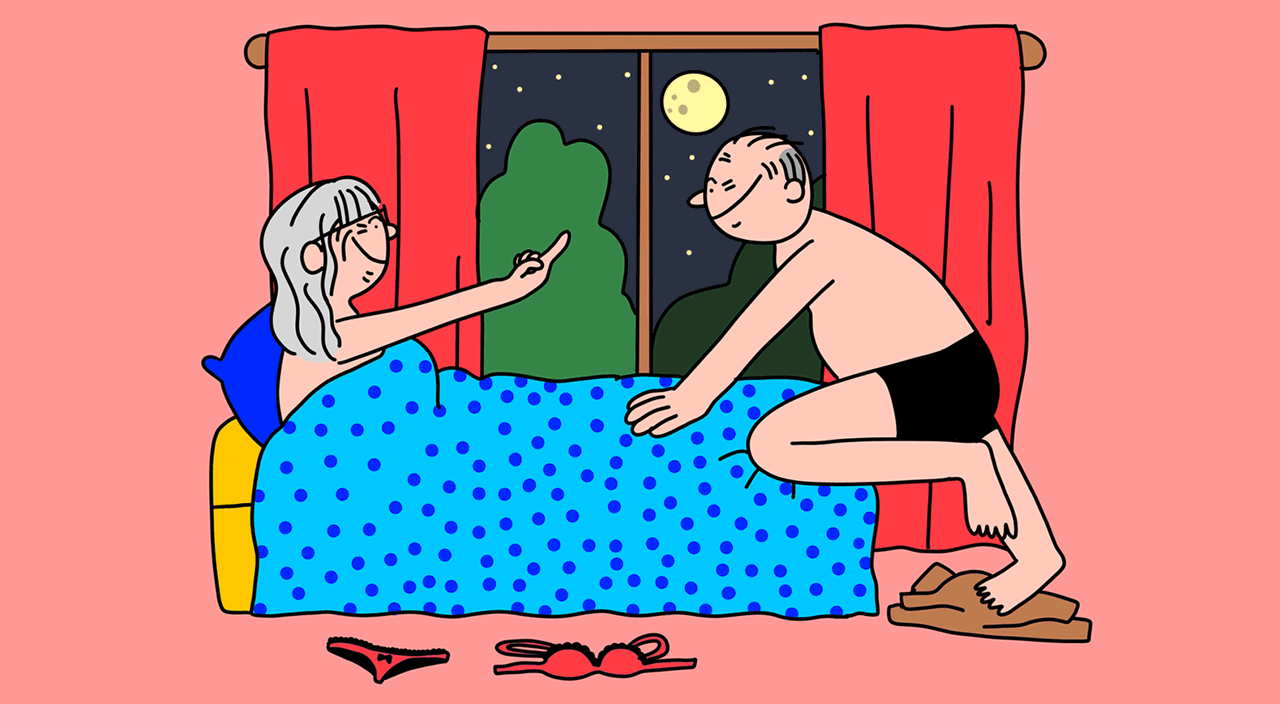 Adapted from AARP's Love After 50 (Simon & Schuster, July 2021)

You are poised to have the best sex of your life. "How can that be?" you ask yourself. After menopause, our estrogen has all but evaporated and our vaginal tissues are dry. Men's testosterone levels are likely lower and erections are iffy, even with Viagra or Cialis. And none of us are as flexible as we used to be. Exactly.

That means you and your partner need to work together. You talk more. You collaborate. You tell each other what you can and can't do, what feels good, what hurts and what you need in order to get off. You're more vulnerable, more intimate, more sharing in your lovemaking than ever before.

Maybe when you were young, you had propulsive, passionate sex that exploded in orgasm. Or maybe you had so-so sex, never feeling comfortable saying what you needed. If you were long married and had raised kids, maybe you stole time for sex from the demands of work and children. Or maybe you stayed in a sexless marriage. If you were single, divorced or widowed, you, too, may have spent years with no sex at all, or had awkward trysts here and there.

Whatever your previous experiences, whether you're 50 or 80, you now have the chance to experience sexuality in new and deeply satisfying ways. Your age and maturity, as well as the depth of emotional intimacy you can bring to your cherished new relationship, make this possible.

Here are the top lessons learned in researching my new book, Love After 50: Find It, Keep It, and Enjoy It.


See your doctor if you haven't had sex in a long time or are dating someone new. Learn what's safe for you, what might be painful and what you can do about it. Your gynecologist may prescribe an estrogen cream. Many men start to lose their firm and frequent erections in their 50s, so your partner's urologist or internist may prescribe an erectile dysfunction (ED) medication. Most doctors will give you a primer on avoiding sexually transmitted diseases (STDs), which are rising faster among older people than younger.

Develop trust. During and after sex, love hormones flood your body: serotonin, dopamine, oxytocin. They create feelings of attachment and bliss. Getting naked, you're exposing yourself and your aging body with your inevitable limitations and scars. You want to know your partner will be gentle and nonjudgmental. Talk intimately before you have sex. "If it's too early in a relationship to reveal things you're embarrassed about," therapist Lois Nightingale told me, "It's too early to have sex."

Use the changes in your body as a launchpad for creativity and passion. Experiment with each other. When your partner touches that certain spot on the ball of your foot, do you feel a charge? When you pull his earlobe down, hold, then suddenly release, does he shriek with pleasure?

Be sure you both know that if it's a bust, that's fine. Whatever happens in the bedroom, you're in it together — even if you end up laughing and saying, "Well, we gave that a try. Let's go to brunch."

Be prepared to drive this creativity. Many guys of a certain age are locked into the performance model they grew up with: He gets hard, does the deed and brings you to orgasm. Often, when men can't count on their erections anymore, they're reluctant to have sex at all.

Explore different levels of desire. Between ages 50 and 90-plus, variations in sexual interest and abilities are huge and not necessarily linked to age. So if you're eager to be sexual, you're probably better matched with someone who speaks about passion and having a healthy libido. Again, the best way to deal with a sexual issue is to talk about it.

Don't mistake intercourse for sex. Women have always known how fabulous foreplay is. Now we both need foreplay. When men have trouble getting and keeping an erection, many abandon sex. That's too bad; they lose out on a lot of erotic pleasure — and deprive their partners of the sexual touch they still crave. Whatever you do or don't do, loving touch will still be a critical part of what knits you together and makes you a couple: sleeping in each other's arms, rubbing each other's backs, holding hands, kissing. That's sexual, too. Never underestimate that.
What makes sex not only possible but amazing for older couples has little to do with the toll of age on your bodies. It's about the emotional connection between two equal and emotionally wise lovers.

Francine Russo is author of AARP's Love After 50 (Simon & Schuster, July 2021), available wherever books are sold. A journalist focusing on psychology, relationships and social trends, she's written for publications including The Atlantic, The New York Times, Parade, Scientific American, Time magazine and New York magazine. She has two grown children, three adult stepchildren and eight amazing grandkids. She lives in New York with her partner.