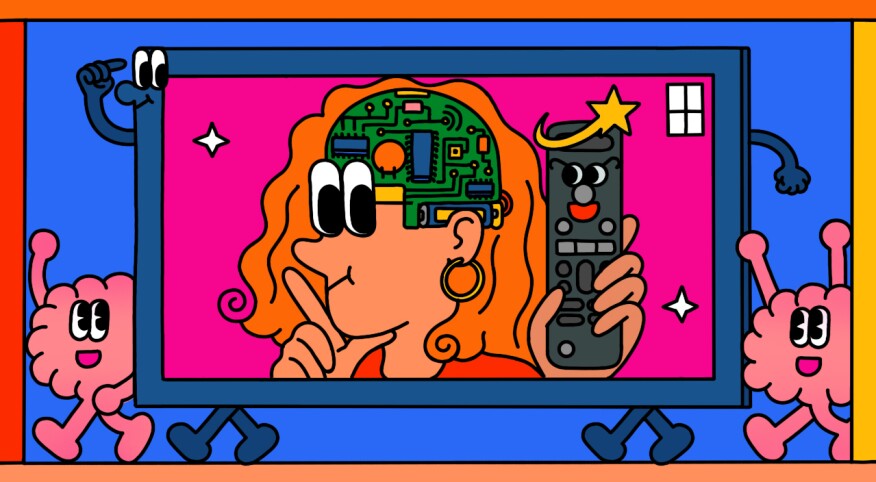 Eight years ago, I left the world of corporate law to start a tech coaching business. My company, TechMoxie, helps the tech-anxious get more comfortable with our ever-changing devices. When we launched, a few friends were skeptical that my business would be needed once everyone learned how to use a smartphone. That seems like decades ago.

Today one of the most frequent requests for my services is teaching people how to watch TV. With multiple remotes, the need to switch inputs and so many streaming options, I've had clients driven to tears. More than one has called me at wits' end because they cannot watch TV alone, without their tech-savvy partners, because they have no idea how to switch between Netflix and cable television.

I am frequently asked, "What is streaming?" and "What is a smart TV?"

Even those who are currently streaming often don't really understand what it is. Here is how I explain it: If you are a cable TV subscriber, your content literally comes through a cable into your home. Similar content is also available via a satellite dish.

If you don't have cable or satellite TV, you may be getting channels via a digital signal – the modern version of getting TV over the airwaves. (Remember adjusting that TV antenna and not being able to let go without losing the cartoon you were watching?) Though the term has broadened a bit, streaming generally means that you are getting programming via the internet – not via cable, satellite or a digital signal.

Why is it called "streaming"? I think of it like water coming through your household pipes. We don't keep giant tanks of water for household use. Instead, our water comes through pipes with enough pressure to keep it flowing. Turn on the faucet, and the water flows. It's similar with streaming TV programs. A small amount of content at a time flows from the internet through our devices for our viewing. A bit of extra content "buffers," or builds up, to smooth out any short glitches in our internet.

This avoids the need to download huge movie files onto our computers or into our TVs, which would be impractical for the typical viewer and not in the interest of the producers, who don't want us to redistribute the content in violation of copyright. (Remember those FBI warnings on the VHS movies we used to rent?)

Streaming on a computer, smartphone or tablet is straightforward, as these devices are made to use the internet. You can stream content on your computer by going to a website (such as Netflix), through your internet browser or on a tablet through an app you have downloaded. TVs, on the other hand, must be specifically equipped to access the internet. If a TV has internet capability, it is referred to as a "smart TV." Today most TVs come "smart" out of the box. But an older TV can be made smart by plugging in what is essentially an internet receiver, such as a Roku, Chromecast or Amazon Fire Stick.

Amazingly, even TVs with the old RCA jacks (those red, yellow and white holes on the back of some sets) can be used to connect a Roku. Purchasing a device to make your TV smart is a one-time cost — no subscription is required.

Once you have a device set up, you will need an account with a streaming service (or services) of your choice. The options have proliferated and there are many to choose from. Some are subscription and charge a monthly fee. Netflix and Amazon Prime are perhaps the most widely known subscription services and include feature films, TV shows and their own produced content. (Note that if you have an Amazon Prime account, streaming services are already included.)

Many services offer free trial subscriptions, so you can sample them before committing. One huge advantage of the streaming services over cable TV is that you pay month to month, and you can cancel at any time — no multiyear contracts or packages are required. You can subscribe to get access to a specific show or series and then cancel after you've watched it. This has helped many "cut the cable cord" and get their viewing entirely via streaming.

There are also good options for free streaming services. Many local public libraries offer free subscriptions to movie streaming services via their websites. All you need is a library card and access to the internet. There are also free streaming services that run commercials instead of charging you a monthly fee — Peacock, Pluto TV and Roku Channel are some of the more popular. You can find more by doing a google search for "free streaming channels." PBS also offers free streaming of many shows as well as live TV.

Nearly every viewing option imaginable (including news and sports) is now available via streaming. Many of the most talked-about series and movies shows these days are not even available on cable TV. So mastering the art of streaming will open up your life and interests in all sorts of new directions.