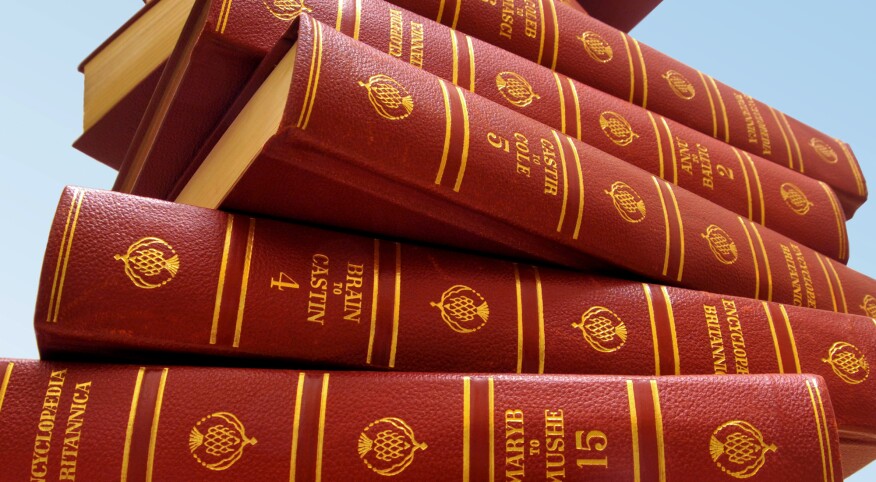 Before Google and Alexa and Wikipedia, we had the encyclopedia, a mammoth set of leather-bound books filled with the promise of knowledge and, dare I say, adventure. You wanted to learn about butterflies? The digestive tract? The inventor of the shot put? It was all right there, waiting to be discovered, in my childhood family room, with gold-foil-gilded pages shining next to the Nintendo machine and above the cabinet where we kept Trivial Pursuit and Boggle.

The writer in me got her start in the pages of World Book (along with the local library's Dewey decimal system, may it R.I.P.) It not only helped me earn an A+ on my middle school report on corn, but also served as my first foray into research and formal information gathering. And don't even get me started on those transparent tissue-paper pages that let you overlay the human body with nerves, organs and more. Reading the [en-sahy-kluh-pee-dee-uh] was just plain fun. And no, I'm not nervous about sounding like a nerd, because when I recently posted about them on social media, my Gen X friends all agreed and some seriously hard-core reminiscing ensued.

Shelley: "I can almost smell them … the covers, the pages. They were my go-to for every paper I wrote or diorama I made. It felt like a really big deal that we could have a library in our house. I still remember the door-to-door salesman."

Melanie: "When I wanted to go vegetarian at age 15, my mom made me write a report on vegetarian nutrition before she would allow it. I turned straight to the World Books for my research."

Elizabeth: "Oh, we had a dedicated table for this big-ass encyclopedia (that must have weighed 50 pounds) in the corner of our living room. It was actually really beautiful … sometimes we'd look up something purposely funny and leave it open to that page. And it was fun to go look and see what page it was left on, and if it was different from what you left it open to. It was basically our first search engine."

Britt: "It was like the internet rabbit hole before the internet existed: A led to F led to K led back to B, before I zoned out at W."

Anne: "I loved my Britannicas! I read the 'dogs' entry all the time as a kid, memorizing all the breeds."

Alison: "Pretty sure our 'S' volume fell open to the 'Sex' page, as much as I looked it up."

Over the past few years, as life has moved increasingly online, I've found myself thinking about encyclopedias, especially when our 6-year-old asks us questions like, "Why is the sky blue?" and "Do male bumblebees sting?" Back in the '80s, my own parents would have surely responded to such inquiries with "Go look it up." And off I would go, spending the next hour happily jumping from entry to entry. In 2020, those questions are typically answered with a different sort of looking up (that is, Google). But my husband and I tend to be fairly screen-averse, so I basically end up fumbling for an answer until our older daughter chimes in with the correct response.

I wanted to get my kids a set. They're monster readers, and I just knew they'd they fall in love with the whole world-at-your-fingertips concept. World Book Encyclopedia kindly sent me a 2020 Q/R volume to test out. When it arrived, I could barely contain my excitement. "Look! You guys can read about radishes! Rubies! RONALD REAGAN!" They were … subdued. In their defense, we hadn't had any recent conversations about Quebec or quicksand, so nothing immediately grabbed their attention. But I left it out and sure enough, the next morning the 6-year-old was curled up on the couch, reading about rottweilers.

Encyclopedia Britannica's paper version is no longer produced, but when I reached out to them, they noted that unlike so much of what we read online, their information is thoroughly fact-checked and vetted; there's even a Chrome plug-in that automatically displays any current Britannica articles alongside your (or your child's) Google searches. Good news in our new era of remote learning.

Still, with screen time at an all-time high, I'm drawn to the notion of physical research and want to give our kids every chance possible to flip through actual paper pages. And if that means investing in a 2-foot-wide hardcover compendium (the 2021 edition will include entries on Black Lives Matter, RBG, COVID-19, Dr. Fauci and more, but the gold pages have been retired), I may just be feeling nostalgic enough to do it.