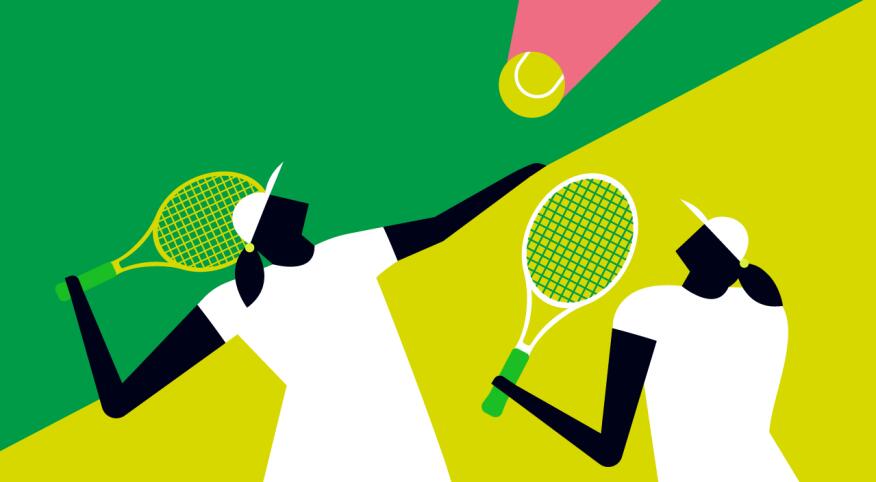 As a singles tennis player, I was clueless when I started playing doubles in my 40s. During a practice with my United States Tennis Association team, a player said, "You don't just stand there," as I did just that while a ball headed toward my partner.

I learned doubles required being flexible and adapting to different situations, skills applicable to life in general and to my recent divorce. I fell in love with playing with a partner, and formed friendships that sustain me to this day, at age 67. And I learned that the elements of a good doubles team — communicating with each other, supporting each other — also make solid friendships.

Feeling connected to a like-minded and supportive community is a strong draw for me and other older players. Our numbers are strong: Statistics from the Tennis Industry Association reveal that 2.7 million players in the United States were ages 55 and over in 2020.

Along with forming deep friendships, another benefit is that playing tennis, unlike other popular sports, does not end in youth. If we remain healthy and fit, hitting the courts and hitting those balls can last throughout the golden years.

"Tennis friends are more than friends," Tennis Hall of Famer Judy Dixon, 72, told me. The Amherst, Massachusetts, resident, who happens to be my friend, captured the women's 70-plus singles and doubles titles at the Level 1 United States Tennis Association National Women's Hard Court Championships. She is also the captain of the U.S. Super Senior World Team of players in their 70s.At the age of 17, Dixon played doubles with Billie Jean King. She went on to become a winning coach at the University of Massachusetts and run her own tennis program for women.

"We compete at various tournaments, try to beat up on each other on the court and then continue on with our friendship," Dixon says. "The expertise does not matter. The level of play does not detract from the passion. Recreational players feel the same as world team players."

For me, the expectation on a tennis day is like a summer morning with the promise of ice cream. Warm weather Wednesdays are our designated day for a clinic on clay courts at the Holyoke Canoe Club in Massachusetts, on the banks of the Connecticut River. It's like camp for grownups, with watermelon and storytelling breaks.

I'm the baby in a regular Monday group on high school courts in another town; the group includes an octogenarian who exclaims, "Oh no!" when the ball comes to her — then powers it back.

Back in my 40s, I joined my first team, the Ruthless Racquets, when the coach recruited me after seeing me play at a club with friends from the newspaper where I was a reporter. "You look like a 3.0," he said, guessing my level in the National Tennis Rating Program. I became one of two singles players who competed along with three doubles teams in weekend matches at clubs in western Massachusetts. I played doubles on my next team, titled Mass Confusion, and formed a winning partnership with Donna, a third-grade teacher.

When I turned 55, I simultaneously played on a 55-and-over team, called Specially Seasoned. In a summer league, I was on the Paper Dolls (named for our host, Holyoke, the "Paper City"). After matches against our sister team, the Valley Dolls, we went out for pizza. In 2003, when I got leukemia, teammates Kit, a nurse, and Korby, a local business owner, drove me the 90 miles to Boston's Dana-Farber Cancer Institute. After the doctor said I would get intensive chemotherapy and a stem cell transplant — in which a healthy donor's cells replace the patient's damaged ones — they comforted me over dinner.

In between chemotherapy sessions, when I went to watch a tournament, being with my teammates gave me such a boost of energy that I decided to play. I was an athlete and not feeling like a bald patient when Donna and I won. I also love watching tennis, and that's why I look forward to an annual bus trip to the U.S. Open Tennis Championships in Queens, New York. I was very disappointed when there was no trip in 2020 when, due to the pandemic, the tournament had no spectators. And it's why I was excited when I heard it would be played in 2021, starting Aug. 30, to a crowd of vaccinated fans.

We were excited to watch women's doubles and to get our traditional Honey Deuce Cocktails ­–– tennis-ball shaped melon balls dunked in icy vodka, lemonade and raspberry liqueur.

In recent years, I have played more for fun than at the league level, though I work just as hard at the sport. Last winter, when vaccines were not yet available, that work meant playing on outdoor courts until my gloved hands got numb. My age and my transplants put me at greater risk of complications from COVID, and I didn't feel safe indoors. Susan, my epidemiologist friend, played singles with me in the chilly temperatures until the wind whipped the ball away.

Although I am not in tournaments anymore, winning has many forms. One triumph was sticking it out, playing in the cold.

I started playing tennis as a child with my father, who found the sport to be a lifeline into his 80s. If you can inherit a tennis stroke and approach, my 6-foot-4-inch father's ability to put it away at the net, and his joy in doing so, are among them.

Passing on his love of tennis is a gift that led me to a community that has sustained me since I joined my first team some 25 years ago. Tennis, as many of you 55-plus players know, will always be a key to fitness and joy.