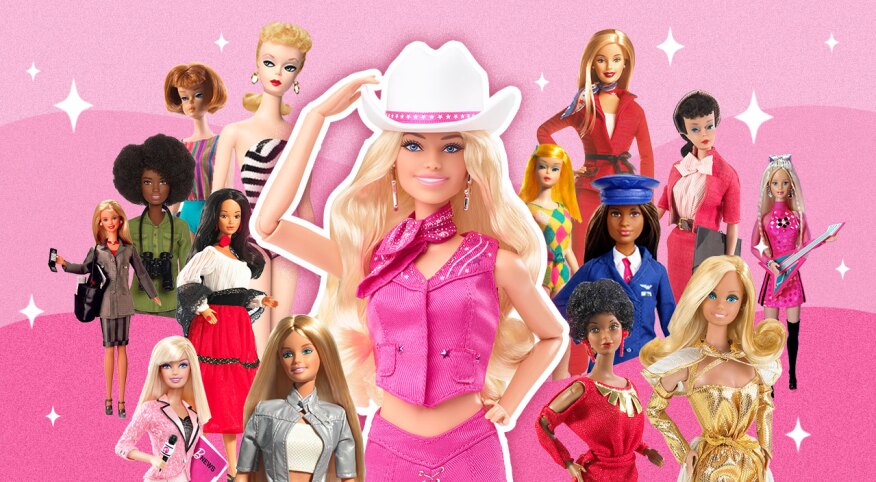 One of the most poignant scenes in the smash Barbie movie comes when Margot Robbie sits next to a 91-year-old woman at a bus stop. Robbie's blond perfection highlights the old lady's wrinkles and lumps. Then Robbie declares, "You are so beautiful." The older woman pauses, then replies confidently, "I know."

Pressured by Mattel to eliminate the scene, writer and director Greta Gerwig refused, saying, "If I cut the scene, I don't know what this movie is about. To me, this is the heart of the movie."

In other words, Barbie is one of us — an older woman. The doll was created in 1959, but she was already 19 then. Simple math reveals that Barbie was born in 1940. That makes her 83 now.

Like most women over 50, Barbie knows a lot about the reality of aging, as do the three prominent older women in the movie: Rhea Perlman, 75; narrator Helen Mirren, 78; and the bus-stop woman, played by 91-year-old costume designer Ann Roth.

Neither Barbie the doll nor Barbie the movie is as shallow and anti-male as some critics want us to believe. That negative press has not made a dent in the movie's runaway appeal. Three weeks after its debut in July, the film had raked in a record $1 billion.

Despite despite enticing girls and torturing them about their bodies for decades –— and receiving a lot of beheading and Sharpie abuse in return — Barbie remains immensely popular, a societal touchstone. Why do we love and loathe Barbie? Why does she feel like a real person to many of us? What does the fact that Barbie endures reveal about being an older woman in our culture?

Part of the answer is that Barbie, despite her Playboy measurements and feet permanently molded to stiletto heels, was founded in feminism. She was created by a female entrepreneur who later went on to invent the first life-like prostheses for women who had mastectomies.

In 1959, Ruth Handler — one of 10 children born into a Russian Jewish family in Denver — had the revolutionary idea that dolls could spark the imagination of girls like her young daughter, Barbara. Girls born before the 1950s mostly had rag and infant dolls that indoctrinated them to be mothers and nurturers.

Handler wanted her daughter to play with a toy that inspired girls to envision all they might be as adult women. Not surprisingly, Barbie was an instant showstopper when she debuted at the 1959 New York City Toy Fair.

Along with Jackie O and Princess Diana, Barbie reigns as one of the most recognizable female icons in the world.

The company Ruth Handler built around Barbie, Mattel, has a net worth today of more than $7 billion. Over the course of six decades, over 1 billion dolls have been sold worldwide, with Barbie-mania particularly strong in Japan. (Her Asian identity is the Anna May Wong Barbie.)

As the decades progressed, Barbie became the model for Mattel's "Inspiring Women" series portraying activists such as Rosa Parks and Susan B. Anthony. She also personifies modern careers in agriculture, athletics and medicine — including dolls representing health care workers on the frontlines of the COVID pandemic. Barbies also come in multiple races and ethnicities and full-figure versions. Regardless, they all still have boobs bigger than mine.

Now, Barbie has become a movie star. Mattel ramped up the marketing hype for almost two years before opening day of the film, with brand partnerships ranging from Bloomingdale's to Crocs shoes to Airbnb. Now that's real girl power, for Barbie and for her pioneering female director, Greta Gerwig.

Barbie long ago ceased to be just a doll, becoming a person and an icon who helped define who we wanted — or didn't want — to be as women ourselves. Her handsome boyfriend never turns into a husband she has to beg to take out the trash or turn on his side to stop snoring. She's always smiling. Her preferred palette is pink, of course, causing a fuchsia fashionista flareup this fall.

Barbie is an utter contradiction, explains Shelley Brody, 81, a longtime professor who has dual master's degrees in psychology and women's studies. "Barbie embodies positive feminist messages," Brody explains of this independent woman who never marries or has children, and lives by herself in a literal dream house. "Yet she has no genitals. She doesn't even know what genitals or sex are!"

Of course, few of us real-life women get through life without acknowledging our genitals, sex, choices and childbirth. One of Barbie's biggest accomplishments is that she gets us to examine the real-life choices women do, and don't, have — in our professions, our bodies, our lives. Her beauty, perpetual smile, unchanging curves and multiple careers bring up society's unrealistic expectations of women. However, Barbie is about sparking our imagination of what we can be — if we all lived in our own BarbieLand.

Late in the movie, Margot Robbie declares, "I love women." This is the epitome of Barbie's lasting appeal. Put aside her enviable waistline, imperviousness to wrinkles and mascara that never smears. Barbie's secret is her prototypical, and genuine, eagerness to please. If Barbie knew how badly she often makes us feel about ourselves, she'd be mortified. She'd apologize sweetly. She'd tell us how beautiful and valuable and wonderful we all are. She'd mean every word.

As I left the theater, planning to buy a pair of pink Birkenstocks to match Barbie's, I felt good about being an older woman. I felt connected to other women, in all our imperfections. That togetherness is the heart of feminism, of the #MeToo movement, part of every march for women's rights, and the lasting triumph of all things Barbie. We'll know Barbie's true power when Mattel comes out with the most inspirational doll of all — Grandma Barbie, paving the way for empowered grandchildren everywhere.

*At roughly the same time Ruth Handler created Barbie, retired California teacher Ethel Percy Andrus incorporated the American Association of Retired Persons, with membership set at $2 a year as of July 1, 1958. You are reading this article in the e-newsletter honoring the original Ethel.

Did you play with Barbies as a kid? Did you see the movie? Let us know in the comments below.