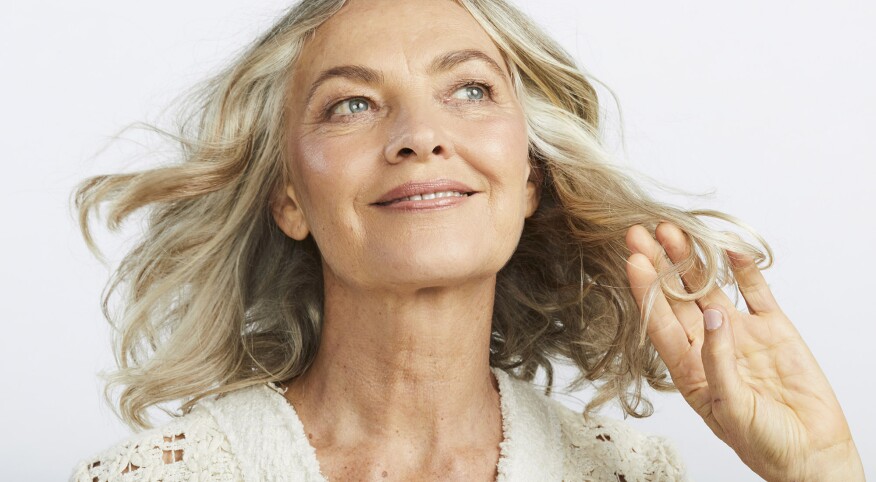 If you'd seen my mom back in the 1970s with a box of the hair dye Just for Men, you likely would have had no idea what she was up to. The product was for moustaches and beards, and because of the toxicity to the eyes, it was not recommended for eyebrows. But in those days the choices were limited, so that's where she applied it. When white hairs started poking through my own dark brows, I reluctantly used it also; I was OK with salt-and-pepper hair, but brows, not so much.

Fast-forward to current trends when women want monochrome eyebrows that are neatly shaped, and we don't need to use products intended for men. We can pick from a plethora of gels, pencils, powders, stencils and more aggressive techniques such as microblading.

When I got leukemia some 20 years ago and lost my eyebrows along with my hair during chemotherapy, a thoughtful friend gave me a kit to make eyebrows with powder and stencils. Putting on eyebrows gave definition to my face and perked me up. Luckily, that's behind me, but remembering the odd look of being eyebrow-less, I'm determined not to drift there again. The array of choices for achieving beautiful eyebrows can be a little overwhelming, but they are definitely safer and more effective than Just for Men. And they are worthy of our attention.

"Your eyebrows frame your face," says Leslie Perry, a makeup artist and licensed aesthetician in Scottsdale, Arizona, and the membership director for the Professional Beauty Association. "The pandemic has accentuated the importance of brows. Sales of brow and eyelash products increased. If you had a mask on, it was the one thing you could see."

From the men's coloring product, I graduated to Anastasia's Tinted Brow Gel, in a shade called Espresso, one of seven from Blonde to Granite. When you brush it on from the outside in, and then smooth the hair back in the other direction, it covers the gray for about a day.

Recently, a new challenge presented itself: The hair at the end of each eyebrow has thinned out. For this scenario, Perry recommends a liquid microblade pen that has four points and is offered in shades ranging from light to dark.

You start where the missing hairs are and follow the natural arch to make strokes that will mimic the look of a full brow.

What if you have no brows at all?

Sephora beauty director David Razzano says brow pencils work well in the case of hair that has thinned or disappeared, which happens with age. "A classic is the brow pencil, Benefit Cosmetics' Precisely, My Brow Pencil Waterproof Eyebrow Definer," he advised. "If you want to enhance your gray, or draw on gray if you have no eyebrows, you're in luck. It comes in 12 shades, from Cool Gray to Cool Soft Black."

For those tired of daily eyebrow maintenance, enter microblading, which is cosmetic tattooing with a special tool. This can be permanent or semipermanent, so buyer beware. "It's important that you have communicated how you want your brows to look," aesthetician Perry points out. "If you don't like it, you're stuck with it." It is also crucial to have a licensed and experienced practitioner do the procedure.

For shaping, I've been randomly tweezing, and I wondered if it is true that if you tweeze gray eyebrows, the hair won't come back. Perry says not to worry. "I don't see any reason not to tweeze a stray eyebrow hair regardless of the color," she says. "Overtweezing over time will lead to less hair growth. But tweezing the stray hairs [outside the area of your brow shape] is fine."

Another option for shaping is eyebrow threading, a hair-removal process in which a technician uses a piece of cotton thread to twist and remove the hair from the root. You can get this done at many salons specializing in hair removal.

To fix my partial eyebrows, which make me look surprised, I tried extending the gel onto my skin. But it didn't look natural. So I went to Sephora and bought powder. That appeared too dark and made me look like Groucho Marx. Back to the shop it went.

On my next attempt, I'm going to consider what New York and Paris brow artist Delphine Breyne told me: "When it's too heavy, it doesn't look natural. You should go lighter, or else it would make you [look] severe. Don't make [the line] too long, too thick or too dark."

Here's another option Breyne recommends: "When you go to the hair salon, they can dye your eyebrows."

At my last appointment, my stylist said I had enough dark in my brows to stick with the gel brush. She waxed my eyebrows (a first for me), and she advised that when the hair started to grow back, I would have a contour to tweeze around. As for the missing ends, I got the microblade pen, and so far, so good — and way better than my brows with Just for Men.

Anyone else have thinning eyebrows? Have you tried something that really helps? Let us know in the comments below.