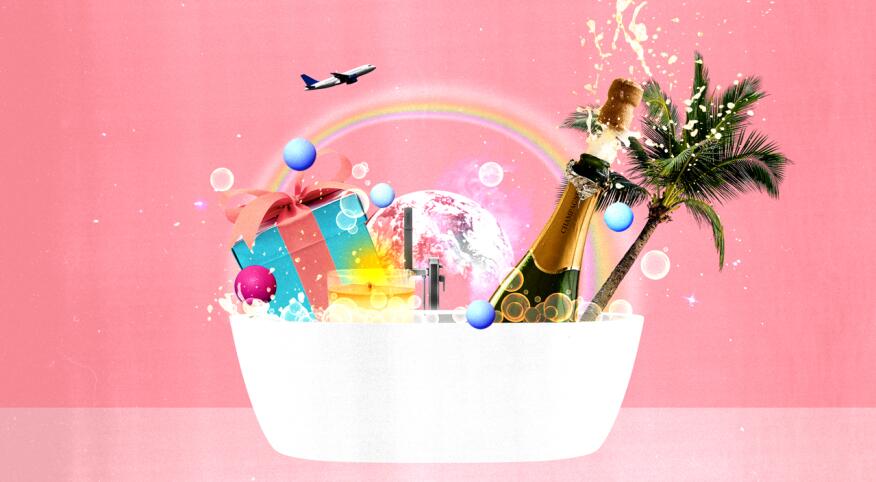 A "World's Greatest Mom" mug?" Sweet idea, and maybe your sleep-deprived daughter can take comfort when she realizes that she mistakenly poured pumped breast milk into her coffee. A dozen roses are lovely — until her toddler rams into the vase, spilling water on the carpet and spewing thorned stems where the baby crawls.

What do the mothers of our beloved grandchildren really want for Mother's Day? Sleep, time alone, time with their partners, better maternity benefits and childcare policies, and myriad other things that the UPS truck can't deliver. Still, there are many gifts new moms would appreciate, and they don't have to break the bank.

Date night

A gift certificate for a restaurant along with an offer to babysit is a classic option. But that's not always possible, especially with the ups and downs of the pandemic. Leah Robertson, a new mom in Colorado, says she'd love to go out, but her baby is too young to be vaccinated. She doesn't feel safe yet eating in a restaurant. "It would be absolutely amazing if the grandparents wanted to make us dinner, since we can't go out, and watch Maeve while we had a nice, long meal uninterrupted by a baby wanting to be held."

Pampering

Who doesn't enjoy a massage or some other soothing spa treatment? A gift certificate paired with babysitting is the way to go here. If COVID remains a risk, an at-home spa day is another solution. The gift could be bubble bath and a soft robe coupled with, of course, babysitting. That way, your daughter or daughter-in-law can pamper herself in place and in peace. And peace means that mom cannot hear the kids on the other side of the bathroom door. Optimally, take the grandchildren out.

Mom's outta here

If a getaway is a possibility, it doesn't need to be fancy. "The number one thing I would love would be just a single night anywhere," says Alexis Schaitkin, a mother of two in Massachusetts. "Literally, an Airbnb on my block would be amazing. A modest hotel a five-minute drive away? Perfect."

Food

Gift certificates for restaurant delivery, a home-cooked meal (with enough for leftovers), baked goods, you name it. If your daughter or daughter-in-law lives far from where she grew up, a taste of home is an inspired treat. Sites like Goldbelly can send lobster rolls from McCloon's Lobster Shack in Maine to relocated New Englanders, H&H bagels to women longing for a New York City nosh, or collard greens from Kings BBQ in North Carolina to transplanted Southerners.

Cleaning

Hire a service to provide a deep house cleaning for the young family, or arrange for a housekeeper once a month. You could even offer to clean the home yourself — without commentary. "My house is a disaster," says one beleaguered mom. "But I don't need criticism … just help."

Affirmation

Young women today are barraged with blissful images of new motherhood on social media, even though new motherhood is often anything but blissful. What they need instead is our emotional support. "There is nothing more encouraging than your mom — who arguably knows you better than anyone else on the planet — writing out specific reasons that you're doing great," says Laura Moberg Lavoie, a California mother of two sons.

Still want to wrap up a gift?

Here are a few products that new moms swear by.

The Ollie Swaddle

South Carolina mom Karen Amira calls it "a lifesaver," adding, "I got this as a gift from a friend who already has four kids, so she knows the ropes." The easy Velcro straps make it foolproof for the swaddle-challenged.

Baby Nail Trimmers

Who among us did not draw blood trying to trim our baby's tiny nails? Well, it's gotten easier, thanks to these trimmers young moms swear by: Piyo Piyo Baby Nail Scissors, the NailFrida SnipperClipper Set and the electronic Baby Nail Clippers 20 in 1 by Royal Angels.

Bonsie Single

Described by one mom as "the easiest full-body onesie I've found for late-night diaper changes," the Bonsie opens across the front with an easy Velcro latch. It's specifically designed to encourage skin-to-skin contact between mother and baby. You might also check out the rompers from Simplee kids or the toddler dresses from ZARA.

"My Favorite People" Artifact Custom Baby Board Book

This book pairs photos with words and is particularly great for moms who live far from family. "I plan to make one of these for my daughter Eden and fill it with photos of her grandparents, aunts, uncles and cousins, since she probably won't see them as often as we'd like," says new mom Ariel Hodara, whose family is scattered across the country. You can make a custom book yourself or give a gift certificate to the site to your daughter or daughter-in-law. Other custom baby photo book companies include Pinhole Press, I See Me! and Pintsize Productions.

An Audio Book Subscription

During middle-of-the-night feedings, it's hard to hold a book or Kindle, and TV might wake the baby (or rot what's left of Mom's brain). Audiobooks are the answer — no hands, soothing (depending on the book), and she can stop and start them as needed.

Gifts outside the mommy box

Moms with kids of all ages appreciate presents unrelated to motherhood that focus on themselves. It might be bath pillow, a pair of great hiking boots, a museum membership or a gift certificate for an online class where she can pursue her passion. Courses are available on everything from computer coding to sign language, Portuguese to poetry.

Do you remember being in the fog of new motherhood and some older relative saying, "Enjoy these child-rearing years — they're fleeting"? It was unfathomable to us then, just as it is now for young mothers slogging through dirty diapers and fatigue. So, focus on giving the young moms in your life gifts that make their lives easier and offer more time for self-care and relaxation.