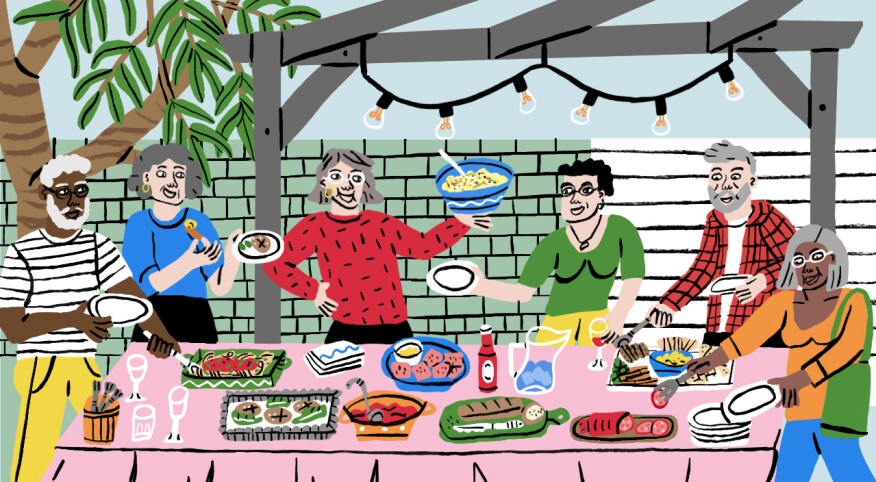 Is the upcoming dinner at my friend's house going to be a potluck? No, it's not. Then why do I always ask, "Can I bring anything?"

I know what propels my question, and the answer is threefold.

1. It just popped out due to unchecked good manners.

2. Self-interest. What if the host's food is — forgive me — not so great? At least I'll have my own contribution.

3. Ego gratification, hoping a guest will ask, "This scrumptious thing? Who brought it?"

"Vanity of vanities! All is vanity," Ecclesiastes warns. Guilty as charged. Good cooking and baking have always been highly esteemed in my family. My mother baked breads of every description and ethnicity. Her lemon meringue pie, with its beautiful golden peaks, could've graced the cover of Gourmet. She had four different custards in her repertoire and (because I inherited her handwritten recipe notebooks) at least six different cakes labeled "best" of its category.

My older sister, an adventurous cook (Roast goose! Lobster Savannah!), made the first guacamole I ever tasted the night Richard Nixon resigned.

"Sure," I tell my host. "What do you need?"

Often I hear, as if it's as easy as picking up takeout, "How about …" followed by menu gaps that need filling. A dessert? An appetizer? Or that side dish you brought last time that was a big hit? I turn to my standbys. If the option is a salad, I'll bring the surefire coleslaw I've been making for 20 years. This recipe is perfect for any season, any climate, for a BBQ, for vegetarians and vegans and the gluten-free. I always make it for Thanksgiving, and because it's made without mayo — and because I think about such things — it never announces itself as "purchased at the deli counter."

I am faithful to the original recipe on Epicurious.com, except I go easy on the onions. If it's just a serving for two, and I'm halving the amount of cabbage, I make the full amount of dressing and keep it in a jar in the refrigerator. It keeps for a long time.

Carolina Coleslaw

1/2 cup distilled white vinegar

6 tablespoons sugar

6 tablespoons vegetable oil (I use canola)

2 1/2 teaspoons dry mustard

1 (generous) teaspoon celery seeds

1 medium green cabbage (about 1 1/4 pounds), thinly sliced

1 large onion, thinly sliced (I usually don't add this, or I add just a fraction of that amount)

1 large green bell pepper, thinly sliced (excellent addition!)

Combine vinegar, sugar, oil, mustard and celery seeds in a medium nonaluminum saucepan. Stir over medium heat until sugar dissolves and dressing comes to a boil. Remove from heat. Season with salt and pepper. Cool completely.

Combine cabbage, onion (if used) and green pepper in large bowl. Add dressing; toss to coat. Taste for salt. I usually add more black pepper. Cover and refrigerate until cold, tossing occasionally. (Can be made a day ahead.)

When the request is for an appetizer, I make a homemade version of the CAVA Crazy Feta. I first encountered it at Whole Foods at an introductory half-price, and I loved it. But upon my return, it was $9.99 for an 8-ounce container! I checked the ingredients, and have since made my own, with modifications.

Crazy Feta

6 to 8 ounces of your favorite feta cheese

1 small to medium jalapeño pepper, seeded if you want less heat

2 teaspoons chopped shallot, red onion or white onion (I like the color of the first two)

1/4 cup creamy cottage cheese

2 to 3 teaspoons sour cream (I use the reduced-fat kind)

Coarsely chop the jalapeño and add it, along with the two teaspoons of shallot or onion, to a food processor. Process finely — you don't want chunks of the pepper or onion in the finished dip. Add about a cup of feta, or more, according to your tastes. Process with the pepper and shallot till crumbly. (Don't worry — it will ultimately be smoother.) Add either ¼ cup of cottage cheese or a tablespoon of sour cream, and process more.

Whether you've used the cottage cheese or sour cream, it might not be creamy enough, so add a teaspoon of sour cream and pulse until it's almost smooth, but not as loose as a dip. Taste. If it's not spicy enough, add a good dose of black pepper. Serve with crackers or pita and celery sticks.

Dessert? No problem. Most often it's One Bowl Apple Cake, from a 1969 cookbook, From Manna to Mousse, published by the sisterhood of a synagogue in New London, Connecticut. (Interesting throwback: Nearly all of the contributors' credits are their husband's first and last names, preceded by "Mrs." I found only three credits to a Miss Somebody Somebody.) It is to Mrs. Harry Kaplan that I owe this moist, delicious, no-fail dessert.

One Bowl Apple Cake

2 cups diced apples (cut apple into ¼- to 1/3-inch pieces — no peeling necessary!)

3/4 cup sugar

1/3 cup oil (I use canola) (Excellent brag when serving: Made without butter!)

1 egg, beaten

1 1/2 cups unsifted flour

1 teaspoon baking powder

1 teaspoon baking soda

1 teaspoon cinnamon (sometimes I add 1/4 teaspoon nutmeg)

1/2 teaspoon salt

1/2 cup raisins

Preheat oven to 350°F. Combine diced apples and sugar. Let stand 10 minutes. Mix oil and egg into apple mixture. Combine dry ingredients (truthfully, this uses a second bowl) and add to apples, mixing well. Stir in raisins. Bake in a buttered 8-inch square pan (I use spray) for 35 to 40 minutes (check the cake earlier if your oven is as temperamental as mine). Let cool before removing from pan. (Hey, maybe I don't mind bringing something homemade after all.)

I keep offering, don't I? "Is it good?" I might prompt fellow guests, hovering as they sample their first bite. I know I'm too dish-proud. I know I'm putting them on the spot. It is a truth I must live with, that the fastest way to this cook's heart is through their feedback.