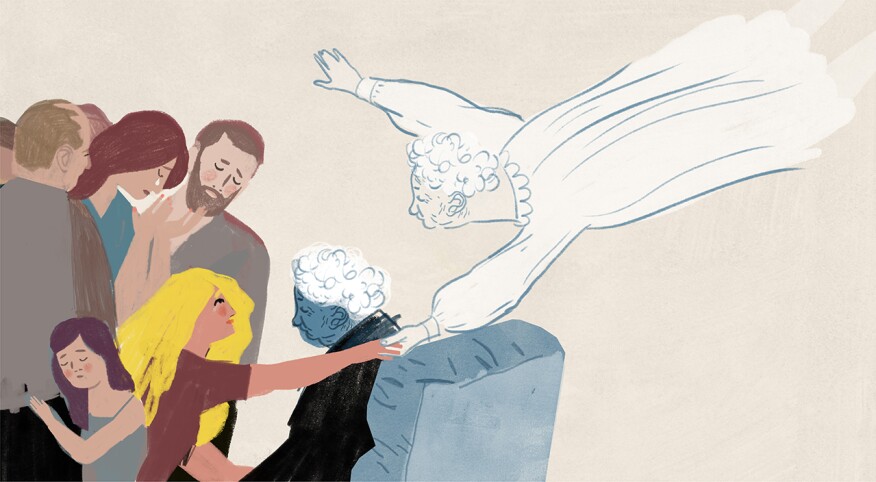 "I want to demystify death by helping people embrace the dying process and say goodbye," I told my fiancé.

Steve looked at me wide-eyed from across the kitchen table. "No one wants to talk about dying," I said. "But we all die. We need to plan for it."

Eight years earlier, my mother's cancer battle and death had taught me about hospice and the beauty of family working together to create a wake, funeral and burial, honoring the departed's wishes. During Mom's last weeks, I flew from New York to Missouri and joined my family gathered at my sister's house, where Mom was staying.

Mom articulated what she wanted for many aspects of her funeral, even picking her outfit and approving the eulogy I would deliver. She asked that we visit her at the cemetery often, requested that we have masses said for her after she departed, and told me how to clean her room and distribute her possessions.

Mom's directions helped me to function and gave me comfort in my grief.

After returning to Manhattan and continuing to work as a financial regulation lawyer, I decided to train as a death doula. I volunteered with a hospice, visiting patients whose life expectancy was less than six months in their apartments and sitting vigil for others expected to pass within 48 hours in nursing homes. Sometimes we prayed. Other times I read poetry. Mostly, I listened to my patients tell stories about their families. One patient asked me to hold his hand.

In 2017, I was in Missouri again, this time to help my octogenarian father, who was suffering from dementia. He said, "You're trying to bury me," and complained about me pestering him to sit with me at the kitchen table, review documents and make decisions about his wake, funeral and burial, which I recorded. His words stung. But I organized documents with his various plans, including the obituary he wrote, into a binder and distributed Dad's plans to family.

After meeting Steve, a long-term local in Missouri, and relocating to the Midwest, I visited hospice patients in a care home operated by my father's senior community. Sitting in our kitchen, I showed Steve an online death doula program I'd discovered.

"Do it," Steve said, knowing I was no longer was fulfilled by my old role as a lawyer involved with financial markets.

At 43, my new life with Steve gave me an opportunity I'd been wanting for years to explore but never felt I could take, too pressured by the comfort of my routine and expectations — the daily grind that seemed to destroy me but also felt safe. Giving up my decades-old life in New York City meant nothing was routine now.

Over the subsequent months, I did an online program, attended meetings and listened to lectures involving end-of-life care and needs. COVID-19 ended my ability to serve my patients. But then a year ago December, when my dad and Steve's dad died within three days of each other, I was extra grateful for all I'd learned and the opportunity I'd had to plan for my father's needs, because it eliminated a lot of stress.

At the funeral parlor, we handed the mortician a document expressing Dad's wishes on many aspects of his wake, funeral and burial. Dad had given them his own list of decisions, and he had pre-paid for the funeral. He had chosen an open casket for the wake, a closed casket for the mass, and cremation afterward, followed by a burial with a blessing when available. Dad's decisions ensured that debates among my siblings would be avoided.

As a certified end-of-life doula, I'm trained in how to give nonmedical holistic support and comfort to the dying and their families. A death doula can be the bridge between the hospice team and the family. A death doula can help a dying person prepare for their final exit. Death, however, doesn't need to be imminent for you to engage the assistance of an end-of-life doula. From my training and experience, I have seen that to make a final exit smoother, preparation is important. So I urge you to be like my parents: plan. Document, too. Here are five tips for making your finale better for your family.


When planning an end-of-life strategy of your own, or for your parents, grandparents or friends, four main areas need attention: legal, medical, financial and burial. Legal, medical and financial considerations include such documents as a will, a trust, advance directives, power of attorney and beneficiary designations. The requirements for these documents can vary from state to state. Consider consulting a lawyer and financial adviser.


VISUALIZE YOUR FINAL DAYS
Think about how you want to spend your last six months, six weeks, six days. How do you want that time to look, feel, be? Who do you want to have near you? Where do you want to be? Your house? A friend's? A care facility?


DEFINE YOUR WAKE, FUNERAL AND BURIAL
Think about how you want to be celebrated. Do you want a traditional wake and funeral? Maybe you want a living wake, a celebration with your loved ones now, not after you're gone. Or how about a home wake? Does your state allow them? What should happen to your remains? Do you want to donate your organs, give your body to science, be cremated, scattered or buried?


MEMORIALIZE YOURSELF TO YOUR LOVED ONES
Think how you want your loved ones to remember you on the birthdays, holidays and events you'll miss. Do you want to write letters to your family and friends, leave them gifts or tell them what to do to celebrate you? How about asking your daughter to knit a blanket for a shelter every holiday, to share the gift of knitting you gave her with others? How about leaving a collection of your favorite recipes and asking your loved ones to bake one item every year on your birthday? Or how about asking your family to do a good deed for someone annually on your death anniversary? Whatever you want for your final days and post-death remembrances, write it down or even make a recording of your wishes.


PLAN – THE BEST GIFT YOU CAN GIVE YOUR FAMILY
Give your loved ones the gift of planning. Our families and communities should speak about the end that each and every one of us must face. Take the first step: Talk to your mother, your father, your partner about what you want for your final goodbye, and open the door for them to speak to you, too. Contact your religious community for any documents they may have to help you navigate end-of-life decisions. Check your local library for useful lectures. Seek out an end-of-life doula near you to support you with your decisions.

Knowing what my parents wanted for their funerals made them easier. Knowing how to honor my parents now makes my life richer. Each time I visit the cemetery, I know I'm honoring their wishes. And I have such peace knowing that we gave them their best goodbye.