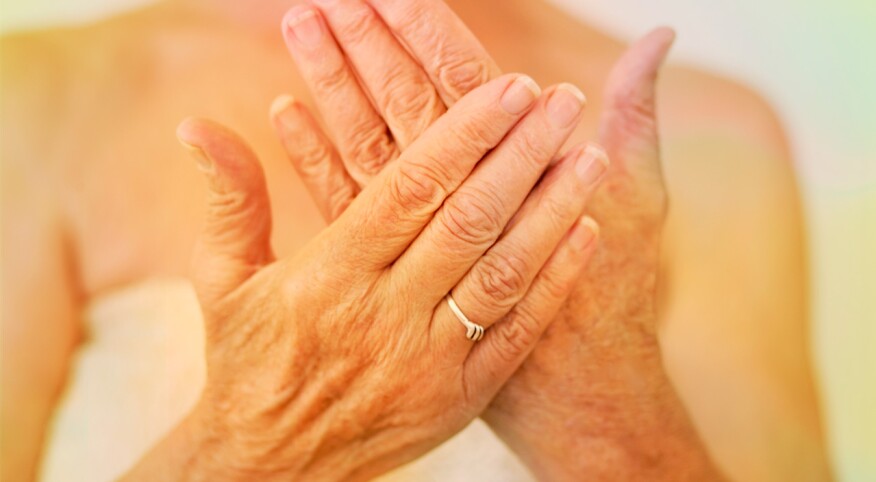 When I was in my early 20s, a photographer friend called me. "My hand model didn't show up today," he said. "Do you think you could fill in for her?"

I'd never done any kind of modeling, but I did have long, sinewy fingers and I'd been told that my hands were lovely. I arrived at the shoot and learned I'd be modeling for an insert in The New York Times. A manicurist filed and painted my nails cherry red. Then I was told to squat down next to a toilet, extend my pointer finger, and press down on the toilet's padded seat, to show that it was cushioned.

I proceeded as directed., forgot about the photo shoot until a couple of months later when my mother called, all excited, with this: "Lynnie, isn't that your finger in The New York Times??

God bless her — my mother could spot my finger out of a sea of ads! And now, I can spot my mother's fingers, her whole hand really, every time I look at my aging paws.

Ever since I was 26 and went for my first facial, I've religiously cleansed, moisturized and used an SPF 30+ sunscreen on my face. (In the last decade I've added injectables to that list.)

But my hands? Until a few years ago, nada, nothing. That is, until I noticed that—due to sun damage and the loss of collagen and elasticity that comes with aging—my hands looked wrinkly and bony, and I'd developed age spots.

And, trying to stave off COVID-19 through excessive handwashing and frequent use of hand sanitizer over the past couple years, there's added dryness and grooves. My editor has written a wonderful essay about how she likes seeing her weathered hands because they're proof that she has lived, worked in the garden and played with her kids at beaches — and also, that they're a tender reminder of her mom. Then again, a friend called recently to say, "We should fly to Las Vegas. I've found a doctor who'll remove the veins in our hands."

My attitude about dealing with my hands is somewhere in between. Celebrated New York physician Robert Anolik, M.D., the dermatologist Kelly Ripa and Olivia Palmero credit with their gorgeous skin, shares his thoughts below on what science can (and can't) do to help.

First, the at-home remedies:


Hydrate! Drink water. Avoid alcohol and caffeine, which can cause dehydration, affect the skin's elasticity and cause wrinkles.
Switch to a mild PH soap. The average pH level in traditional soap is 9-10, which can lead to dryness because the skin's normal pH level is only 4-5.

Dove's Original Beauty Bar

restores the pH balance and, as ballyhooed in their advertisements, " it's ¼ moisturizer" to soften hands. Two other options that also restore the pH balance are Aveeno moisturizing bar and Eucerin Advanced Cleansing Body & Face Cleanser.

Moisturize regularly, apply hand cream every time you shower or wash your hands to prevent dryness and roughness. I'm a fan of CeraVe Therapeutic Hand Cream for Dry Cracked Hands—it has hyaluronic acid to trap moisture, niacinamide to help prevent redness and it is fragrance free. Avène Cicalfate Restorative Hand Cream and Vaseline Dry Hands Rescue are also good options.

Exfoliate your hands once or twice a week using a gentle loofah to remove the buildup of dead skin cells. This will allow hand creams and lotions to better penetrate the skin. And remember to moisturize immediately after.

Use sunscreen. Sun damage is the most common cause of hand wrinkles and sunspots. Select a 30+ SPF broad spectrum sunscreen and apply it every day before going outdoors. My favorite is EltaMD UV Sport Sunscreen Lotion, SPF50. It's nongreasy and won't leave your hands looking chalky like some sunscreens. It's also water-resistant, so good for a day at the beach. If I'm going out, I'll use sunscreen after I wash my hands instead of moisturizer. Two other recommended sunscreens are Supergoop Play Everyday Lotion SPF 50 and Neutrogena Hydro Boost Water Gel Sunscreen SPF 30.

Avoid hot air dryers, they cause dryness and can spread COVID-19 germs around. Instead, air dry your hands or use a soft paper towel.

A retinol cream can boost collagen to assist in wrinkle treatment. Apply it at night and rinse off in the morning. Doris Day MD Retinol Body Serum hydrates, reduces the appearance of sun damage and crepeyness and is effective on the arms, legs, chest and back. (Don't expect miracles, but you should see some improvement.) Paula's Choice Retinol Body Treatment and the Josie Maran Whipped Argan Pro-Retinol Body Butter could also assist in wrinkle treatment.

A nonprescription "fade cream" may lighten age spots, depending on how dark the spots are and how often you apply the cream. Both of these can be used on your face too. Dr. Gross' Clinical IPL Dark Spot Correcting Serum contains two brightening agents: kojic acid and lactic acid. Neutrogena's Rapid Tone Repair Dark Spot Corrector contains hyaluronic acid, vitamin C and retinol, all of which help support a brighter appearance. Palmer's Anti-Dark Spot Fade Cream for All Skin Types is also a good affordable option.

Next time you're having a manicure, add a paraffin wax treatment. Paraffin wax traps moisture, feels wonderful and helps your skin to feel softer and more supple.

Hand masks work much the same way as face masks, smoothing and brightening skin. The best ones are gloves that you wear for about 10-15 minutes, such as Aveeno Repairing CICA Hand Mask, which is packed with oatmeal and shea butter; and Epielle Intensive Repairing Mask, a cost-conscious six-pack with coconut oil and hyaluronic acid to hydrate dry skin; and Earth Therapeutics Anti-Aging Retinol Hand Mask, with many organic essential oils to help moisture.

Call the dermatologist
If there's a particularly rough patch on your hands (or elsewhere) a dermatologist can determine if it's an actinic keratosis — an AK, or precancerous growth. If it is, your doctor might prescribe a cream, or use laser, cryotherapy (freezing) or one of the other techniques described below to get rid of them. "This is a case where vanity — going to the doctor because you want to improve the look of your hands — can help save your life, because we discovered those precancerous cells and got rid of them," Anolik says.



To get rid of age spots, there are laser and pulsed light treatments that will vaporize pigment-producing cells without damaging the skin's surface, according to Anolik. They usually require two or three, sessions and your doctor will recommend the one right for you.

Freezing or cryotherapy involves having your doctor swab age spots with liquid nitrogen for a few seconds. Anolik warns that if this is not done correctly, the liquid nitrogen can destroy not only the age spot, but all melatonin-producing cells, leaving behind white spots in their place.

Prescription-strength skin-lightening creams, such as Tretinoin or Renova, can help (slowly) fade age spots.

An injection of fillers or a fat transfer from your own body can restore fullness to bony hands and will last about 6 months to a year.

Some veins are just too big to hide with a filler or fat transfer. A laser treatment during which your dermatologist inserts a laser fiber into the vein or sclerotherapy during which your doctor will inject a substance into the vein are both options.
Bring back gloves:

Gloves have been worn by workers throughout history. And, ironically, upper-class women wore them for centuries, from the Middle Ages until the 1960s, to show that they didn't have to work. Gloves also help prevent the spread of germs. So bring 'em back, and not just in the winter, but full-time, and you can forget about all of the above!