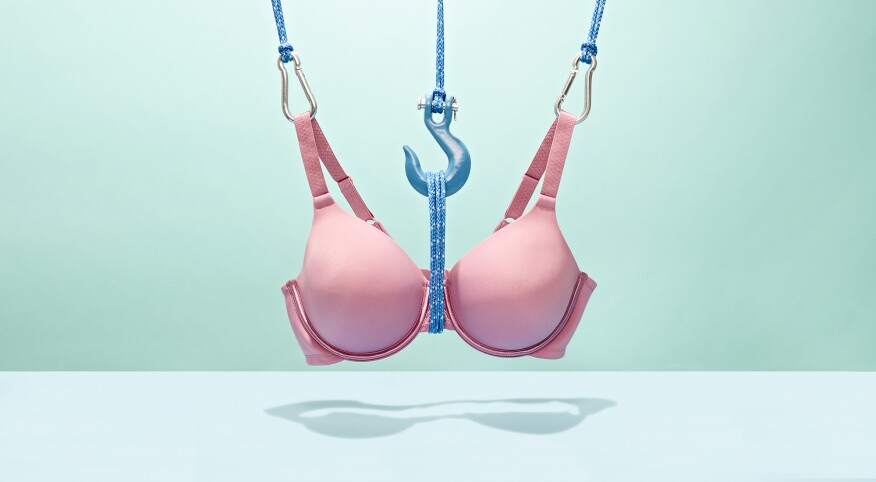 I have never enjoyed shopping for bras. It felt like a chore even when I was young and my breasts were perky. Now it's an unwelcome reminder of the toll that age, gravity, weight gain and breastfeeding three kids have taken. Forget lacey bralettes. These days I need an over-the-shoulder boulder holder.

The last time I shopped for bras was a few years ago. I swear I tried on every bra in that department store until I finally found one that fit. So you can imagine how I felt this past summer when I had to come to terms with the fact that — thanks to a little too much emotional eating while sheltering at home — my boobs were no longer fitting snuggly within the confines of my 36D bras and that new ones needed to be purchased.

I wasn't about to spend hours in a department store in the middle of a pandemic. So, I did what any good journalist would do. I read articles about best bras for support. I checked out lingerie websites and scoured the reviews of their bras. Then I called an expert: Cora Harrington, author of "In Intimate Detail" and the founder and editor in chief of The Lingerie Addict blog.

Support and Shape Matter

Harrington recommends that women with pendulous (softer tissue) breasts that need support should look for full-coverage bras that will give them shape. I was disappointed that she didn't recommend contour cup bras — my go-to — because she said they already have a shape that won't necessarily correspond to your shape. The better choice is a seamed bra.

"The vertical seam will guide tissue up, and the horizontal gives projection," Harrington says. "They actually tell your breasts what direction to go."

Immediately, images of my 77-year-old mom's bras popped in my head. But Harrington was quick to add that there are plenty of larger-cup, seamed bra options that won't make you feel like your mom or grandmother.

"You don't have to put up with something that is unattractive," she says. And well-made seamed bras should have an overlay that makes the seams less likely to show through shirts.

Her picks for full-coverage, seamed bras for larger-chested women looking for support:

Panache: Harrington suggests the Clara, Envy and Jasmine styles from this U.K.-based company that specializes in D-plus bras.

Elomi: Her top picks are the Cate and Matilda styles from this U.K.-based company.

Freya: For a molded cup style, she recommends the Deco.

Size Matters

To get the right fit, you need to know your size. Harrington says there are two sizing methods — the plus-zero system and the plus-four system. If you're buying bras online, check the brand's size chart to see which system it uses.

For the plus-zero system, measure around your rib cage, below your breasts. That's your band size. Then measure around the fullest portion of your breasts (lean forward to do this). Subtract the band measurement from the breast measurement, and the difference is your cup size — 1 inch is an A cup, 2 inches is a B, and so on. For the plus-four system, add four to your rib cage measurement to get your band size.

By using the plus zero system, I found out I actually was a 34 DDD/36 DD. However, Harrington says that your measurements are just a starting point.

"There's no shortcut around trying bras on and seeing what fits," she says.

I actually had ordered several bras online before talking to Harrington (all contour cups). I chose websites that offered free returns, knowing that not everything would fit. I do plan to test out some of Harrington's recommendations, but here are the ones I found that worked best for me.

Best for support: Vanity Fair Beauty Back Full Figure Underwire Bra ($27.99, Amazon.com).

Best T-shirt bra: Wacoal Basic Contour T-Shirt Bra ($58, Amazon.com); Wacoal is Elomi's sister brand.

Best everyday bra: ThirdLove 24/7 Perfect Coverage Bra ($68, Thirdlove.com).

If you're on a similar quest for the perfect bra, keep this advice from Harrington in mind: "You're going to have to try a few brands. It's not your fault if something doesn't work for you. It just means you haven't found the right bra for you."


Like a good bra, we're here to support you. Consider supporting us by joining AARP or renewing your membership today.