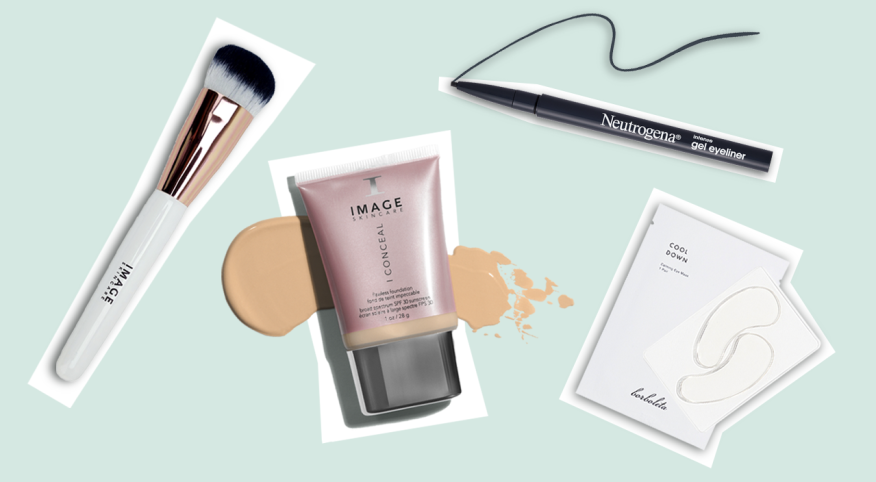 In my 18 years as an aesthetician and makeup artist, most of my clients have been 50 and older. When they come into my studio, Pretty Parlor, for a makeover before a wedding or special party, I tell them I can't promise them the fountain of youth. I can promise, however, to introduce them to makeup secrets that will help them look their best at every age and stage — way beyond that one celebratory night.

With the beauty industry constantly changing, staying in the know of the latest brands and trends is crucial for me. Here, I will share some of the best makeup products and application tools that are must-haves for mature women.

Every woman from college age onward should already be practicing a good skin regimen. This should consist of a cleanser, exfoliant, treatment serum, eye cream and moisturizer tailored to your skin's needs. It is important to start with a fresh canvas — a clean face.

I always recommend applying eye makeup first, prior to any foundation or blush. The reasoning behind this is that any residual eye shadow that falls off the brush can be wiped off without ruining the foundation that has already been applied. Which leads me to the first game-changing makeup tip: Get yourself some under-eye gel patches to apply before the eye shadow and eyeliner. Not only do these patches rejuvenate the under-eye area, but they also serve as a catchall from any shadow you apply.

There's an overwhelming array of gel patches on the market, and when choosing, make sure the patches contain hyaluronic acid — and it's a plus for them also to contain caffeine. My personal favorite is Borboleta's Cool Down Eye Mask. (For an extra cooling and depuffing effect, store eye patches in the refrigerator.)

The eye area is fragile at every age, so as the years mount, make sure your products are not causing irritation and damage. Which leads me right into must-have number 2 — a gel eyeliner that is easily applied to your upper and lower eyelids.

The newest eyeliners are no longer those dry, scratchy pencils. Today's best ones, liquids and gels, glide on without damaging the skin. You want to go for the cream eyeliners are gels, that are kind to the delicate skin surrounding the eyes. My go-to recommendation is the smudge-proof Xtreme Lashes Glideliner Long Lasting Eye Pencil. This gel pencil liner does exactly as it is named; It glides into perfect lines! If you are looking for a less expensive gel pencil, Neutrogena Intense Gel Liner or NYX Professional Makeup Slide On Waterproof Pencil Eye Liner are both super-gliders too.

Next up is a good makeup primer that works in multiple ways: It helps with making your foundation last, mutes the appearance of fine lines and evens out skin imperfections. My go-to in that category is Image Skincare I Prime Flawless Blur Gel, packed with skin-soothing botanicals and antioxidants.

I recommend applying the primer with Image Skincare Flawless Foundation Brush. This versatile tool can also be used to apply foundation and your serums of choice. The bristles are thick and flexible, easily dipping into — and covering — every dip and contour of your face. My clients come away with a face that is a smooth and even canvas. If you are looking to save a few dollars on application brushes, Real Techniques and e.l.f Cosmetics are also great alternatives!

My next must-have when I do makeovers is a creamy concealer. You want to stay away from brands that leave a caked-on effect. My preferred one is Xtreme Lashes Skin Renewing Concealer. I am a big fan of this waterproof concealer because it camouflages under-eye dark circles and also primes the upper-eye primer for your eye shadow. Other great anti-aging concealers include It Cosmetics Bye Bye Undereye Anti-Aging Concealer and Maybelline Superstay Better Skin Concealer + Corrector.

Finally, adding to the creamy concealer comes my pick for a companion foundation. And please remember that with these products, less is more. Multiple layers of foundation and concealer packed in those fine lines only draws more attention to what you're trying to hide.

Hands down, I put this brand as one of my top choices — Image Flawless Foundation. It is the perfect consistency for an airbrushed-look coverage and never leaves you with a caked-on face. While smoothing out patches of imperfection, the ingredients are nourishing and include a mineral-based SPF 30 protector. My clients also tell me good things about the less expensive, uber-creamy Covergirl + Olay Simply Ageless 3-in-1 Liquid Foundation, as well as Revlon Age Defying 3X Foundation.

OK, those are some of the beauty products and tools always in my bag of tricks. You will be thoroughly surprised at the difference they make when you take that final look in the mirror before you confidently step out the door.