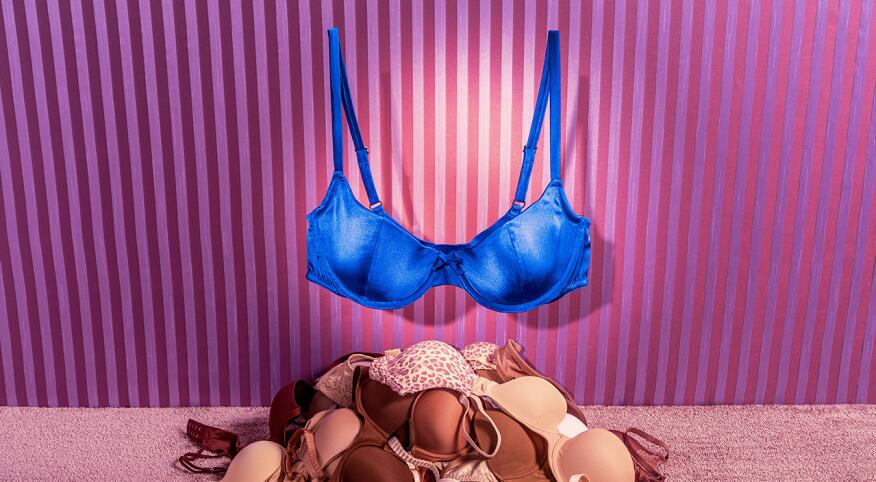 Dec. 3, 1978, was one of the happiest days of my life. I was 12. It was cold outside, but Reno, Nevada's Weinstock's department store was warm and intoxicating, filled with the scent of Charlie perfume. Up the escalator my mother and I went to the junior's department.

There, in a discreet corner, was the display shelf of my dreams. It contained rows of boxed "training" bras. I came home with an aspirational 28AAA, very much hoping to grow champagne-coupe size breasts, like the strawberry-blonde who appeared in a Playtex's Cross Your Heart "Beautiful Ones" commercial. Alas, by the time Sony released their first Walkman in 1979, I was a more "full-figured gal" than Jane Russell, who advertised the Playtex's "18-Hour" line (and, in case you're curious, wore a 34D). I spent all of eighth grade feeling humiliated — not because boys snapped my bra, but because its backstrap was as wide as cassette tape. Today, depending on a bra's brand, I wear a H, K or octuple-D cup. No, I am not overweight: At 20.8, my BMI is normal. But I am freakish.

Today, the average American woman wears a double-D cup (a lot is larger than I thought), which means that if my feet were as proportionally large as my breasts, I'd wear a size-15 shoe. This is a challenge. And, ever since the Carter administration, I've been on a quest to find a bra that's well-fitting (no spillage, top or bottom) and super-supportive (but not a sausage casing) yet doesn't look (or feel) like a Kevlar-vest crop top. Long story short: no luck — until earlier this year when my dear friend Lisa said, "Go to BraTenders."

BraTenders is a by-appointment boutique in the theater district of Manhattan. Lori Kaplan opened the store in 1999 to cater to the undergarment needs of theater actors — both women and men. Today, BraTenders "uplifts," "supports" and "empowers" anyone who makes an appointment. The majority of customers are not actors, but regular women who've experienced a lifetime of breast drama — and are so ready for that show to be over.

Here are the top 8 pieces of bosom wisdom I've learned from Kaplan, as well as a bit of my own research and tips from my personal bartender — the ever-supportive Nicolette Tantaglia.
.


You are probably wearing the wrong bra size. Most likely your backstrap is too big and your cup size is too small.
"My theory is that women think if their clothing size has increased, then the size of their ribcage must've too," Tantaglia says. But that is not so. The bratender also thinks that a lot women buy into the myth that breasts decrease in size with age. Also, not true. As we get older, our breasts do deflate — that is, they lose volume on top. But, at the same time, our dense breast tissue is replaced by fatty tissue. The net result for most women: bigger breasts as they get older. "I've never seen someone come in here smaller than they used to be," Tantaglia says.


You are probably putting your bra on wrong.
Bratenders teach women the correct way to put on a bra, which is: Bend over at the waist and "spill" your breasts in your bra's cups. After "catching" them, stand back up and hook the backstrap, the bottom of which should be right between your scapulae. (Yes, that high.) Next, tighten the shoulder straps. (They slide looser while worn.) Now, with your breasts in the correct position (nipple line perpendicular to your body), you put your hand in the cup and lift the bottom of the breast (to make sure you got everything when you "spilled"). Finally, with your fingers you smooth the cleavage part of your breasts by making horizontal upward motions from the bra's bridge (the piece in the center) to the outermost corner of the undergarment's top edge.


You are probably killing your bra.
"Bras have 37 different parts. They are feats of engineering," Kaplan says in a tone that contain notes of both awe and admonition. Any washing machine is going to thrash the life out of that engineering and destroy stretch fabrics, lace, delicate pieces of metal and molded cups. Do no harm and always hand-wash your bras.


You are probably wearing your bra after it's dead.
Very sorry to have to tell you this, but bras have the same life span as a dragonfly nymph. Even if you treat a bra with all the care it deserves, it's still going to need replacing after about six months of regular wear.


Armpit/back fat means your bra fits.
That backstrap is supposed to be tight — with only enough wiggle room to stick two fingers under the band and in the back. That means unless you have the trapezius and teres-major muscles of an Olympian, flesh is going to pop out above — and maybe below — your bra strap, especially over the outside edges of your scapulae. Avoiding this look is another reason women wear bras with too-large backstraps. The unintended consequence, Tantaglia says: "If the backstrap is too loose, gravity is going to do it's ugly thing." If [like me], you sometimes wear slim-fit tops and dresses and you can't bear bulging pits, buy a long-line back-smoothing bra. I love my Evelyn & Bobbie one. You might also look at similar bras from Honeylove and Calvin Klein.


Check out British bras.

If you're having trouble finding an American bra brand that fits, check out British bras. Bras in the United Kingdom come in 83 different sizes. Most U.S. manufacturers only make about half as many. Among Kaplan and Tantaglia's favorites are Panache (which has several excellent sub-brands, including Cleo for small-breasted women), Goddess and Parfait.

Don't follow Kim Kardashian's advice.

If you are wearing some deep-plunge or backless thing, like celebrities often do. The reality star suggests duct- or even gaffer-taping your breasts into a position that works with the garment. Yes, they will work, Kaplan says. "But when you remove it, it will feel like you are ripping off your nipples." Far better idea: Shape and secure your breasts with stuff made for the job: breast tape made from medical grade silicon. There are a bunch of brands now, such as Booby Tape.

Get a bra checkup once a year.
"There's always a woman who comes in and says that she wears the same size bra that she did in high school," Kaplan says. And she's always wrong. Our bodies are always changing. Honor that. Little we wear touches more closely than a bra, so require all of yours to be uplifting, supporting and empowering. If you're a Maxxinista or Target lingerie buyer, you're likely used to buying bras in the $20-to-$30 range. These brands I feature are in the $60-to-$80 range, which is basically what you see at Nordstrom and not far off from what you'd find at Victoria's Secret — where you don't get the fit and the comfort you need and deserve.