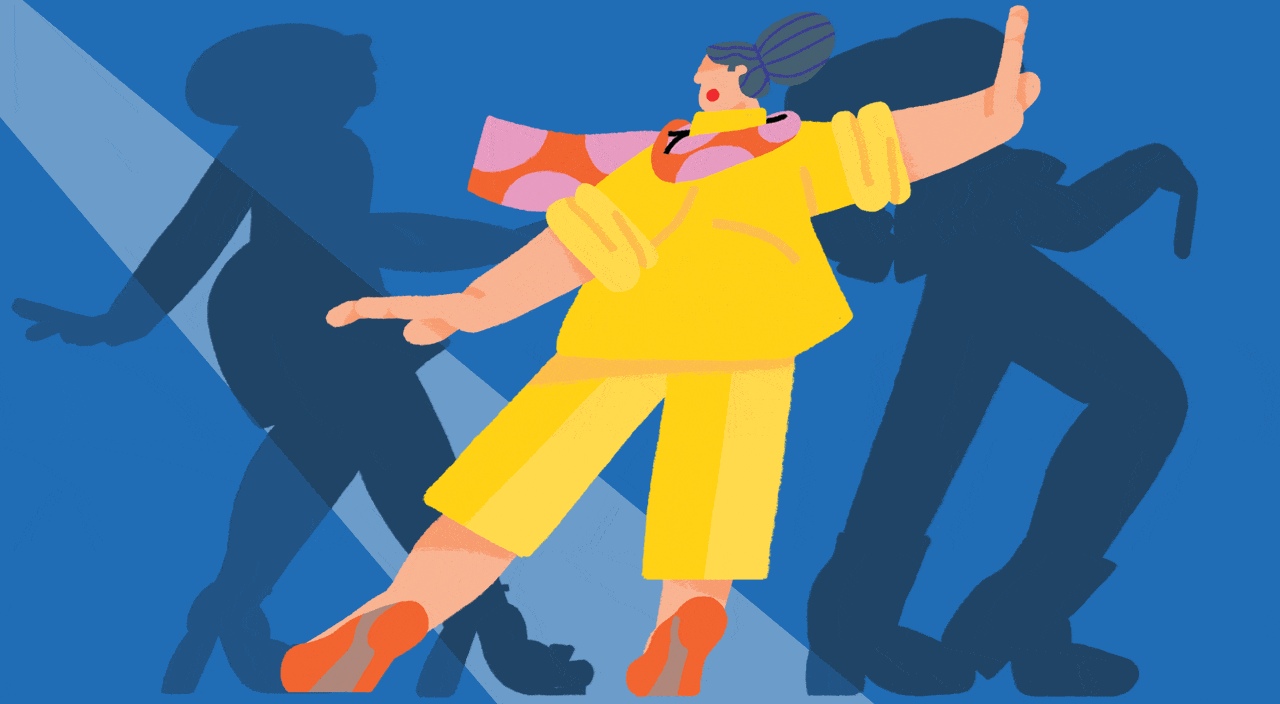 Sequestered at home or hunkered down at work with the office door closed, serious fashionistas and women who simply just love clothes have watched the pandemic transform their personal style. Over the past year, the benchmark for acceptable has morphed from attempting perfection to, well, how to put this gently, adequate.

The Manolo Blahnik and Jimmy Choo pumps that once lifted our spirits have been replaced by walking shoes and sensible flats. Power suits have been swapped for silky blouses that look good on Zoom calls and match whatever bottoms we feel like wearing — even if it's flannel pajamas. Our favorite tailored pants that look great but feel stifling have been pushed aside in favor of anything with an elastic waistband as we sit more and work out less.

The days and months have blurred into a long slog of dressing down for comfort even as wistful glances through our closets evoke memories of dressing up for cocktail parties and dinner dates. I am happy to be healthy and safe, but I do miss the thrill of getting ready for a night out.

Which makes me wonder: Will I ever wear my Versace (or Chanel or flowing Eileen Fisher) again? Or my skinny jeans and animal-print boots from T.J. Maxx?

Our Waist-Up World

For those of us who marveled at the fashion in "Sex and the City" and embraced it in our own more affordable ways, the past year has left us without much purpose for dressing up. Our work lives and celebrations — from birthdays to weddings to funerals — have shifted to the waist-up world of virtual reality. The friends and colleagues whose style used to inspire us to try harder are now cloistered at home with their video cameras turned off and their mute buttons turned on at the wrong times. Too often it feels like we have given up.

This applies across the gender board. A Florida judge last April chastised lawyers for their sloppy appearance during his Zoom court hearings, according to an April 13 account in the Miami Herald. He noted that a "male lawyer appeared shirtless and one female attorney appeared still in bed, still under the covers."

Crossing the Line

It's a lower bar that retail analysts have taken note of.

At the beginning of the pandemic, from March to April 2020, clothing sales in the United States plummeted 79 percent, according to retail data reported by Adobe Analytics and the NPD Group, previously known as the National Purchase Diary Panel Inc. It was the largest such drop since records have been kept, and its aftermath was chronicled in a New Yorker magazine piece aptly entitled "The Slob-Chic Style of the Coronavirus Pandemic."

What came next can best be described as the clothing version of the mullet haircut. That loathsome 1980s style promised business at the front, party at the back. Fast-forward to our current situation, which finds us playing to the camera with business on the top and bedroom on the bottom. We may be dressed for work wearing a crisp cotton blouse or for a funeral wearing pearls and a black cashmere sweater, but the likelihood of sweatpants or leggings below camera range is high. Pencil skirts and elegant little black dresses hang forgotten in closets — and on sale racks in empty stores.

Comfort has become the line in the pandemic sand. As pant sales declined 13 percent in that bellwether period of March to April, consumers doubled down on buying sweatpants (up 80 percent) and pajamas (up 143 percent), as reported in the Washington Post Business section article, "How the Pandemic Is Changing Fashion and Beauty Trends." Sales of dress shoes dropped 70 percent as Americans slipped on fur-lined Uggs and comfy Crocs instead. Year-over-year sales of underwire bras sagged 16 percent for April through June, while less restrictive sports bras bounced up 32 percent.

Getting Our Fashion Fixes

The occasional Instagram post reminds us of the fashion fun we are missing. Glamour magazine nailed it with a video of a decked-out greyhound (yes, a dog!) spinning through a year's worth of outfits she couldn't wear and bemoaning the loss. A kaleidoscope of marabou feathers, flashy stripes and blue-tipped pom-poms whirls by. "Love it! Couldn't wear it!" she laments.

Forced to get our fashion fixes elsewhere, we have turned on our big-screen TVs and find the styles that once inspired us to make an effort. There's the sexy appeal of form-fitting jeans and tall boots worn by the sassy title character in "Rita." The glorious retro look of the '60s in "The Queen's Gambit." The Upper East Side chic of "The Undoing" (Nicole Kidman's green coat, love it). And the lush opulence of the color-blind period piece "Bridgerton."

These provide the visual reassurance we need that fashion still exists in some dimension. These put-together actors soothe us. They amuse us. They tide us over.

With the arrival of a vaccine, we are encouraged that our own beloved fashion pieces — whether new or old, pricy or thrift store — will again emerge from the shadows of our closets to the theater and Girls Night Out. In the meantime, we can pull out our silk scarves and turquoise chokers for the Zoom calls and spray on our favorite designer fragrance — even if we are the only ones who will smell it. At least we will be able to find a way to wear some Chanel right now.