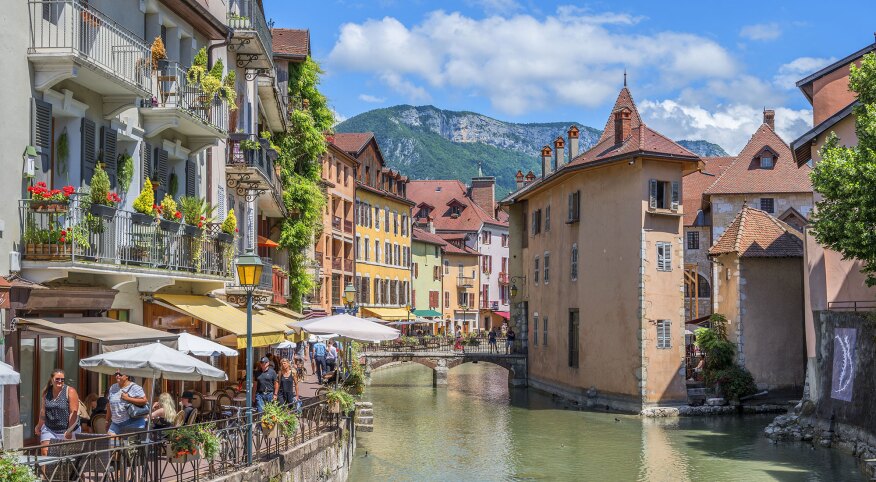 Ooh la la, Vive la France. Be it An American in Paris, Emily in Paris, A Moveable Feast or A Year in Provence, no European country has captured the romantic imaginations of Americans more than France. Yet those of us lucky enough to visit France rarely get beyond Paris or Provence.

If you're an older woman with more time to travel now, L'Hexagone, as the French call it, offers far more than its capital or its coast. Charming cities and countryside villages full of food, wine, history and architecture lie just a few hours from Paris by train. You can enjoy them without having to navigate French auto-routes or battle the crowds.

The French rail system makes it possible to travel easily from Paris to the Champagne region, then to Burgundy, then further south to the distinctive cities of Lyon on the Rhone River and Annecy in the Alps. This itinerary can be done over a week or over two weeks. Go in the country's autumn or springtime.

France prides itself on its unhurried meals and leisurely wine tastings. So you'll enjoy this circuit most if you don't overschedule or rush. Prepare to wander along cobblestone lanes. Prepare to linger over a two-hour, multi-course lunch in a town square. Prepare to have wine-makers explain in detail how their Chardonnay is aged. Prepare for everything to take and last a bit longer than anticipated — and savor it. Do this, and you'll truly experience the joys of central France.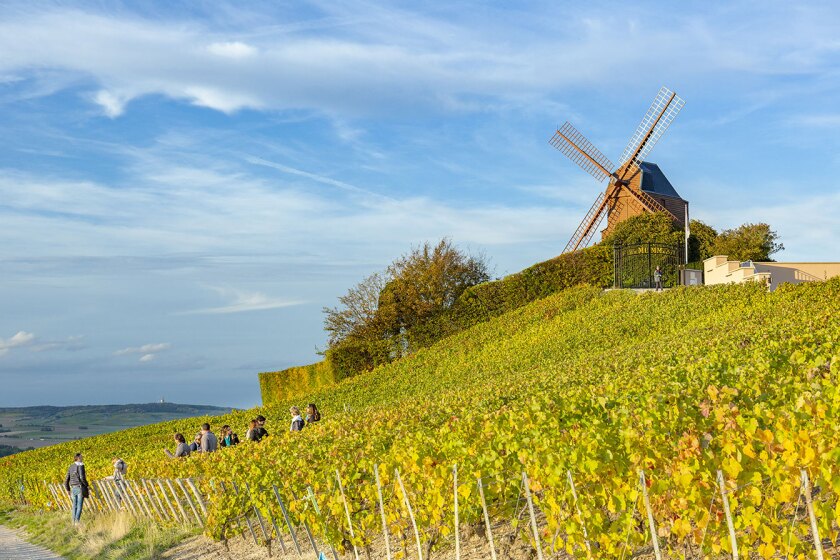 Reims & Epernay

The French kick off special occasions with a glass of champagne, so start with a direct, 45-minute train from Paris to the city of Reims, the capital of the Champagne region. Reims has a fabulous cathedral, but that's not why you're there. Book ahead online to visit the city's magnificent champagne houses.

Mumm, a moderate walk from the train station, has an excellent introductory tour with bubbles. Taittinger, also close to the station, offers elegant tastings. A short taxi ride away is Veuve Clicquot. with its UNESCO Heritage chalk champagne caves.

Trains also run from Reims to the town of Epernay in 35 minutes. There, you can walk the famous Avenue de Champagne lined with great champagne domains. Moet & Chandon offers a classic tasting tour, while Mercier shows off its enormous champagne caves with a tricked-out mini-train ride: kitschy, yes, but easy on the knees!

When the bubbles go to your head, the Continental Hotel or Hotel de la Paix in Reims offers 4-star accommodation near the station that won't break your bank.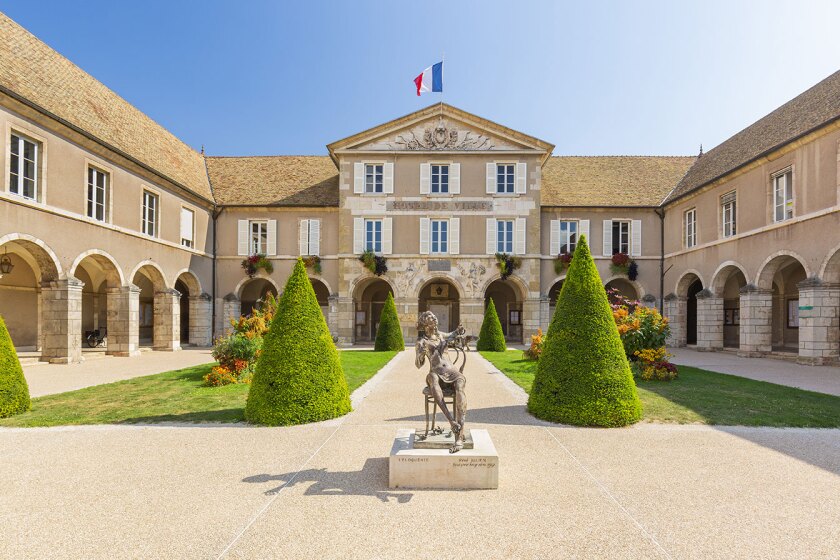 Dijon & Beaune

Then, do as the French do, and move on to fine wine. A direct train runs daily from Reims to Dijon, the capital of Burgundy. Gateway to France's most exclusive wine region, Dijon is known for its regional architecture, its mustard, its affordable Michelin-star restaurants, and its grand Ducal Palace housing the Musée des Beaux Artes. It also has trains that go to the smaller, delightful town of Beaune along one of France's most prestigious wine routes. Set amid the poetic vineyards of the "Gold Coast" (Cote d'Or), Beaune boasts wine cellars, walled gardens and the Hotel de Dieu Hospices de Beaune, a must-visit medieval hospital-turned-museum.

Regardless of where you stay, you'll want to visit the area's famous wine villages and do a tasting — or three. Websites like GetYourGuide, TripAdvisor and Viator offer a range of guided wine tours in English. Splurge on one that provides transportation so you can visit places you couldn't get to on your own, without worrying about drinking and driving.

If you stay in Dijon, the Hotel de Ducs is right in the historic center. In Beaune, try the well-located budget Ibis Styles Beaune Centre.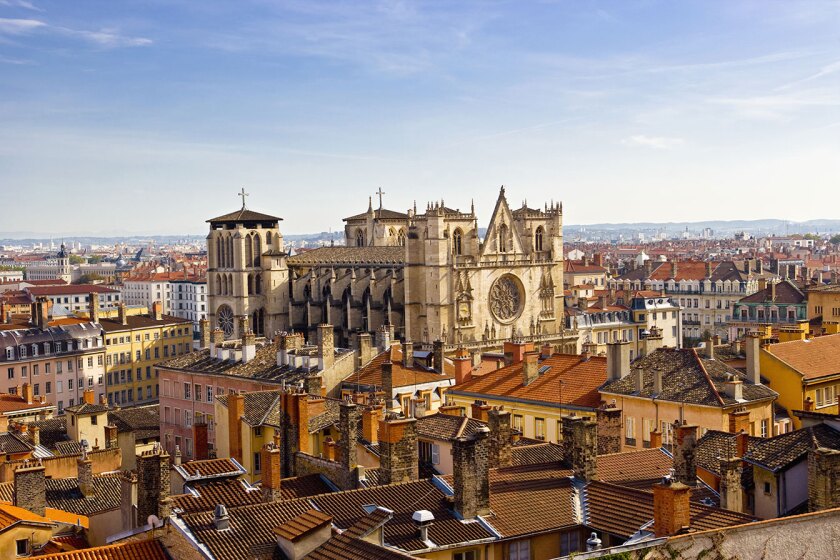 Lyon

Your next stop: Lyon. France's second-largest city has culture, history, art, urban liveliness, and plenty of interesting neighborhoods. But above all, it's considered the country's gastronomic capital. Wear your stretchy pants to meals.

Lyon's crown jewel is Vieux Lyon (Old Lyon), with a spectacular cathedral perched high on cliffs above the river. At its base is a maze of medieval secret passageways called traboules. And dotted among the streets are Lyon's famous bouchons — local bistros serving traditional food at reasonable prices. Take a free walking tour (try Guruwalks.com), then go to a bouchon for lunch. Lyonnaise cuisine is rich and hearty: seafood dumplings called quenelles, sausages, cream sauces, paté in puff pastry. You'll need a nap afterward. Good places to bunk down are the riverside Le Phenix Hotel or Hotel du Simplon (a more central, budget option).

Once revived, visit Les Halles de Lyon Paul Bocuse, the legendary chef's insanely opulent food hall that sells everything from capons to truffles to raspberry éclairs, all displayed like works of art — with prices to match. Take a bus to La Confluence, the city's ultra-modern "district of the future" in the center of the river, to see cultural exhibitions at La Sucrière.

After all the food, drink, and urbanity, you'll be craving some outdoor activity and nature. Head to the stunning alpine town of Annecy, two hours from Lyon by train.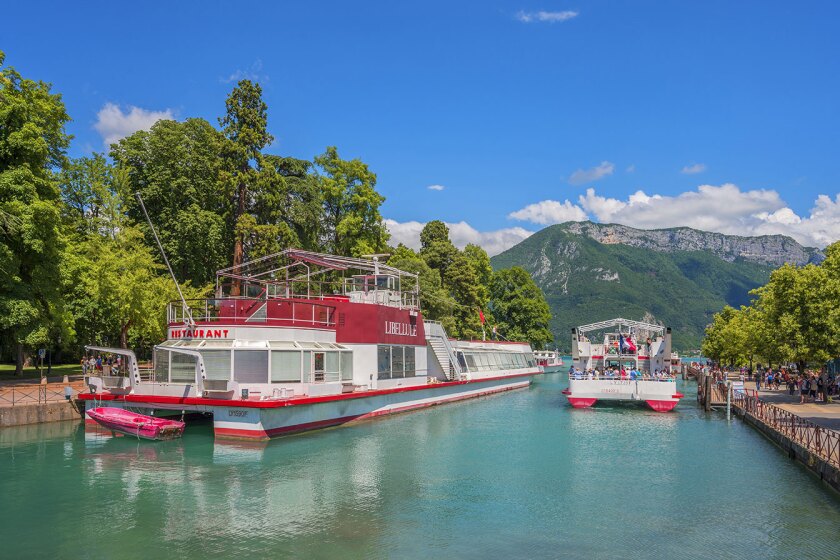 Annecy

If Venice and Switzerland had a baby, Annecy would be it. At its heart is a pastel-colored historic old town threaded with canals, sitting on the shore of a breathtaking aquamarine glacial lake rimmed by mountains.

The magical old town has weekend markets (which, yes, can be crowded) and a castle on a hill. But Annecy's real showstopper is the scenery. There's a large, gracious waterfront park, and if you want to walk or rent a bike, a gorgeous voie verte (a greenway for pedestrians and cyclists) runs along the whole western length of the lake. Boat tours are also available lakeside.

Annecy has good shopping and mountain food. A Savoyard specialty not to be missed is tartiflette, a gooey, decadent casserole of potatoes, bacon and cheese. When you're ready to pass out, the centrally located Hébé Hotel is a good bet.

Direct trains run from Annecy back to Paris in under four hours. When you return, Paris may seem different to you. It will still be a jewel, yes, but now also part of a greater, richer country.

Have you ever traveled to France? Which part? Let us know in the comments below.