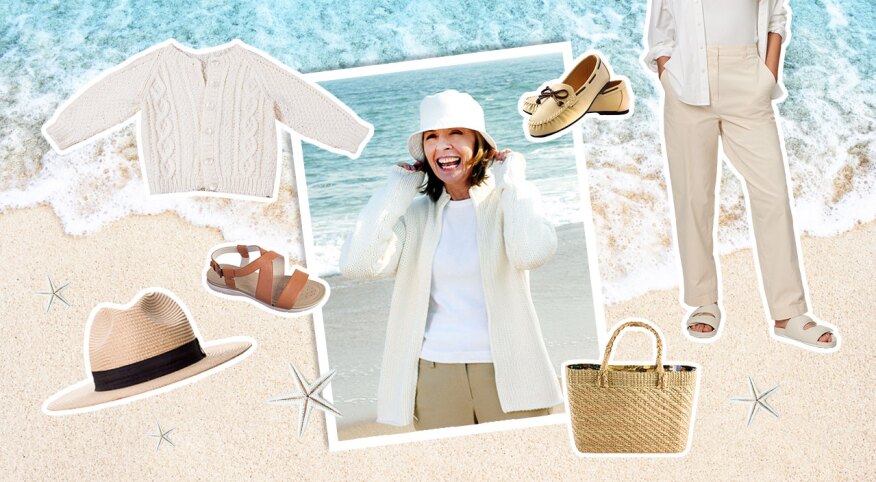 Separated by decades, Anne Hathaway and Annie Hall may not seem to have much in common. But both can trace their fashion influences to actress Diane Keaton.

Keaton, of course, nailed the quirky interpretation of menswear-inspired fashion as the namesake character in the 1977 classic Annie Hall. With its vests, ties and pleated trousers, the trend spoke to a moment in time when women began infiltrating the upper echelons of corporate America.

This year, Keaton is credited as the muse for the comfortable, coastal-grandmother style endorsed by Hathaway and legions of others on social media. Based on Keaton's star turn in the 2003 romantic comedy Something's Gotta Give, the look features uncomplicated separates in breezy and beige fabrics. For many, it is the latest evolution in America's escape from pandemic athleisure, mixed with our nostalgia for an easier, lower-tech lifestyle.

The irony, of course, is that the aesthetic owes its widespread popularity to high-tech social media platforms. TikTok influencer Lex Nicoleta, 26, started the buzz by coining the term "coastal grandmother" and creating a lifestyle and wardrobe around this idealized persona. Her 117,000 followers were smitten. So was Hathaway, who raved about the look to her 23 million Instagram followers: "I have been ready for #coastalgrandmother chic since before TikTok was born. May this moment never end."

Before long, Something's Gotta Give director Nancy Meyers joined in. Then Keaton posted a tribute video to the trend, featuring tweaked scenes from the movie. In a matter of weeks, videos about the coastal-grandmother style had racked up more than a billion views on TikTok, according to the social media platform's hashtag tracker.

What resonates with so many fans is the accessibility of the clothing. Many of us already have the essentials in our closets. And if anything needs a refresh, the key elements can easily be found at Target, Old Navy, Gap and Amazon. Which means even if you aren't a coastal gran with a bungalow in Malibu or a rustic cottage on the Delaware shore, you can still dress the part.

Despite the name, you don't have to be (but can be) a grandma to embrace the trend. Here's how to pull those pieces together and channel your inner coastal gran.

The vibe: Sleek, pared-down, calming and uncomplicated best describe coastal-grandma fashion. These are clothes meant for strolling the beach, enjoying a seaside picnic or, on rainy days, curling up in a roll-armed chair with a cookbook as the sea pounds in the background. Those farther inland can spot the style at the farmers market or while on a summer stroll in the city. These pieces do not compete with their surroundings by being fussy or frilly, or patterned or printed. They do not blend in, but they definitely do harmonize.

The colors: Neutrals are the norm. Think tan, ivory, cream, khaki, beachy beige, white, ecru, eggshell, taupe. Typically, tops are solid white, cream or ivory. Pants are generally a few shades darker and lean toward lighter browns like tan and khaki. But you're likely to see this formula flipped, too. Whether you opt for darker pants or live on the edge in white, be sure to avoid matching tops and bottoms. This is not a uniform.

The fabrics: To fully embrace the coastal aesthetic, fabrics need to breathe, making cotton and linen the preferred choices. They're ideal because they can be woven in a variety of weights that span the climates — lighter and breezier for warm, tropical days, and thicker weaves and longer sleeves for cooler, drier nights. For fall, the coastal grandmother will be ready with a chunky knit sweater or an elegant layer of cashmere, to create a cozy cocoon wherever she may wander.

The foundation: This is a look built around the effortless feel of a white button-down shirt and straight-leg pants, like Gap's Straight Up Khaki in birch beige or khaki tan ($60 to $70; gap.com). Looser linen pants, like Old Navy's High-Waisted Cropped Linen-Blend Wide-Leg Pants in Clay Mate ($42; oldnavy.com), and even pleated khakis such as those Hathaway sported on Instagram, are also options. If you need to refresh your button-downs, check out H&M's White Linen Shirt ($25 at hm.com), which comes in sizes ranging from small to XX-large, or Zara's Poplin Shirt with Pocket ($36; zara.com).

A crewneck T-shirt with long sleeves or a mock turtleneck can be pulled out for cool evenings around a beach campfire. Keep in mind that the coastal grandmother is not a woman of fashion extremes, so avoid anything too tight or too voluminous. Body-skimming cuts are optimal. Body-clinging styles are a definite no, making skinny jeans a hard stop.

The accessories: The ultimate coastal-gran accessory is a pair of sand-scrubbed feet. They will, of course, be free of callouses, thanks to those long walks on the beach, and they may be sporting a subtle shade of seashell-pink polish (never red or other eye-popping shades, like purple or turquoise) on well-groomed toenails.

In case more protection is needed, suitable footwear includes slip-on sandals, such as Zara's Flat Strappy Sandals ($36; zara.com) or Ralph Lauren's Emerey Burnished Leather Sandal ($100; ralphlauren.com). And, of course, there's the go-to choice of sea-faring coastal grans, the Sperry Authentic Original Boat Shoe ($95; sperry.com).

Wise to the ways of the sun, the coastal grandmother protects her face and hair from damaging rays with the quintessential bucket hat. BP's woven-straw number ($25; nordstrom.com) or a traditional cotton option like ChoKoLids Everyday Cotton Bucket Hat ($12; amazon.com) can provide appropriate coverage while scoring fashion points.

The personal touch: A true coastal grandmother knows that the secret to a monochromatic palette is texture. Some to try include a chunky crocheted or knitted wrap and a gauzy layer of lightweight linen (floating over a tank top perhaps). And for all coastal grans, tropical or inland, no loud palm or parrot prints, please. Instead, a solid pop of color on your bucket hat that's echoed in your sandals may make this shift to neutrals more palatable.