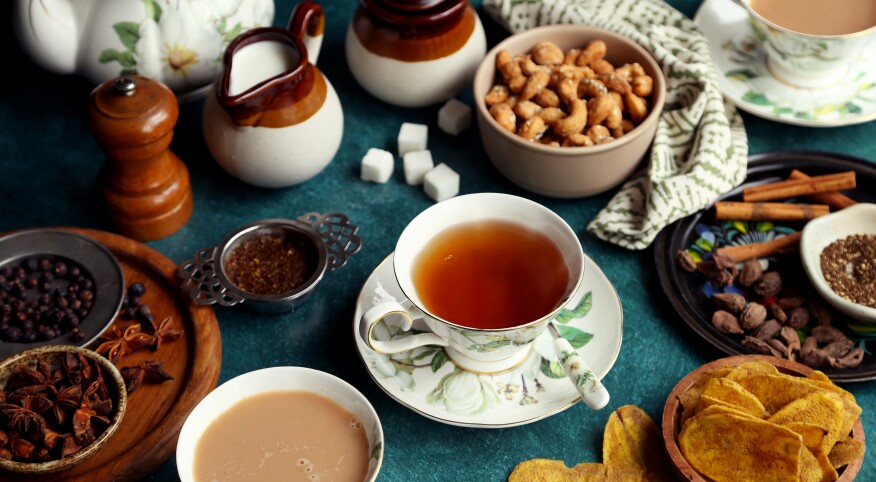 There is a word for tea in almost every language. Whether you call it tea, te, chai, cha or teetä, a cup of this warm or cold drink is the second most consumed beverage in the world, after water.

I grew up in a small town in the Nilgiris or Blue Mountains of South India. The Nilgiris was known for its foggy weather and green hillsides covered with tea bushes. My mother's tea from that region was my favorite tea.

My mother's tea was strong, smoky and sweet with the caramel flavor of jaggery, a coarse dark brown sugar made in India by the evaporation of sap from palm or date trees. She made the tea using the time-tested Indian method of boiling tea leaves, then adding milk and straining the hot mixture. She served the beverage with a spoonful (or two) of jaggery.

Sometimes, she added a couple of slices of fresh ginger or crushed green cardamom pods to the boiling water.

I'm in my 60s now and I still make that spicy tea the way my mother used to make it all those decades ago.

Why mess with perfection?

Afternoon teatime

Afternoon teatime was always a special hour for my family in India. Wes had strong cups of cardamom-scented tea and a variety of tiffin in the form of spicy cashews, crunchy jackfruit or pale-yellow plantain chips, as well as other savory or sweet snacks.

Teatime is more than just providing nourishment; it is also a way to create wonderful memories. It is an occasion to slow down, enjoy quality family time and practice a few minutes of mindfulness and personal awareness.

The good news is that this ancient and relaxing tradition that began in China centuries ago has remained a modern ritual in many cultures and countries. This includes the rising American trend of meeting with friends for teatime instead of boozy happy hours, at posh restaurants as well as at chains like Panera and Starbucks.

"Tea brings back a lot of childhood memories", said Seetha Dew, 72, who lives in Bengaluru, India. "Colonization had a big impact on us and so I remember going out for high tea and drinking English Breakfast tea with cucumber sandwiches, scones and mini fruit tarts. Tea also brings everyone together as the rich smell of the concoction permeates the house. Everyone has time to rush into the kitchen to grab a cuppa. Tea just feels like goodness in a cup."

A very healthy drink

Dawn Schenone, a board-certified nutritionist trained in functional medicine, finds tea provides a variety of health benefits, a fact corroborated by the Tea Association of America, Inc., and other health researchers.

"If I had to choose just one tea, I'd recommend a higher antioxidant tea such as hibiscus tea for its overall health protective benefits," said Schenone. "Hibiscus tea even outranks green tea as far as antioxidant content." Some herbal brews are not to be consumed during pregnancy, and may conflict with current medications, (so check with your doctors).

As documented by researchers at the University of Pennsylvania, in a May 2022 article titled The Hidden Health Benefits of Tea, numerous studies have found antioxidant-rich tea to have a multitude of health benefits. Green tea which is high in flavonoids is especially useful in lowering blood pressure. Herbal teas such as chamomile promote better sleep patterns. Drinking black tea without added sweeteners can improve blood sugar levels in normal and pre-diabetic adults.

A memorable tea

One of the most memorable teatimes I had was with my family many years ago on a spice plantation in South India. The hillsides were covered with cardamom bushes, and pepper and cinchona trees.

After a hike in the rain, we ended our tour in a spice-drying shed. The warmth and scent enveloped us like a cozy hug. Cardamom pods were being dried on large trays and the heady aroma of the spice filled our nostrils and cleared our sinuses.

Teatime on the estate included strong cups of cardamom-scented tea and a variety of tiffin. Crispy-thin lentil wafers were served with a ginger dipping sauce and the highlight of the meal was rice pancakes stuffed with coconut and brown sugar and steamed in green banana leaves.

Soon after that visit in 2003, my mother passed away. But that trip to the tea estate cemented my own family's love for teatime. Both our young sons loved drinking herbal brews in delicate China cups with cookies or homemade soft pretzels, and continue to love tea as adults.

When my California kitchen is filled with the fragrance of sweet cardamom and the pungent aroma of boiling tea leaves, I can feel my mother's presence. For me, it's not just a mug of spiced tea, it's a bittersweet memory that lives on as it has for centuries — a timeless tradition in a cup.

I look forward to sharing my mother's tea recipe below with my young grandson, this one taken from my book My Mother's Kitchen. One day in the future, I hope he'll boil tea leaves, crush cardamom pods and experience rich family memories, swirling in a hot cup.


Cardamom Tea Recipe

5 cardamon pods (or ½ teaspoon ground cardamom seeds)

2 cups water

2-4 teaspoons loose black tea of your choice. I used Ceylon Orange Pekoe

1 cup whole milk

Sugar to taste

Peel and coarsely crush cardamom pods. Bring water to boil and add spice powder or crushed seeds. Boil for 2 to 5 minutes. Add tea leaves and simmer for an additional 2 minutes. Add milk. Turn off the heat and let the mixture seep for 3 to 5 minutes and then strain into a warm tea pot. Sweeten if desired. The spice adds a natural sweetness.

Do you drink tea? What kind do you prefer? Let us know in the comments below.