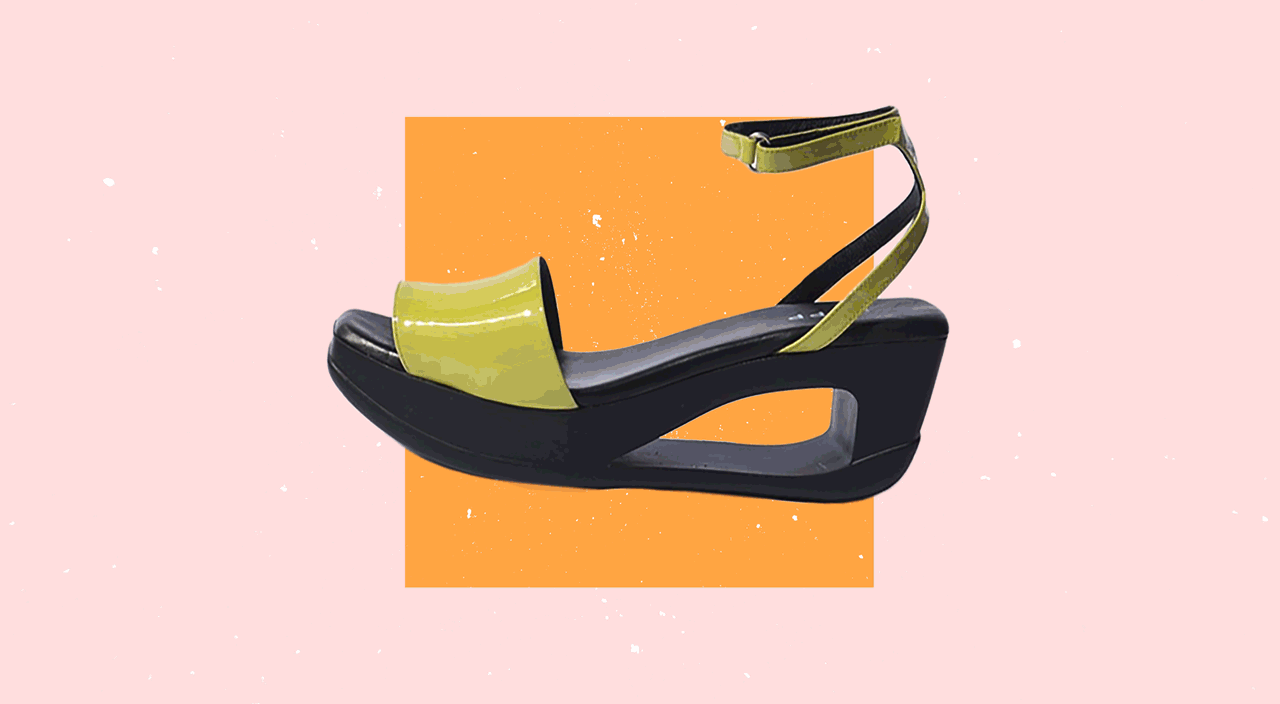 Let's face it: When your feet speak, you damn well better listen. There are few things more crippling—literally—than a raging bout of plantar fasciitis or gout. And for some, bunions dictate not just our footwear fashion but also our everything fashion as we struggle to find clothes we can wear with those "wide-enough" shoes on our feet.

Sadly, many older women are now paying the price for having abused their feet for years by shoveling them into high heels with pointy, narrow toe boxes. And those 26 bones, 33 joints and more than 120 muscles, ligaments, tendons and nerves in our tootsies have been screaming their displeasure at us.

Gradually, as age wears down our heel pads and we learn words like "hammertoes," our choices for shoes diminish and trying to find a pair that is reasonably comfortable and at least minimally stylish becomes a frustrating and expensive proposition. Well-made shoes are pricey, but can you really put a dollar sign on the ability to walk in comfort?

The good news is that there are lots of new brands on the market that cater to women who would rather not sacrifice comfort for style.

Here's a short list (a mix of both new and old brand names) to get you started. And if you've discovered other brands or styles you like, please share them in the comments below.

Sandals/Flip-Flops

OOFOS: OOLALA Luxe Sandal, $65

Customer reviews sing their praises—loudly. These sandals come in stunning contemporary colors, which add big points to their style score. OOFOS are the original recovery footwear brand. Its shoes absorb 37 percent more impact, which reduces stress on sore feet, knees and backs.

Naot: Karenna, $150

The Naot brand was born in a one-room workshop on a kibbutz in Israel in 1942. The company's philosophy is that we are most beautiful when we are comfortable; no argument with that.

The Karenna has gotten the blessing of the American Podiatric Medical Association as a shoe that promotes good foot health. While it may not be the sexiest sandal in your closet, there is an excellent chance it will be the one you slip on most often. It is completely adjustable and has a backstrap, along with a hook and loop closure at both the instep and front strap.

ABEO Brigita Sandal, $49

The ABEO brand was started by the founders of the Walking Co. shoe stores. ABEO designs shoes with built-in orthotics, which allows them to produce open-toe designs that are actually good for your feet. The Brigita is a gladiator sandal that is recommended for those with plantar fasciitis. And, yeah, check the company's sales!

ABEO Balboa, $89

Comes in nine colors and has plenty of built-in orthotic support

OluKai Ohana, $70

Smooth footbed and waterproof

Sneakers/athletic shoes

Who among us, after a year of dressing COVID casual, wants to wear anything but sneakers all day? Heck, even before quarantining, many of us had already gravitated to wearing sneakers or athletic shoes for our daily errands around town, shopping trips and travel. But how great would it be to find a pair of kicks that add pizzazz to your look?

Cocktail Sneakers The Weekender, $215

This is a modern sneaker that pairs well with jeans, capris and dresses. It has an almond-shaped toe, a deep heel cup and shock-absorbing insoles. And in red, what's not to love?

SAS (San Antonio Shoemakers) Kashen LTD Non Slip Lace Up Shoe, $219

San Antonio Shoemakers was born in 1976 in a corner of an unused aircraft hangar on the south side of San Antonio. The company credo is simple: Create the most comfortable shoes in the world. Yes, go on, we're listening. All shoes are handcrafted (you can tour the factory to witness this) and made with foot love and pride.

The Kashen LTD is a performance shoe that oozes style. It has a multilayered shock-absorption system throughout the sole and a slip-resistant rubber outsole. Yes, pricey. But such is the cost of foot love.

Kuru Footwear Chicane $150

Seeking more serious hiking and walking sneakers? The Chicane, the very first shoe from the comfort brand Kuru, is rugged on the outside, soft on the inside. Kind of like life, says a Kuru guru. The shoe is a top-selling favorite among those who suffer from flat feet, bone spurs, Morton's neuroma, hammer toes and bunions. It has a broad toe box and a lacing system that snugly wraps your foot into the shoe. Plus, it comes in some pretty great color combinations.

Boots

Orthofeet Emma, $100

Many sore-footed women (and men) worship at the altar of Orthofeet. With a no-nonsense attitude about helping your injured feet, this brand still manages to offer a few style surprises. Orthofeet gives you a 60-day wear test, with free shipping both ways, so what do you have to lose?

ECCO Shape 55 Western Bootie, $170 (on sale)

Heels

Heels are those evil devils that likely caused many of our foot problems. Still, on the occasions you want to wear a pair, who ya' gonna call? No, not Ghostbusters. Try these brands.

Hopp Studios: Limbo Strap

Hopp is a five-years-young New York–based company that makes trendy shoes with lightweight, flexible soles—you know, that walking-on-marshmallows feeling. The interiors are lined with sponge foam and have an arch support. The rest, as one reviewer said, is just magic.

Walking Cradles Payton, $130

What's cool about this shoe is that it's a classic heel and comes in double-wide width.