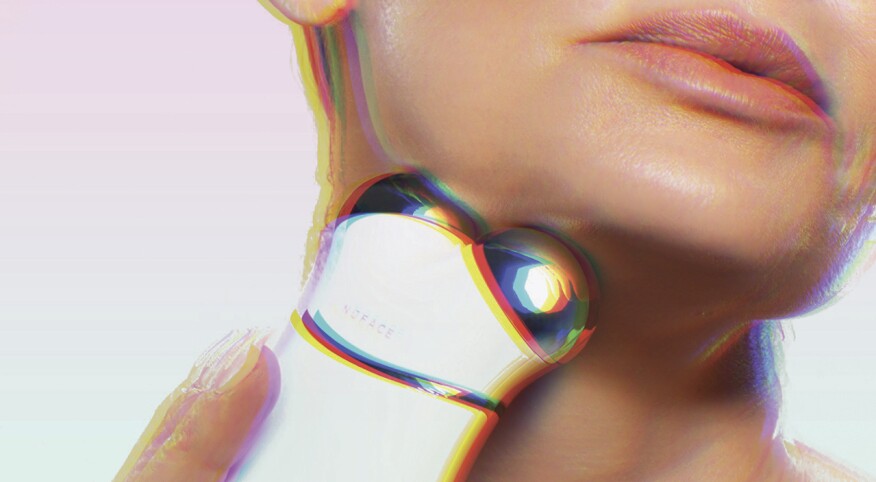 Call it an industrial evolution — the superstrength machines being wielded by dermatologists to help tighten sagging skin. As we age, collagen and elastin — the two integral proteins that keep skin firm — break down, which leads to volume loss.

Less invasive, costly and painful than the traditional nip and tuck, these cutting-edge treatments may just help patients (like me!) who aren't ready for surgery or who eschew it altogether avoid the knife.

None of these dermatological/cosmetic procedures come cheap, though some of the mini- machines you can buy for home cost less than $300. While tech tools do not give you the same results as a face-lift — which can run into five figures — a pricey treatment every couple of years in the range of $1,500 to $4,000 is more cost-effective, and clearly less invasive, than going under the knife. Fifty-seven-year-old '80s supermodel Paulina Porizkova's tweets about beauty have gone viral. Porizkova, author of No Filter: The Good, the Bad, and the Beautiful, decries the pressure women feel to look younger, but that doesn't mean she doesn't want to look her best — which is why she's a fan of Ultherapy.

Samer Jaber, M.D., a board-certified dermatologist at Washington Square Dermatology in New York City, explains the technology of Ultherapy, which was approved in 2009 by the FDA: "It provides a noninvasive lift to skin on the lower face and neck by using ultrasound energy to heat the deep layers of the skin, creating microscopic injuries that, when healed, produce new collagen and elastin for a tightened jawline, neckline and minimized double chin, and in the brow area, to improve lid sagging."

He says that although you won't see results immediately, after a few months, your skin will look tighter and brighter, and he recommends repeating the treatment every two years.

I Feel Bad About My Neck and Other Thoughts on Being a Woman, Nora Ephron's best-selling book, might have had a different title if she'd had access to FaceTite, a minimally invasive radio frequency device that targets sagging skin by combining fat melting and skin tightening technologies in one. Celebrated board-certified plastic surgeon Adam Kolker says the combination "is the difference between FaceTite and other devices."

While FaceTite works to tighten necks and slack jawlines, sister product AccuTite targets smaller areas, such as marionette lines. Doctors who use high-tech tightening methods admit they don't do the job of surgery, though patients do see results in more than half of cases. "Face-lifts make a 90 percent difference in a patient's skin laxity," says celebrity dermatologist Paul Jarrod Frank, author of The Pro-Aging Playbook. "While less invasive treatments like these will result in an impressive 50 to 70 percent difference."

If you're averse to needles, you might want to try EMFACE, a 20-minute, injection-free procedure that targets the brow, cheeks and corners of the mouth. Four sessions, a week apart, are recommended. Actress Rebel Wilson reported on social media that after the treatment, her cheekbones were "snatched." (Translation: lookin' good!)

Stay with me here, because this next one sounds scary, but it's one of Paul Jarrod Frank's favorites. Ellacor is a "micro-coring technology" that involves punching holes the size of those that would be made by a sewing machine needle into targeted areas to remove sagging skin related to aging and wrinkles. Frank says that up to 8 percent of skin can be removed in the treatment area, typically the mid to lower face, without leaving any scarring.

The recommended treatment is two to three sessions, one month apart, and downtime after each is three to four days. Frank adds that the procedure is effective for many patients in the 50- to 70-year-old age range for whom fillers aren't working anymore.

According to a 2020 report from the market research company P&S Intelligence, the at-home skin care device market is expected to explode from $9.5 million in 2019 to $28.2 million by 2030.

The NuFACE Trinity (from $271 to $500, depending on the model) uses low-level electrical currents to stimulate the production of collagen and elastin and strengthen facial muscles. Instructions say to apply five minutes a day, five days a week. Like all of these at-home devices, the Trinity must be used with a primer gel.

Reese Witherspoon is a fan of the Solawave Advanced Skincare Wand, which at $149, is a bargain in the at-home skin tightening device arsenal. This multitasking wand, which is shaped like a disposable razor, uses microcurrents and warming facial massage to promote lymphatic drainage and reduce puffiness, while red light therapy assists in improving the tone and texture of the skin.

A friend who just started using the Jupiter Spacetouch is already a big fan, noticing smoother skin texture and "slightly decreased dents around my mouth." The Jupiter combines two therapies in one device: red light, to improve skin tone and help erase wrinkles, and blue light, which addresses issues like acne and sun damage.

The cost of the Jupiter — $7,200 — may seem more reasonable if, by using it consistently for years, it replaces expensive visits to facial salons offering similar treatments. If you cannot make this big purchase, reach out to local dermatology and skin care practices to see if they offer the Jupiter Spacetouch.

If you choose to shop online, make sure the devices come with a lifetime warranty. And opt for a model that is in this wavelength range that research shows gives optimum results – 750 to 940 nanometers for red light and 400 to 450 nanometers for blue light.

When both Jennifer Aniston and Schitt's Creek's Dan Levy like a product, I pay attention. Their pick: a $480 ZIIP that syncs to an app offering nine different treatments. The gadget's nanocurrents allegedly produce longer-lasting results than the microcurrents used with other devices and can penetrate deeper into the skin.

Finally, how can you talk about sagging skin and not include a mention of face-lift tape? It's exactly what it sounds like. The concept of taping your face and adhering the ends to hidden areas was said to be the brainchild of 1940s film siren Marlene Dietrich. Reportedly Marilyn Monroe was — and Lady Gaga is — a fan.

But like most cosmetic solutions, there are pros and cons — for one, amorous lovers running their fingers through your hair could reveal and dislodge the tape. As for joining the machine age in beauty, nothing brings instant results except this easy exercise that's also free: A big smile naturally lifts your whole face.

Would you try any of the above? Let us know in the comments below.