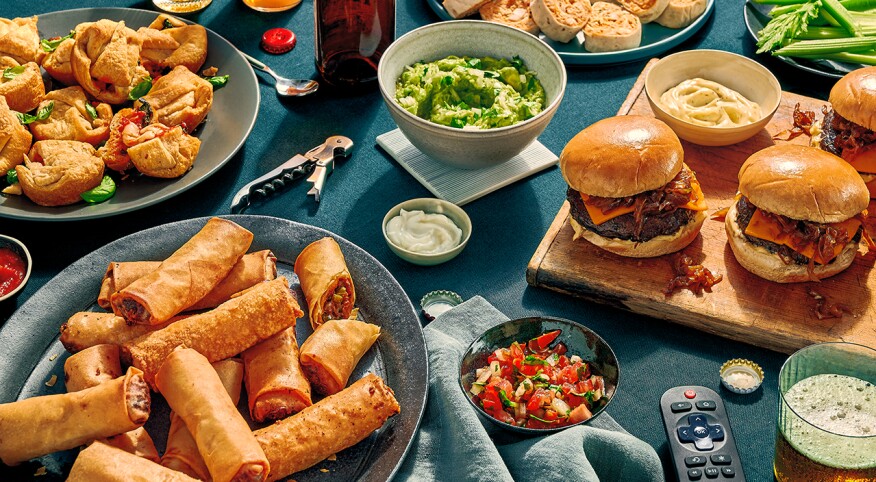 The Super Bowl has always been a big deal in our family. Our kids and grandkids flock to our home for the game day celebration. But I have a confession: I don't follow football as they do.

For me, the Super Bowl is all about the food. Although we still love the traditional chicken wings and chili, this year I'm adding a different twist to these classics. Your team at home will call all these dishes winners.

Please note: This is not diet food. This is hearty food that goes a long way during the big game. Indulge — the Super Bowl only comes once a year!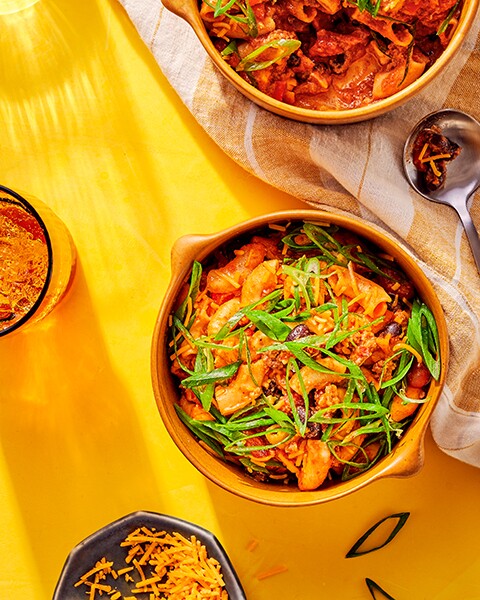 Chili Mac

I love a thick, rich chili, and the elbow macaroni in this dish makes it extra hearty, while the evaporated milk and cheese make it super creamy. For me, this recipe is not complete without some kidney and black beans added to the mix.

Serves 6 to 8

1 tablespoon olive oil

2 cloves garlic, minced

1 onion, diced

1 red bell pepper, diced

1 pound ground beef

½ teaspoon cayenne pepper

1½ tablespoons chili powder

1 teaspoon oregano

1½ teaspoons cumin

1½ teaspoons onion powder

Salt and pepper to taste

1 28-ounce can diced tomatoes

1 6-ounce can paste

2 cups beef broth

1 8-ounce package elbow macaroni

1 15-ounce can kidney beans, drained and rinsed

1 15-ounce can black beans, drained and rinsed

1½ cups shredded cheddar or Mexican cheese blend, plus extra for topping

½ cup evaporated milk

2 green onions, chopped, for topping

In a large pot, heat oil. Sauté garlic, onion and red pepper until tender. Add ground beef and break it into smaller pieces. Cook for 3 minutes, frequently stirring until meat is barely pink. Add all the seasonings, stir and cook 1 more minute. Add diced tomatoes, tomato paste, broth, noodles and beans. Bring to a boil, then simmer on medium-low for 15 to 20 minutes or until noodles are tender. Stir in milk and cheese until melted and well blended. Serve in a bowl topped with extra cheese and green onions.

Buffalo Chicken Roll-Ups

This recipe has the same spicy flavor as buffalo wings but combines it with the wonderful creaminess of three different kinds of cheese. Serve it with celery sticks on the side for dipping.

Makes 20 to 24 pinwheels

2 cups chicken, diced small

¼ cup buffalo wing sauce

8 ounces cream cheese, softened

2 tablespoons diced green onions

½ cup grated sharp cheddar cheese (optional)

¼ cup crumbled blue cheese

1 tablespoon dry ranch dressing seasoning

4 12-inch flour tortillas

Ranch or blue cheese dressing for dipping sauce

Combine the first 7 ingredients. Divide evenly over the tortillas, spreading to the edge of each. Wrap up tortillas jelly-roll style, cover each in plastic wrap, then chill in the refrigerator for 1 hour. Cut into pinwheels and serve with dipping sauce.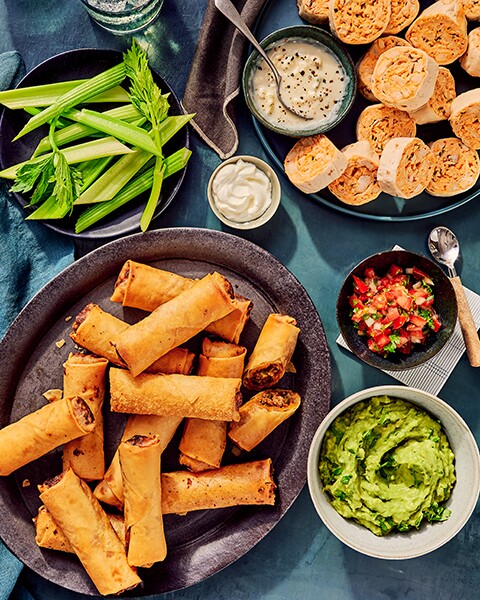 Taco Egg Rolls

Tacos and egg rolls combined? Yes, please! This tasty appetizer can be made ahead of time, frozen and then reheated in the oven (or air fryer) on game day to maintain crispness.

Makes 16 egg rolls

1 pound lean ground beef, chicken, pork or tofu

1 onion, finely diced

1 green bell pepper, finely diced

1 package taco seasoning mix, plus the amount of water indicated in the package instructions

Salt and pepper to taste

¼ cup salsa

16 egg roll wrappers

2 cups shredded Colby Jack, cheddar or Mexican cheese blend

Oil for frying

Optional toppings: sour cream, salsa, guacamole, chopped fresh cilantro

Sauté ground beef, onion and bell pepper until meat is no longer pink and vegetables are tender. Add taco seasoning plus the amount of water indicated in the package instructions, salt, pepper and salsa. Cook until water evaporates. Lay out egg roll wrappers in a diamond shape (corners pointing toward you). Place 2 tablespoons of the beef mixture and 2 tablespoons cheese in each wrapper. Fold in the sides, then roll each wrapper up tightly, sealing the edge with a little water to secure it. (Most egg roll packages come with folding instructions.) Heat oil to 350°F, and fry a few egg rolls at a time for 2 to 3 minutes per side or until light golden brown. Serve warm with desired toppings.

Vegetarian Pizza Bites

I have a few vegetarians in my family, so I like to offer some meatless appetizers. You can always add pepperoni to this recipe if you want, but it's delicious as is, and you won't miss the meat.

Makes 8 muffin-size bites

1 tube crescent rolls

2 mozzarella cheese sticks, each cut into 4 pieces

8 ounces marinara sauce

½ red bell pepper, finely diced

1 10-ounce box chopped spinach, thawed, all liquid squeezed out

3 tablespoons butter, melted

1 teaspoon Italian seasoning

Fresh basil, finely chopped, for topping

Preheat the oven to 350°F. Coat a muffin tin with nonstick spray. Over each of 8 muffin cups, lay 1 crescent triangle. Add 1 teaspoon marinara sauce to each triangle, then a small spoonful of spinach, followed by 1 cheese chunk, and then a small spoonful of diced red pepper. Fold up the edges so that the dough covers most of the filling. Brush each bite with butter and sprinkle with Italian seasoning. Bake for 8 to 10 minutes. Serve warm with fresh chopped basil over the top and, if desired, any extra marinara sauce on the side for dipping.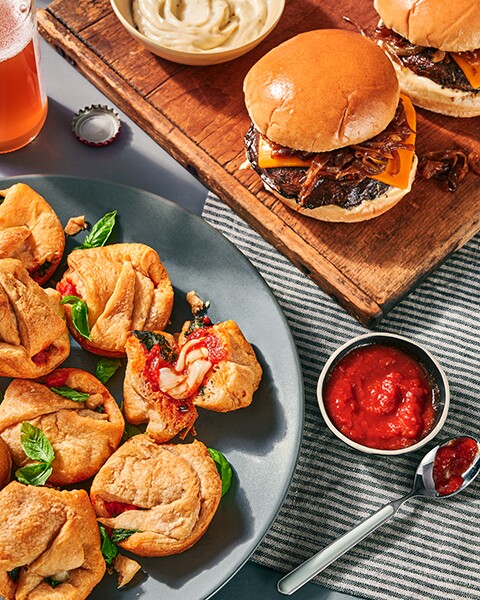 Portobello Mushroom and Caramelized Onion Sliders

Mushrooms are a perfect substitute for meat in this recipe. The maple caramelized onions add just the right amount of sweetness to these sliders, which are topped off with homemade aioli sauce.

Serves 8

Marinated Mushrooms

8 small-to-medium portobello mushrooms

¼ cup olive oil

¼ cup balsamic vinegar

1 tablespoon Dijon mustard

1 tablespoon Worcestershire sauce

2 cloves garlic, minced

½ teaspoon dried basil

¼ teaspoon dried thyme

8 slices cheddar, Swiss or whatever type of cheese you prefer

Wash mushrooms and remove stems. Whisk the next 7 ingredients together, and marinate mushrooms in this mixture for 30 minutes or more. Heat the grill to medium-high, and grill mushrooms for 5 minutes on each side. Cover each mushroom with a slice of cheese during the last minute of cooking. When cheese is slightly melted, remove from grill and set aside.

Caramelized Onions

2 tablespoons olive oil

3 medium onions, sliced about an eight of an inch thick

2 to 3 tablespoons maple syrup

Splash of red wine vinegar

Dash of salt

While the mushrooms are marinating, heat oil in a skillet and sauté onions on low heat for 30 to 40 minutes until caramelized. Add maple syrup, vinegar and salt. Cook until onions are well coated and brown. Set aside.

Aioli Sauce

1 cup mayonnaise

2 cloves garlic, minced

Zest from ½ lemon, plus 1 tablespoon fresh lemon juice

1 tablespoon olive oil

Salt and pepper to taste

Mix all ingredients together in a bowl. Let sit for 15 minutes for the flavors to blend.

Assemble the sliders: Spread aioli sauce on open bun halves, then top each with a cheese-covered mushroom and a spoonful of onions. Serve warm.

What are you serving during the Super Bowl? Let us know in the comments below.