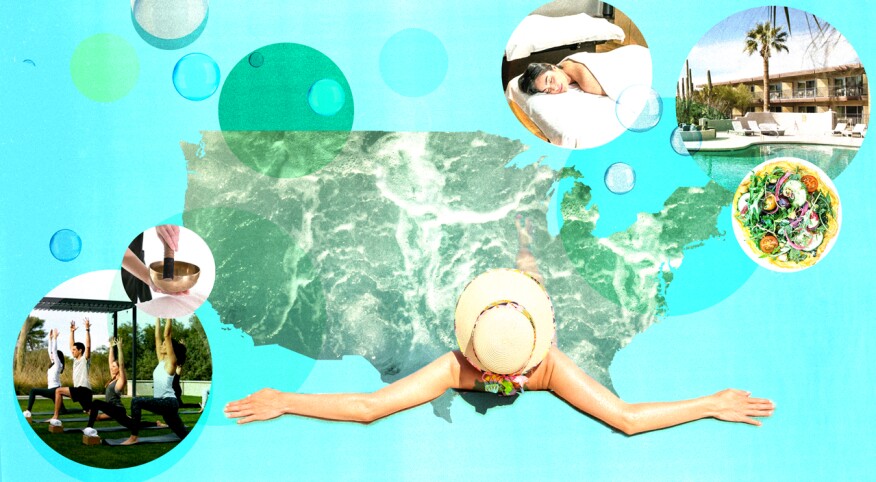 In my travels, I step off the tourist track. Trekking through the Alhambra Palace in Spain was exhilarating yet tiring, so I spent a few hours in a hammam, a relaxing Moorish bath. I've enjoyed Swedish massages at the Kripalu Center for Yoga & Health in Massachusetts, followed by a concert at Tanglewood.

Closer to home, you can enjoy a spa without spending a weekend at a resort. Day spas offer year-round ways to relax and escape life's routines and stresses. Some outdoor facilities remain open in winter, depending on the weather. Tending to sore muscles and rejuvenating while enjoying a few hours of bliss is a reservation away. Here are five recommendations around the country.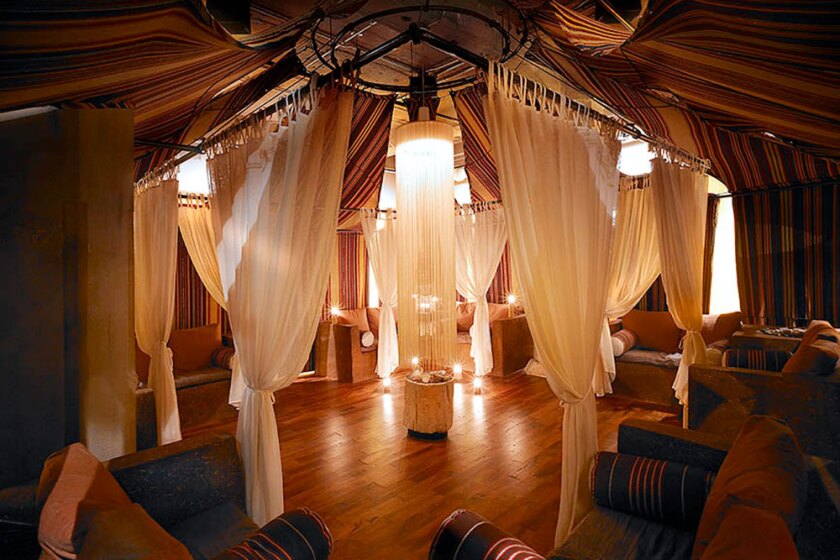 Allyu

600 W. Chicago Ave.

Chicago, Illinois

312.755.1313

Owner Tamara Wills, an experienced massage therapist, named her spa during a trip to Peru — allyu means "community" in the Indigenous Quechua language. Unlike impersonal hotel spas, Allyu is known for handcrafted wellness and healing services.

"We're focused on being customized and relationship oriented," Wills told me, especially after the pandemic, when close proximity needs to be safe.

Allyu attracts a wide range of clients, from energetic runners to people in wheelchairs. "We adapt to all ages and physical needs," says Tamara. Physical touch benefited her father with Parkinson's.

You might need attention to arthritis or circulation. Some clients switch from full bodywork to reflexology because of challenges with physical touch in other parts of the body.

"Bodywork changes and evolves throughout life, but the benefits never end," Wills says.

Great Jones Spa

29 Great Jones St.

New York, New York

212-505-3185

After walking through an unassuming entrance near Astor Place, I'm escorted down two ramps into a subterranean spa beneath the busy city. Is this a mirage? A three-story cascading waterfall, lounge chairs, Jacuzzi, plunge pool, steam room and a sauna clocking at 174 degrees — all year long — make up the water lounge. Booking one of the nine types of massage on offer entitles me to unwind here for two hours beforehand. (Access is included with any spa service over $100; you can also buy a three-hour pass to use just the water lounge.)

I snack on walnuts, clementines and tea. Everyone's strolling around in bathing suits and flip-flops as if at the beach. You can socialize with friends or visit solo, put your feet up, read a book, take a nap.

Dried off and robed, I wait for my massage therapist. I choose lavender scent as the masseuse's skillful hands treat my neck tension with warm oil and tender yet firm pressure. I forget I'm in the city. My massage glow lasts into the night.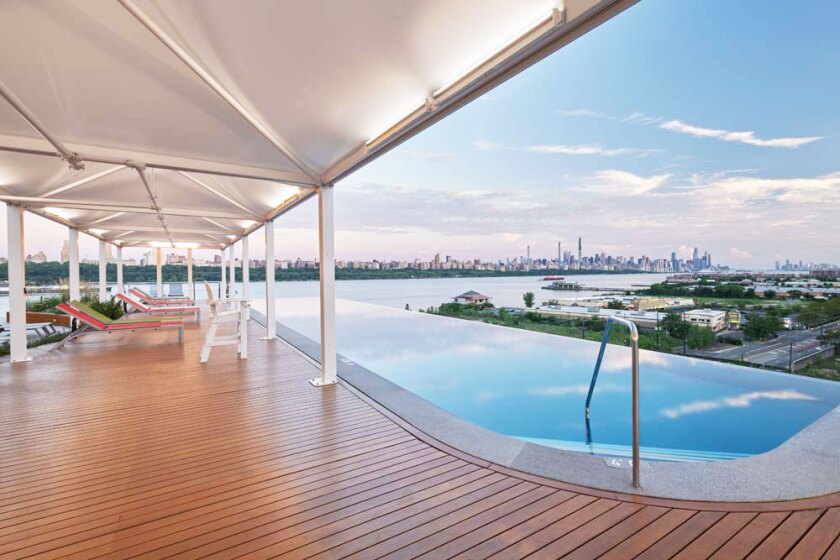 Sojo Spa Club

660 River Road

Edgewater, New Jersey

201-313-7200

SoJo lured me with photos of an infinity pool where you can soak up the incomparable New York City skyline from across the Hudson River. This 140,000-square-foot thermal-based spa features therapeutic offerings dating back to ancient civilizations: carbon-rich baths to lower blood pressure, a hydrotherapy pool for joint stiffness, a silk bath with Japanese white ionization technology to improve skin elasticity, and seven saunas, including far infrared for those sensitive to intense heat.

The foot massage path claims to improve balance and reduce tension much as reflexology does. Inspired by the Finnish tradition of immersing the body in cold and then hot water to release toxins and stimulate circulation, an outdoor cold-water plunge waterfall complements the heated outdoor baths.

"Each of our amenities has different health benefits," says Ashley Jayco, executive director of marketing. "Our holistic benefits can aid in recovery or chronic conditions, relieve aching muscles or soreness, congestion from allergies or pain from rheumatoid arthritis."

Or you can just relax, washing your tension away. "It's like an adult water park," my husband said, never wanting to leave the 95-degree hydrotherapy pool, a giant type of Jacuzzi whose options include a unique shoulder massage for tense muscles.

"Around every corner is another restorative experience," says Monica Bell, who traveled here from Brooklyn, New York. "I'm not even a spa person, but I wanted to stay until they closed. They have saunas of every imaginable kind, amazing plush robes and even a blissful nap area. I've dreamed about returning every single week since I first went."

SoJo's outdoor pools and therapeutic baths are open year-round. The paths to and from the pools and baths are covered and heated, so you can enjoy their health benefits even in winter.

The Dragontree

2768 NW Thurman Street

Portland, Oregon

503-221-4123

The Dragontree's mission is to release stress and tension using their holistic approach to wellness in their Boulder and Portland locations, surrounded by nature. Cofounder Briana Borten devoted her career to health and wellness after breaking her neck in a car accident at age 18. During her rehabilitation, she discovered the power of positivity and massage. Earning a degree as a clinical Ayurvedic specialist, she opened The Dragontree at the age of 23.

Ayurvedic medicine, which traces its origins back thousands of years to India, combines herbal medicines, meditation, breathing, exercise and physical therapy. Cofounder Peter Borten who holds a doctorate in traditional Chinese medicine (TCM), adds herbal medicine for pain relief, acupuncture, nutrition and qigong to the mix.

In this tranquil atmosphere dedicated to positivity and peace, you can indulge in massages, body scrubs, skin care, acupuncture and group wellness.

"Massage is not just about alleviating pain and tension," says Briana. "It's also about elevating mind, body, spirit. It calms our nervous system and creates the space for our minds to be free from the daily 'noise.'"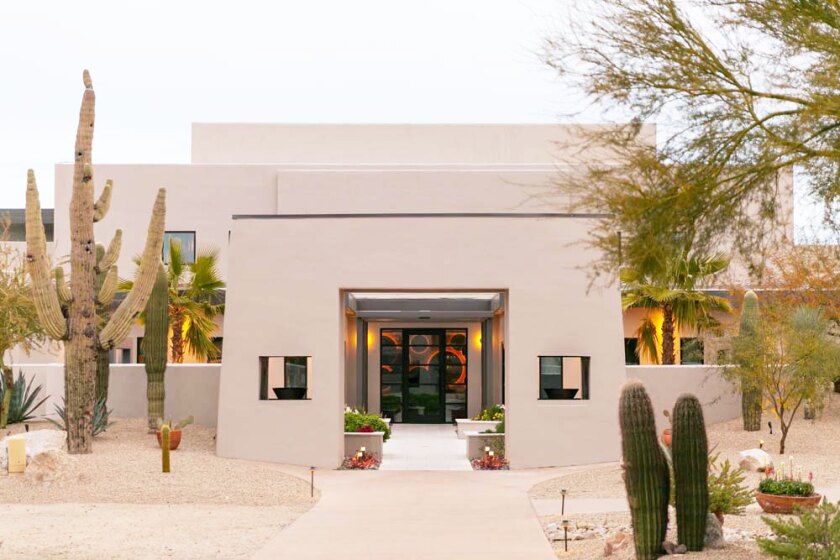 Civana Wellness Spa

37220 Mule Train Road

Carefree, Arizona

480-653-9000

Can you think of a better town for a spa than Carefree? Natural beauty surrounds you in this bucolic spot near Scottsdale in the Sonoran Desert. Civana's mission is based on four pillars: movement, spa treatments, plant-rich and seasonal nourishment, and discovery.

"We offer movement-oriented classes, healing spa treatments, personal growth and spiritual offerings that empower our guests to choose the journey that feels right to them," says cofounder Adam Ross. "All levels are welcome."

Civana believes "an active body is a happy body." Their goal is to guarantee that you'll leave feeling rejuvenated and changed.

Want to know what happens when your medication gets lost during a flight? Well, here you go.