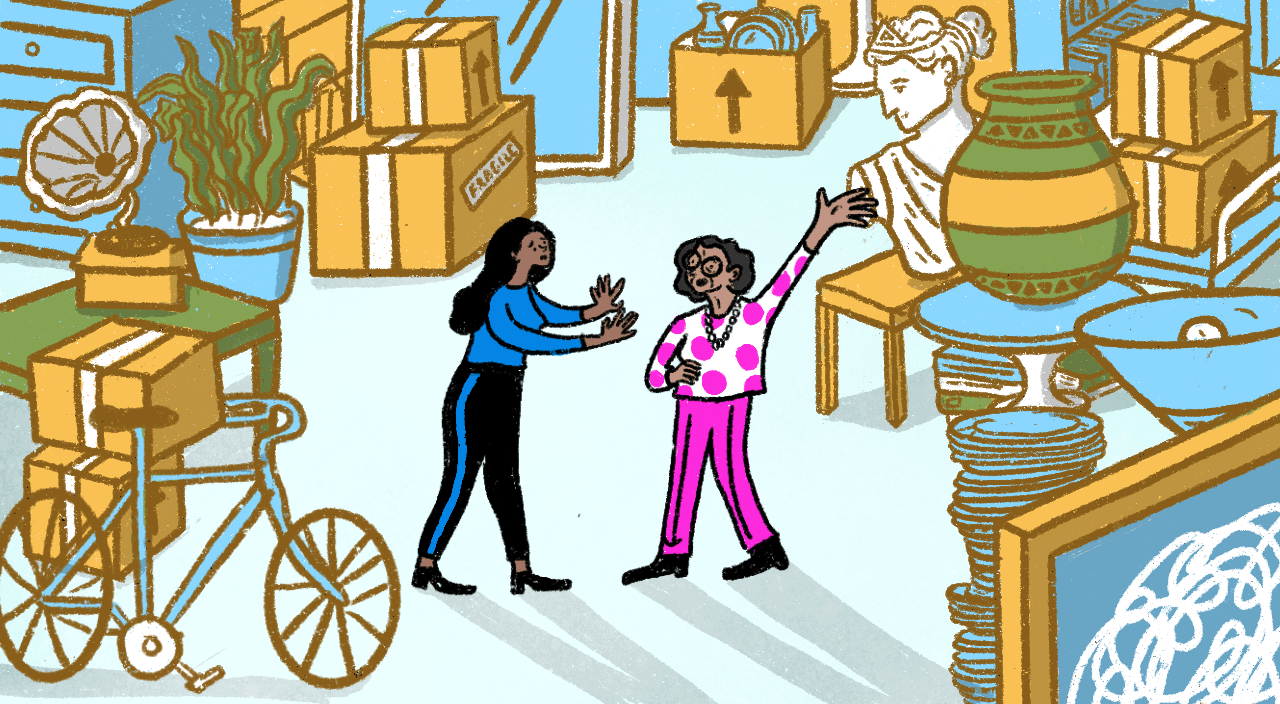 For years you've been saving your mother's Franciscan Apple china and storing the lace table runner your great-aunt brought from Holland — all the sentimental, valuable items meant to be kept in the family — only to hear your children say: "You're joking, right?" Our kids don't want keepsakes; they want experiences. But not the experience of hand-washing some dead relative's crystal.

My younger sister still has the breakfront our dad won on The Price is Right back when they gave away furniture instead of cars. Her kids sure don't want it.

My neighbor Monique has her grandfather's big plaid BarcaLounger, the one he sat in while reading storybooks to her as a little girl. To her it says "Grandpa." To her daughter it says "Garbage dump."

Every guest at my Sweet Sixteen signed a linen tablecloth, signatures that my grandmother then hand-embroidered. I presented the tablecloth to my niece on her 16th birthday, expecting to share a tender moment, perhaps garner some gratitude.

Instead I got: "Nobody uses tablecloths."

"But every stitch was sewn by your great-grandmother."

"I bet if she were alive even she wouldn't use this tablecloth. You have to iron it."

We raised these kids so there's no one to blame but ourselves. But what do you do with keepsakes nobody else wants to keep? After much soul-searching and head-scratching, I did my own scientific survey. I asked friends.

TELL A STORY

Alexandra says her kids are interested only in objects connected to a story. "When my mother died, we ended up with all these doodads and mementos and didn't know why they mattered to her." Alexandra and her husband attach cards with narratives for anything they want to hand down: "These candlesticks were given to Dad's grandmother by her parents on her wedding day." She's determined her kids will appreciate her doodads.

But why did my niece reject my tablecloth story? Heartless!

CREATIVELY PASS IT ON

Dolores inherited a Wallace silver tea set from her husband's grandmother. She offered it to her grandson when he got engaged. He and his fiancée both said, yes, they'd love it! Dolores spent $1,000 to have it replated. But after the wedding she never saw it displayed. At first the kids told her, "We'll put it out when we live in a house."

Now they're in a house. Dolores is still waiting. But at least it's out of her house.

Tricia is a collector… a flea market connoisseur of domes for meat platters … cut glass punchbowls … that kind of collector. "I don't know what to do with all this crap," she said. "So, I wrote it into my will — how the three kids are now bestowed with the opportunity to own these treasures."

"What do you call that?" I asked. "The passing-the-buck method of dispersal?" Tricia's smile was borderline evil. "Soon as the first storage bill shows up, they'll be motivated to figure it out."

CUT THE CORD

Lynn doesn't have kids; no close nieces, no relatives hovering in the wings. But she's wildly nostalgic about the Coalport china she inherited from her mom. Gets misty-eyed over her mother's West Bend kitchen timer and Waterford flutes. "Wow," I said, "what do you plan to do with all of it … eventually?"

"Eventually I'll be gone," she said. "Not my problem."

Similar lack of sentiment was conveyed by Gina, who said, "I don't want my kids stuck with anything that doesn't give them joy." (Somebody's been reading Marie Kondo.) "If it's meaningful to me but not to them, it's just a thing."

Her plan is to die first and let her husband deal with the things.

TRICK YOUR KIDS

Just back from their honeymoon, Seth's bride, Simchah, was starting a new job in Washington, D.C., but Seth still had a week off. Simchah had been living with her mother, Arlene, in Florida, so it was up to Seth to go to his new mother-in-law's house to pack up Simchah's U-haul. Arlene kept giving him furniture: a heavy glass coffee table, a mahogany dining table.

"She wants this?" Seth asked.

"Oh yes! She definitely wants that!" Arlene insisted with each new eyesore. "She loves it!"

He packed up a 15-foot U-Haul. Drove 18-hours from Florida to D.C. Got back exhausted and the next morning started unloading the truck, one item after another, while Simchah stood there horrified. "Why did you bring these wrought-iron chairs?" "What's this old rug doing here?"

"Your mom told me you love them!"

"Do you think I picked these out?"

Simchah finally concluded: "Mom played you."

UNLOAD IT WITH KINDNESS

Debi and her sister Patti each have pieces of their mom's Revere Ware pots and pans, the ones with copper bottoms. They can both remember their mother standing at the kitchen sink polishing the copper.

"Throwing out mom's pots and pans for us is impossible," Debi said. "But in time — if they're still usable, we'll thoughtfully get rid of them. The Salvation Army. ReStore Habitat for Humanity."

Patti added, "And if they don't want them, we'll throw them out."

Debi cringed as Patti said that. Maybe those Egyptian pharaohs in their pyramids had it right. Just bring all your stuff with you. No takers? I'll be buried with my embroidered tablecloth.

But think twice, dear sons, daughters, nieces and nephews, before you reject our precious junk.

My mom owned a Wedgewood Jasperware lidded urn, powder blue with silly little white Grecian figurines.

"No thanks," my older sister said when offered the urn.

"No thanks," my younger sister said when offered the urn.

"Absolutely not," I said. "A hard pass."

I about choked when I recently looked on 1stDibs and saw a Jasperware urn — probably the same one we all rejected — priced for $2,100.