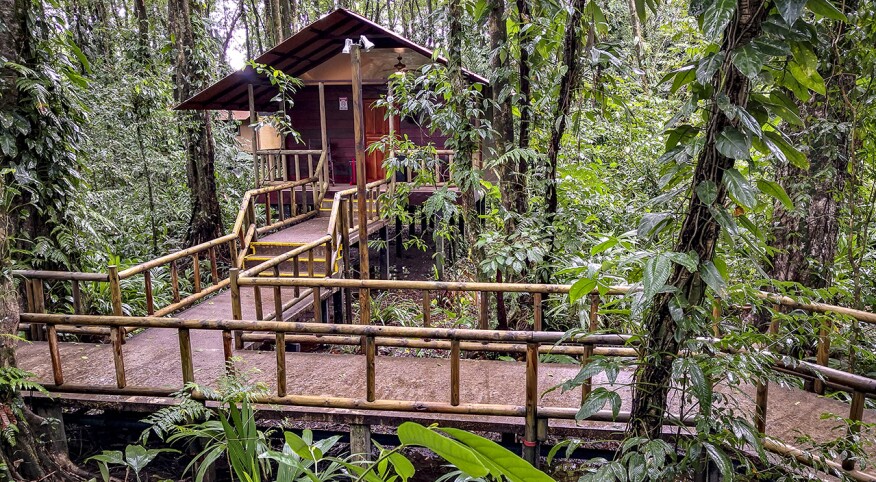 Exploration, observation and reflection are heightened by our surroundings when we travel. Not just within museum walls or floating on a still lake, but at every moment in a new setting.

Like the view of a sunset at a café on the other side of the world or watching food being prepared with mastery — and love. Listening to the silent expressions of the people in the park, market or subway car. Savoring a salty sea breeze or the scent of fir trees.

What you see, hear and feel can be just as — or more — important than the tourist "must-sees" or "must-dos" on a checklist.

That's why my homes away from home are rarely brand names. When I travel, I want to experience new discoveries. Everywhere. Including my accommodations. I seek out the unique, preferably where I can interact with locals rather than a concierge wearing a navy suit with a name tag.

Nowadays, thanks to Airbnb and also Vrbo, it's simple to find an authentic local getaway anywhere in the world. Their websites give you the option, depending on your destination, to choose from cabins, tiny houses, yurts, farms, domes, vineyards, caves, castles, windmills and more — with a full range of prices. Airbnb also has filters for travelers who need step-free entrances, showers or bathrooms, accessible parking or extra-wide entrances.

The following are a few of my memorable hideaways, places I found peace and adventure and would recommend to other older, wise women — I'm 64 — traveling solo or with friends.

1) I found the perfect respite just 10 minutes from the south side of Austin, in Manchaca, Texas. My rustic cabin was what I'd picture a hermit would build in the woods. But there was a sense of community to facilitate interaction with guests in neighboring cabins. Picnic benches and porch chairs lured me to eat my meals outside, and there were curling pathways for strolling with my dog. Although the decor and architecture were barnlike, the property offered modern plumbing, heating, air-conditioning and high-speed Wi-Fi. Just up the road from the Manchaca Airbnb are food trucks with names like Molly Ranch Hand and Armadillo Den. You can order the best Tex-Mex food and drinks, though I advise you to bring a big floppy hat to ward off the blazing sun in case the shady picnic tables under the oak or cedar trees are taken. All the food trucks offer late-night dining, so if you're a stargazer, plan your meal for after sunset.

2) Similarly, during a trip to Chicago, I stayed far from the Gold Coast high-rises and Miracle Mile shops. Instead, I headed to an urban goat farm on the far west side of the bustling city. My Airbnb pick was on a quiet street with beautifully maintained Queen Anne homes dating back to 1899. This neighborhood, nestled a few blocks from the Central and Austin elevated train stops, is not listed in the travel guides. Located on an unobtrusive corner lot, hidden behind privacy fences, several dozen adorable goats roamed and baahhhhd. Some were cradled in their caretakers' arms.

I watched a farmhand milk the goats with high-tech sanitary udder contraptions and then accompanied the owner and his herd to graze on a nearby open lot. Lucky guests could savor fresh goat milk or yogurt.

3) Mexico is my segunda patria (second homeland). One special weekend was spent on a sailing houseboat near La Paz, in Baja California Sur. Our Canadian expatriate hosts provided my partner and me with more than just a berth to sleep in; they cooked us meals and took us snorkeling, lending us the necessary gear. The couple became our friends, sharing great stories about the travails and upsides of keeping a house adrift on the ocean.

4) Farther down the Pacific Coast, I spent a holiday in a cozy and serene Costa Rican tree house. It was a treat for all the senses to feel like Tarzan and Jane in the jungle — but with comfy beds, a small swimming pool, and generous breakfast plates heaped with rice and beans. With my lodging perched amid the branches, hearing howler monkeys up close, I was steeped in nature, akin to the primates. But rather than swing on the vines, I walked down the property's sturdy wooden steps and clearly defined walkways, then crossed the road to follow a narrow path to a pristine beach at the lip of the ocean.

5) In the highlands of Colombia, I hit the lottery when I booked a finca (small farm) just five minutes from a major international airport (yet I never heard or saw a single airplane). At the base of a footbridge, the owner grew a wide assortment of potted and labeled herbs, including chamomile, mint and lemongrass, that guests were welcome to use for brewing their own preferred teas. The lovely modern-day finca was the ideal setting for R&R. To top it off, for a nominal fee, the Airbnb host drove me to the airport in the wee hours of the morning.

Next up? My fellow adventurers who crave nontraditional travel and are sturdy walkers, perhaps you have fantasies like this too. I can envision settling into a yurt someplace, maybe on the tiny isle of Iona, Scotland. A friend raved about this haven in the Inner Hebrides where the full-time population is only 170. Travelers typically take a train or bus for one leg, then a ferry, and then their own two feet to the vehicle-less island.

During my last trip to India, I didn't have time to wander the dreamy desert lands of Jaisalmer, whose miles of sand and no vegetation bring to mind scenes from the epic film Lawrence of Arabia. Airbnb options in India range from simple white tents to posh desert shelters, but both offer extraordinary experiences, like dancing to Rajasthani music, taking a camel safari, parasailing or exploring the wilderness in a four-wheel ATV. It is revitalizing at our stage of life to push ourselves to brave something new — that's how we grow. So stretch yourself beyond your comfort zone. These treasured destinations don't have to break the bank. While there are palatial selections for $3,000 a night that can accommodate multiple generations of families, I've paid as little as $12 for a bed.

As always, monitor current events, weather, health warnings and restrictions, and consider travel insurance.