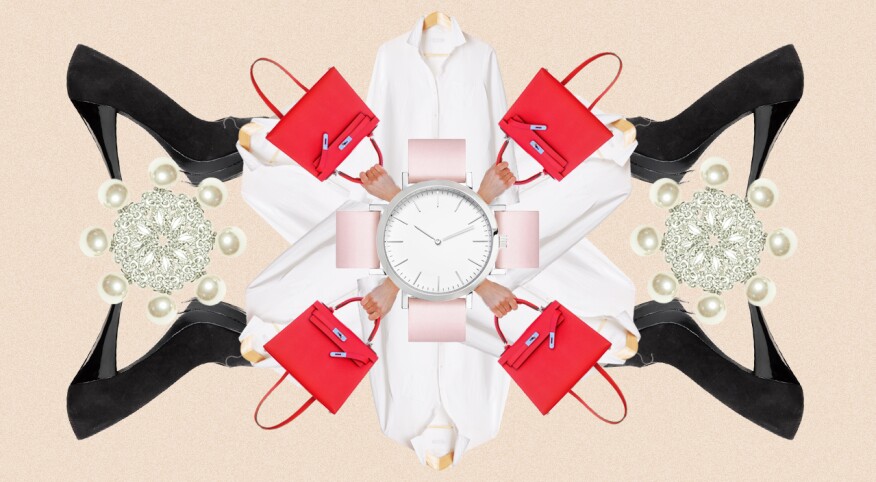 "Oh, you got a Kelly bag," my then 64-year-old mother said, unfazed by my recent acquisition. I thought I was going to impress her with what I believed was a new accessories trend. Not only was the style not new, but it had a name I'd never heard of.

In 1986 I was a 28-year-old copywriter trying to up my sartorial game from preppy to Manhattan sophisticate, which I couldn't really afford to do. I passed a store on Madison Avenue in which I should not have even been window shopping let alone shopping-shopping. The display showcased a top-handle, trapezoid-shaped black handbag with two thin straps that met in the front and fastened together with a twist lock. It looked like nothing I'd ever seen and had to have. The price was above my pay grade, but I figured if I didn't eat lunch for three months, I could swing it.

I saw my mother a few days later, and when she addressed my purchase so matter-of-factly, explaining that the original was designed by Hermès and named after movie star Grace Kelly, I was a bit disappointed.

"I thought it was a new style," I said, to which my mother shook her head. I should have known that I couldn't teach a lifelong fashionista any new tricks.

My now 98-year-old mother is a member of the greatest generation and at the time was a recently retired phone company executive. This had been her second career. Her first was right out of high school, as a seamstress in New York's garment district. A trendsetter since before the Great Depression, she's always been hard to best. Starting when I was in high school, whenever I pointed out the hot outfit/color/accessory of the season, her response usually began with, "I wore that in the…(pick a decade)."

Although I thought it was cool that she had always been stylish, it irked me that she insisted there was nothing new under the sun, especially since I wanted to believe I was with it or, in her vernacular, "a sharp dresser" (or at least trying to be).

Over four decades later, I must confess, I've become my mother where my wardrobe is concerned. It's been quite a few years now that I've favored shopping my closet after reading the latest issue of whatever fashion glossy I've picked up. Leopard is the new black? I've seen that incarnation a thousand times during my adult life. Safari-themed outfits? Shoulder pads? Everything vintage inspired?

As the biting fashionista Miranda Priestly said in The Devil Wears Prada, "Florals for spring? Groundbreaking." Did it. Done it. Wore it. Been there. Still own some of it. I have, however, come to depend on catalog mailings as well as print and online magazines for styling suggestions and have actually discovered previously unthought-of ways to pair pieces in my possession, making the tried-and-true look fresh.

The thing is, I'm not jaded or bored or (don't even go there) anti-store shopping/ordering. I still buy things, but not with the shop-'til-you-drop fervor I once did as a younger woman. And I'm glad. Outside of wacky runway creations meant to show what out-of-the-box thinkers designers are, there are only so many wearable silhouettes for the average person. After a lifetime of consumerism, I'm happy to have collected classics that forge a comeback every three or four seasons, along with some eclectic pieces that continue to add an element of surprise to any outfit.

I still own a tapestry satchel that I bought with my employee discount at my first postgrad job, in the advertising department at Lord & Taylor (RIP). I dig it out every time that pattern makes an encore. During my 62 years I've also learned that when chartreuse (or something comparable) is the Pantone color of the moment, to make a minimal investment, say, in tank top form, so it's a pop of color under a couple of other layers.

One thing I'm making an effort not to do is discourage my 23-year-old daughter, Meg, from getting excited about fashion, in particular about whatever is being peddled as "now," by using the phrase, "I wore that in the…(pick a decade)." Instead I offer, "I already have something like that. You can borrow it if you want."

Lorraine Duffy Merkl is the author of two novels and the upcoming The Last Single Woman in New York City.