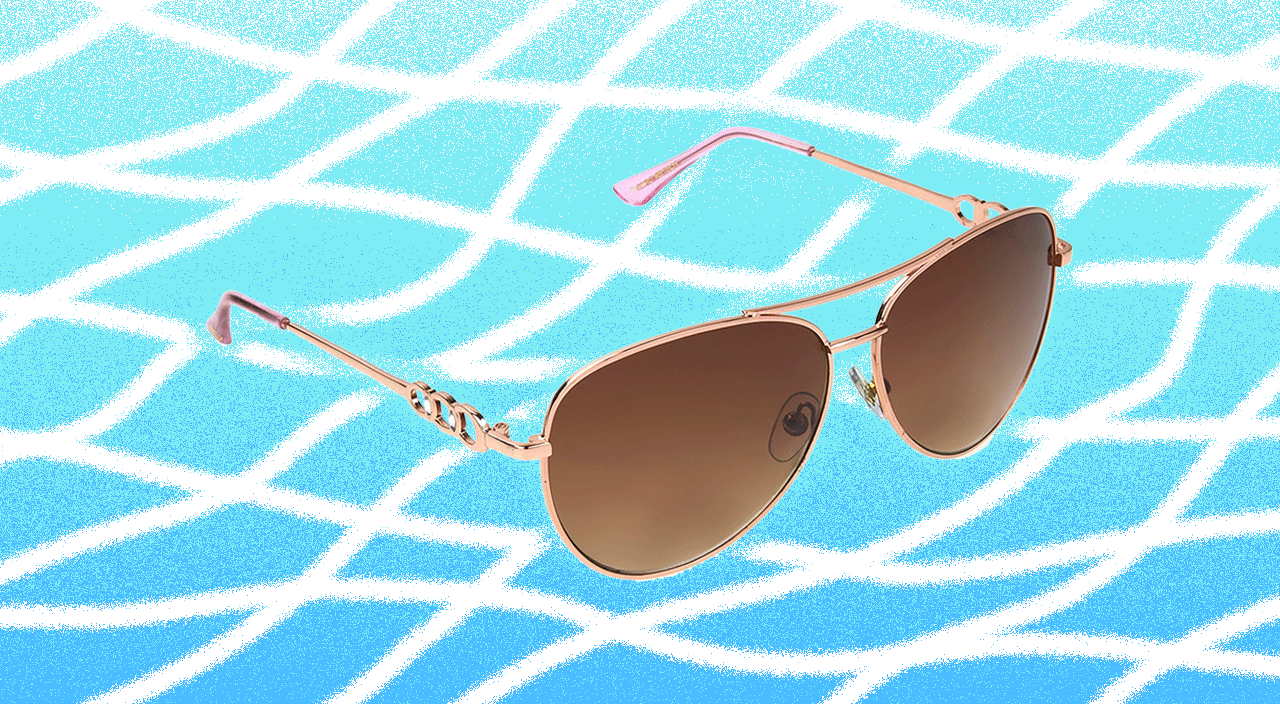 Recently I arrived in the Dominican Republic, shoved my hand into my tote to retrieve my Ray-Ban sunglasses — and discovered that they were nowhere to be found. So, I ducked into a souvenir shop and found a pretty pair of cat's eye specs for $25. But despite the label on the lens saying that the glasses offered 100 percent UV protection, I worried that at that price, they couldn't possibly be shielding me from the sun's most dangerous rays.

I was wrong.

"Price doesn't matter when you're choosing sunglasses," says Dr. Roma Patel, MD, associate professor of Ophthalmology at Houston's Baylor College of Medicine and clinical spokesperson for the American Academy of Ophthalmology. "Drugstore sunglasses that offer UV protection are better than designers ones that don't. Look for labels that say '100 percent UV protection' or 'UV absorption up to 400 nanometers."

When it comes to UV protection, color doesn't matter either. Sunglasses with dark colored lenses don't always block out more sun than lighter colored lenses. However, different colored lenses DO affect how we perceive objects. A brown or rose-colored lens can provide more contrast, which can be better for our age group.

Size does matter. "Sunglasses should have the largest lens possible to protect your eyes from sun damage," says Patel. Despite the recent ascent of tiny styles — worn by the Kardashians and models like Bella and Gigi Hadid— this frame isn't offering the kind of protection we should be getting.

Patel goes on to explain that sunglasses aren't just for sunny days — that UV rays can cause eye damage even through the clouds. Then, should we wear them all the time?

"No," Patel responds, with a laugh. "Unless you're a movie star or Vogue editor Anna Wintour," who is notorious for her omnipresent shades. Many people wear sunglasses to feel cool and confident. I know I do. Not because I want to hide. I actually feel more attractive in a flattering pair of shades.

And, you're going to wear your sunglasses more if you like the way they look. At various times — looking at those charts that supposedly tell you if what shape face you have — I've thought my face was oval, oblong, heart-shaped, you get the idea. Skip the charts. Ask a salesperson to help you pick frames that suit your face and spirit, or simply rely on how you feel about your reflection in the mirror.

Caleigh Horrigan, a training specialist at the luxury eyewear company Kering Eyewear, tells me of the increasing popularity of the oversized and wrap-around frames that offer style along with the best protection. What this means is that we can be safe — but still look smart — this summer. Here are some descriptions to set you on the right track to finding the best sunglasses for you.

Maybe you want the sexy, cat-eyes, popularized by Marilyn Monroe in How to Marry a Millionaire and Audrey Hepburn in Breakfast at Tiffany's. They were also worn by AARP's founder, Dr. Ethel Percy Andrus, which is why cat-eye glasses are The Ethel's logo. Choose from the collection of zeroUV 50s Cat Eye Sunglasses, priced as a low as $13. Some frames come studded with rhinestones, others sprinkled with polka dots. Armani Exchange AX411SU are available in multi-colors of translucent frames, for $51. Bosley's Basset Hound Dreams by Goodr are $25. But if, unlike me, you're not the kind of person who loses their sunglasses, this splurge is for you: The gorg Saint Laurent Cat-Eye frames, priced at approximately $300 to $450.

Are you the aviator type? Foster Grant's Agatha Rose Gold Sunreaders at $22.95 offer the benefits of reading sunglasses with UV protection. Lightweight with gradient-brown lenses, the Suncloud Aviator Polarized light-weight wire-rimmed styles, in the $40 to $60 range, come in a variety of lens colors.

And for top flight glasses that aren't cheap but great looking and offer great protection, I'm partial to the blue Ray-Ban, their Aviator Classic, ($170). This style was launched in 1937 to protect fighter pilots from the sun's rays.

GlassesUSA.com recently released their 2023 Fashion Trend Report, predicting oversized, angular frames will be in vogue. This nostalgic '70's style offers great eye protection and a dramatic silhouette, once sported by the likes of Jackie Kennedy and today, Angelina Jolie. While many Hollywood specs can cost upwards of $100, you can get this high-style and celebrity aura for only $24.95 with Prive Revaux's Vintage Babe sunglasses.

Finally, while many sunglass frames can be customized to accommodate a prescription, for those who are looking for a quick, cheap fix, there are "fit overs." Wise Eyewear Cover-Ups are an affordable topper for prescription glasses, at $13.99. L.L.Bean's Classic Over The Glasses Polarized Sunglasses come with a deep blue lens to eliminate reflected glare and are just under $40.

As for me, I'm still happy with my no-name souvenir shop sunglasses from the Dominican Republic. Even so, I did replace my Ray-Bans. After doing all this research, I'm hankering to buy a pair of oversized, angular frames. I've never had a wardrobe of sunglasses before, but I think it would be really cool to switch them out depending on my outfit and mood. And it's cheaper than therapy.

Where do you buy YOUR sunglasses? Let us know in the comments below.