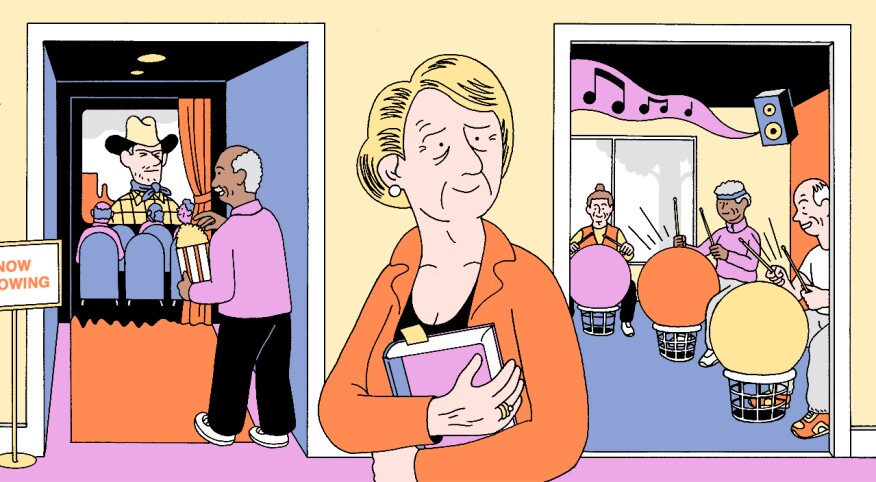 "What? You're moving where?"

My friend Barbara was shocked when I announced that I was moving to an independent senior living community. "That's for old people," she exclaimed, but calmed down when I reminded her that we were in our mid-80s. As difficult as it is to admit, this old gray mare, she ain't what she used to be. It was time to move on. When my husband and I retired to Florida 20 years ago, we thought our carefree lives in the mahjong capital of the world would go on forever.

But life changes on a dime. After a lengthy illness my husband passed away. So did many friends. Loneliness became a constant companion. Home ownership became a hassle, especially when the air conditioner went on the fritz and the refrigerator had a meltdown. I dreamed of an easier, safer life.

But where and what kind of residence was right for me? Not an easy answer as the senior living housing industry is exploding, dedicated to the more than 54 million Americans now over 65.

"It's come a long way from when senior housing began with faith-based nursing homes decades ago," said Dan Ogus, executive vice president and chief operating officer of Human Good, which owns and operates 125 life plan and affordable housing communities for seniors throughout the United States, "The demographics have caused these services to explode and now most are owned by large corporations."' he said.

To add to the confusion, Ogus explained that many different terms can mean the same thing and can vary from state to state. For example, "Assisted living could be advertised as luxury personal care. Quite tricky.''

In general, senior living options can be rentals, which for a monthly fee may include an apartment, meals, weekly housekeeping and numerous activities. Senior communities that offer care throughout life are defined as life-care communities or CCRCs (Continued Care Retirement Communities) and provide several levels of care — independent, assisted living and memory care — on one campus.


Because I'm basically healthy and relatively active, I chose a rental independent living community. Here was my game plan. I visited numerous residences in my area and with pen and paper carefully compared the pros and cons. Cost, activities, social life and meals were high on my list. I wanted to be close enough to visit old friends, my doctors and, most of all, my beautician. (How else could I continue to be a natural blonde?)

I chose the senior residence that felt comfortable on my frequent visits. The residents were friendly and welcoming. The activities satisfied both my physical and educational needs. I sampled dinner in the dining room and checked the facility for comfort and cleanliness. I chose an apartment with a balcony that overlooks a lovely garden. I checked and rechecked my costs.

After six months in my new digs, everyone asks,"So, how are you doing?" To that end, here are my thoughts on what's good, not so good, even the moments when I questioned, What was I thinking?

Moving in

Downsizing from a 2,000-square-foot house with lots of furniture and beautiful memories into an 800-square-foot apartment was tough. I thought I'd weep about the furniture I left behind but now, it doesn't matter.

Activities

My daily routine includes a stretch and balance class, chair yoga or water aerobics (more like walking back and forth in the pool) but my favorite class is something called drumming. With a large medicine ball (drum) and two wooden drumsticks, we bang to the rhythm of music blasting overhead. The instructor shouts, "Raise your arms, twist sideways, bang down to the floor."

It's a great upper body workout for the heart, waistline and bottled-up angry emotions!

Card games — of every kind — are a popular activity for most seniors but never held my interest. Perhaps that's why I haven't made many friends as yet.

A monthly activities calendar, however, offers numerous options to keep me interested and my brain (slightly) active. On the schedule today is a book club meeting, a lecture on current events, and a tech tutoring class. Thursdays at 3 p.m. there's Happy Hour — no time for loneliness.

There's a movie theater with comfy seats. Last night I enjoyed an oldie but goodie, "Good Will Hunting" with Matt Damon and Ben Affleck.

Mealtime

My monthly rental fee includes two meals per day served in a large dining room with a tablecloth and (fake) flowers. (I have breakfast in my apartment.) There are plenty of choices: soups, salads, desserts and a variety of main dishes. Salmon topped with an apricot glaze is my favorite. The not-so-good news, at least for me, is how difficult it's been to make friends at mealtime. A psychologist might say that my shyness triggers those painful feelings from my teen years in the high school cafeteria. (But wait, there's good news ahead! My neighbor across the hall invited me to dinner tonight.)

In general, ask questions of residents as you meet them during your visit. What do they like; what's not so good. Chat with several staff members and observe how they engage with the residents. Are they friendly, patient? Ask about building security and understand the levels of care. Read your contract carefully; know exactly what you are paying for. Take your time; there's much to learn for this next chapter of your life.

Here are a couple of online sources to help you make the right choice:

For tips on how to evaluate a senior community, take a look at www.SeniorLiving.com. For a guide to costs, www.humangood.org is informative.

Have any of you looked at senior facilities? How did it go? Let us know in the comments below.