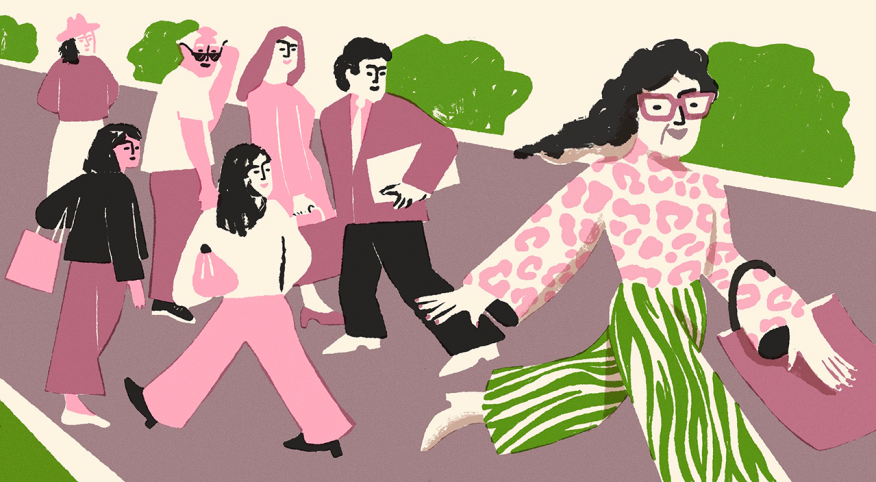 I love thrift shopping and recently picked up a leopard-print tank top at Goodwill — my family shops there like it's a sport. I showed it to my partner and joked, "I'm embracing my leopard phase." He said, "To go with your 'big glasses' phase?" "Absolutely," I replied.

He observed that when some women (certainly this one) get to a certain age and stage in life, they gravitate toward bolder fashion choices, like animal prints. He wondered why. His comment wasn't criticism, just curiosity.

And he's right. Last year I decided to go bold with my glasses, buying two oversize pairs — one a tiger-eye print with gold edges, the other big, square frames with an animal print, black-and-teal style. One friend said I looked like Charles Nelson Reilly, but I prefer to think I'm leaning more Iris Apfel.

At 54, a Gen Xer who forever identifies with rock 'n' rollers like Joan Jett and Jimmy Page, I've started actively seeking edgy pieces, like my stretchy tan and black leopard-print T-shirt and a blouse with a gray background and purple and black cheetah spots.

I'm not a fashionista, never have been — never had the money nor the desire. I do not own or wear anything made by a "designer" unless I find it on the racks at a thrift store. I buy almost no new clothing. I hate looking at my body in fitting rooms. What I do buy new is online, from Amazon or Walmart — cheap, fast-fashion pieces. I have never had a designer handbag and I don't know a Kate Spade from a bag that is hand-crocheted. I buy my purses at Kohl's and T.J. Maxx.

In my 20s and 30s, I used to be bold and extroverted, clubbing, partying and participating in theater. But going through menopause has been devastating. After I had my only child at age 40, my body started to change, morphing from breastfeeding nature-mama to perimenopausal lump. I gained weight every year no matter what I ate or how much I worked out.

My muscles shrank and fat expanded from my body's rapid loss of estrogen. My breasts went from full and sexy to pendulous and lopsided, a burden and barrier to exercising. I had to buy new (used) clothes in multiple sizes as my body continued to expand, building the stubborn "menopause middle," and resulting in a 40-pound weight gain in one decade.

I became invisible in public. Since I didn't want to be noticed for my body anymore, that was fine with me. I was just another frumpy mom at the grocery store, slopping around in oversize tunics and leggings to try to hide my weight.

By the time I reached 50, I had broken both ankles due to clumsiness and age-related bone loss. With weak ankles, a problematic back and now-giant breasts, every day when I looked in the mirror I felt like a "before" picture. I fat-shamed my own body, refusing to forgive it for aging and changing. I weighed more in my 50s than I did when I was nine months pregnant.

And I couldn't find a way to forgive myself, even when I read up about menopause and understood why this happened.

The Online Body Positivity Movement

Joining TikTok exposed me to hundreds of fellow Gen Xers who refused to let age-related changes bring them down. I was fascinated by creators with big, beautiful, oversize eyeglasses. They made huge statements on my tiny phone screen. Older women on TikTok are IN YOUR FACE with their body-positive attitudes and brazen fashion choices, sporting bikinis for the first time, wearing tight clothes that hug all their curves, and blocking bullies who tell them they're too old, too fat, too saggy, too whatever.

I reached out to some creators with large-and-loud glasses to learn how to embrace the bold for myself. "I have always liked the look," said Karin Hazel, a virtual office manager from Etna, Ohio. "I had them in the '80s. But in the past two years, I started wearing them again. They make me feel more confident … I get so many compliments!"

I loved it. I needed it. I bought my two enormous pairs, knowing it was the start of a new obsession. I felt like I was taking my power back. Other creators expressed that they felt how I felt. "I love them. They bring attention to my face and not my body," said Jacqueline Piazza, an executive from Philadelphia.

Hear Me Roar

Armed with a growing sense of regaining power through my "statement" glasses, I wanted louder make-an-entrance clothes. I wanted to make a statement when people saw me, whether on a video call for work or out running weekend errands.

I decided I wanted to rock what I've got and draw attention to myself again, not caring that I have a menopause belly, or that my boobs were no longer society's version of sexy. I mean, have you seen Lizzo's social media? As a plus-size woman unashamed about her saggy breasts, she dresses in body-hugging clothes with strategically placed sequins and twerks, as if to say: "This is me, and I don't care if you like it or not, I LOVE ME." That's the self-acceptance I wanted to emulate.

I began combing the thrift stores for animal print clothing, adding several pieces: a stretchy leopard tank top, some cheetah-print leggings and a bright pink cardigan to keep my shoulders warm. I added black leggings and black boots.

It doesn't matter if nobody sees me: I see me in the mirror, and changing my look makes me feel better about myself. When I go out running errands, I'm turning heads again. Not because I'm "hot," but because I'm interesting.

I'm the 54-year-old with the black motorcycle boots, the black velvet blazer, the leopard-print tank top and the giant glasses, standing out again. I love my look, I love myself, and I don't care who doesn't like what they see. It feels great.

How have your fashion choices changed as you age? Let us know in the comments below.